Radja Nainggolan: What next for 'pesky' Belgian after Inter Milan shutout?
The Ninja is unwanted at Inter Milan after one year
Background Image: Oscar Federico Bodini, CC-BY-2.0
Radja Nainggolan is stranded at a career crossroads. The pesky, petulant Belgian must decide between remaining an Inter Milan outcast or rule an empire elsewhere. The Chinese Super League along with former club Cagliari, wait patiently. Time isn't a luxury.
The midfielder's decision to swap Rome for Milan last summer raised eyebrows. The 31-year-old's influence on Giallorossi's dressing room was second only to skipper Daniele De Rossi. Unafraid to stick his boot in, Nainggolan breathed an endless supply of energy in the engine room.
Money wasn't the motivation. After all, he rejected numerous approaches after establishing himself since arriving from Cagliari in 2014. Chelsea was one of those he reportedly turned down when Antonio Conte took charge in 2016 – with the hope of cementing his place as a Roman great.
That didn't happen, however. Monchi's revolution came with a tsunami. Walter Sabatini stepped aside as Sporting Director. Luciano Spalleti lost his job as a coach. They were later reunited at Inter, though. Nainggolan was forced to follow the next train to Milan. He linked up with the other two.
Internazionale paid a steep price to acquire Nainggolan, coughing up £24m in cash but more significantly sending Davide Santon and Nicolo Zaniolo to Roma in part-exchange. To give up the latter, in particular, felt painful. Zaniolo was the star of Inter's under-19 team who had just won a national title, scoring 13 goals in 26 games from midfield.
Nainggolan, though, was the player Spalletti most wanted; with whom he had worked so fruitfully at Roma. Where Zaniolo was a bright prospect, the Belgian was a proven commodity. He was the high-power engine Inter needed as they returned to the Champions League for the first time in seven years.
The union didn't live up to expectations. though. Nainggolan was plagued by injuries and a dip in form. The Nerazzurri #14 started 22 Serie A matches and featured seven other times as a substitute. If anything, it signified decline. Nainggolan's appearances dropped in the last three seasons. From 37 in 2016/17 to 31 the following year...
Nainggolan's attitude was questioned. In February, he was suspended for two matches after showing up to a training session late; the fourth time since joining the club. There had been earlier concern about his approach to rehabilitating his various injuries, too, making reference to "physiotherapy sessions finishing earlier than expected"...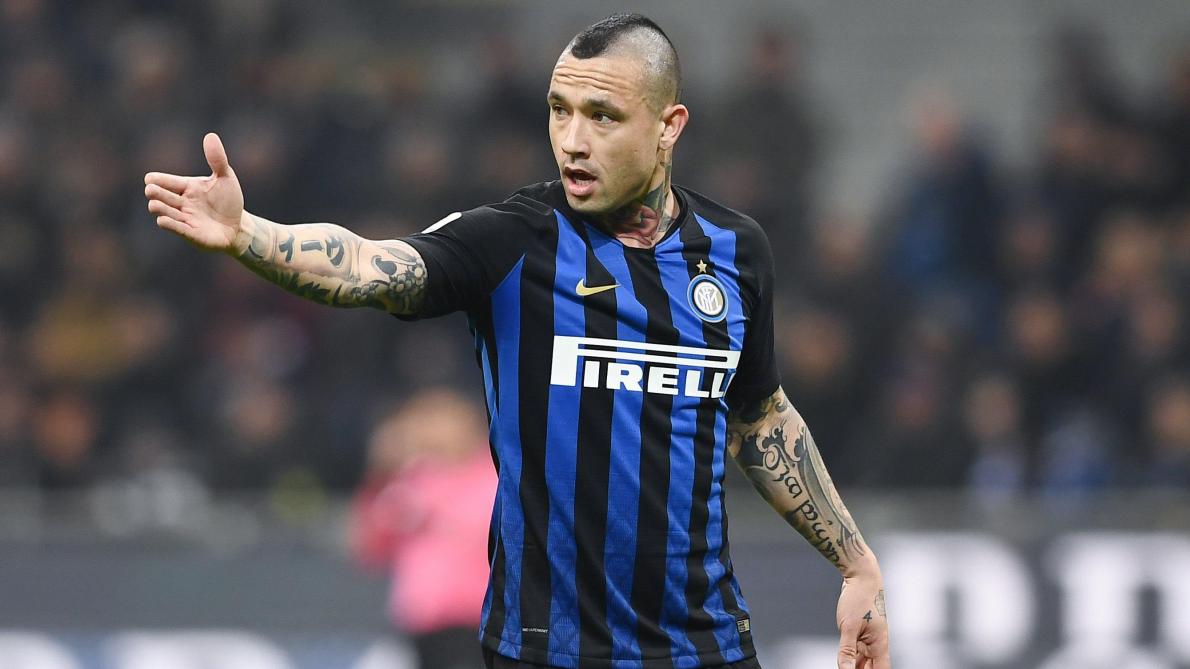 According to a Chinese media source, since Gareth Bale's move is unlikely to happen, Jiangsu Suning has rearranged their strategy. They now made Radja Nainggolan as their primary target and it's 'promising'. The 31-year-old midfielder was linked to Guangzhou Evergrande last year.
https://t.co/v6LfoPEtR1
Nainggolan wasn't alone in the dark. He had Mauro Icardi as a mentor. At almost the same time, the pragmatic Argentine was frozen out after being stripped of the captaincy amid protracted contract renewal talks. Although he somehow managed to sneak into the first team, the bridges burned were beyond repair.
Conte declared both surpluses to requirement. Ahead of the International Champions Cup in Singapore, the said "the club was very clear to tell that he (Icardi) is out of this project. This is the reality, he is gone," Conte said, adding that Nainggolan was also "out of the project".
While Icardi's options are surplus, the reverse is the case for Nainggolan...
Options for the Ninja
Reports suggest Nainggolan is keen to return to Cagliari, where he played from 2010 to 2014. The move would allow the midfielder and his wife, who is from Sardinia, to return home while she undergoes treatment for recently diagnosed cancer.
Any move would have to be a loan, but one obstacle hindering the switch is Nainggolan's wages as he currently earns €4.5 million a season. Cagliari is only willing to cover €1.5m plus bonuses, a fee that Inter are not willing to entertain as they want any side that signs the Belgian to pay his wages in full.
Former boss Eusebio Di Francesco is also desperate to work with him again after the Roma experience at Roma. The club based in Genoa has already made an inquiry to sign the 31-year-old but they would only be able to do a loan deal with Inter paying the all of Nainggolan's salary.
The Chinese Super League seems like a realistic destination. However, the transfer window shuts on Wednesday. Time is ticking for the Ninja...