Full Circle for Rafa Benitez at Newcastle?
Background: 'Inferno', a fresco by Buonamico Buffalmacco, photo: Luca Aless, CC BY-SA 4.0
If the Christian version of God is the bona fide, that means the Devil also exists. Under those conditions, you wouldn't have a hard time convincing me that Beelzebub runs a discount sportswear chain when not reaping souls and that Hell is laid out like St James' Park, only with nine levels of seating.
Limbo certainly describes Newcastle United in a competitive sense. Gluttony, Greed, Heresy, Fraud and Treachery all apply to the owner who gleans every last penny from the club while refusing to sell, makes a mockery of club ownership, misrepresents and betrays supporters at every turn. Anger is supplied by the Toon Army, who thankfully haven't resorted to Violence although, in their frustration, some must have briefly considered it. Only the second tier would be roped off and left empty. Any and all Lust for trophies has been doused along with hope in Geordieland.
As English football's version of Dante Alighieri, Rafael Benitez finally made his escape from Mike Ashley's underworld yesterday. Ironically, his internment in the ninth circle of the North East only lasted this long because he took a vow of silence. Some may have thought his rant on "facts", levelled at that Red Devil of another denomination, Sir Alex Ferguson, was a divine comedy but it was poetic nevertheless.
At Newcastle, Rafa learned the discipline of discretion, never inviting the Devil in because once you do he owns you. Ashley may have tried but he never owned the Spaniard. Benitez wouldn't discuss his contract situation, relationship with the boss or, speaking of divine comedies, whether he could expect any backing in a given transfer window.
He worked in self-imposed silence with the tools provided, finishing his two full Premier League seasons in 10th and 13th respectively. Although the club dropped three places in the second campaign, there was little difference in terms of wins and losses or goal difference. Under Rafa in 2017/18, the Magpies won 12, lost 18 and conceded eight more goals than the 39 scored. This past term, there were another dozen wins, one less defeat, and a goal deficit reduced to six with three more scored. It can be argued that he made marginal progress.
Despite that, the club announced it couldn't come to terms with their manager on a new contract.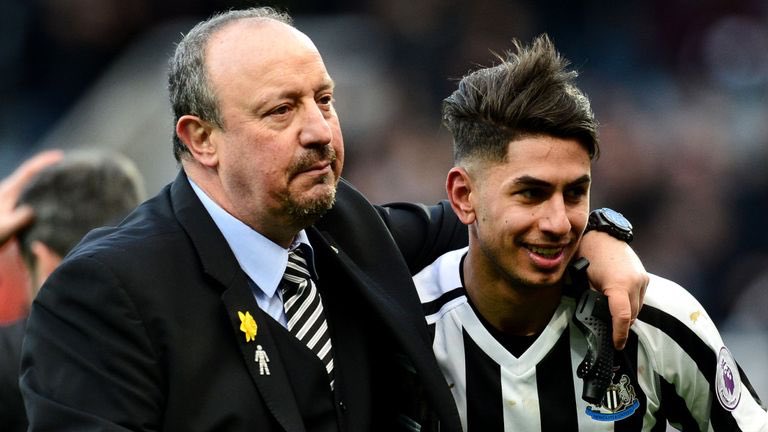 Gracias @
rafabenitezweb
por estos años, mucha suerte en tus nuevos proyectos! Eres un mister 🔝
Thank you Rafa for all these years at Newcastle and good luck in the future! You are a 🔝 manager
https://t.co/pzVQ6voRw7
It's open to debate as to which party decided an agreement was impossible. You can be certain that Benitez didn't beg to stay on and expected a pay raise based on his work and value to the club as an asset in a potential sale. It appears that Mike Ashley didn't agree with his valuation.
In another bit of irony, one favourite to succeed the outgoing gaffer is recently sacked Brighton manager Chris Hughton who, of course, was sacked by Ashley after he brought the Magpies back to the Premier League at the first asking and had them playing mid-table football while he attempted to negotiate his own extension.
Obviously, Chris Hughton is no Rafa Benitez. On the list of available coaches, only one can make that claim. Newcastle is a club that would suit Jose Mourinho from the standpoint of playing style and personnel. On the other hand, it's impossible to imagine him agreeing to work on Ashley's meagre budget.
There is the rumoured sale to an Abu-Dhabi prince although Benitez's departure suggests the gossip is exactly that.
First, no one would argue that a Champions and Europa League-winning manager with three clubs [Liverpool, Valencia, Chelsea] isn't the club's most valuable asset. If the incoming owners exist and want someone else, even Mourinho, then Toon supporters who hope for something more than a year in heaven and two in purgatory are better off with the devil they know.
Second, if a sale was imminent, the Spaniard's departure diminishes the club's value. Mike Ashley is not one to throw away profits. He would sign his manager to keep that money in the deal.
Third, if Rafa believed new owners who would back him were on the way, he'd be more open to a new deal or waiting.
Mike Ashley has spurned offers for the club before and hinted at others that were never confirmed by a reputable source. Call it fraud, treachery or plain old greed, the Sports Direct tycoon has never appeared eager to sell his golden goose. Unfortunately, under his stewardship, the club continues to lay eggs in the negative sense for fans.
Rafa Benitez needn't worry about that any further. Clubs ought to be lining up for his signature as we speak. Unfortunately for the Toon Army, the gates leading out of their personal Hell remain locked.