Raheem Sterling maturing under Guardiola
Manchester City have blown everyone away so far this season, but Raheem Sterling's form has been impressive, to say the least. Are we finally seeing the best out of the England international?
As a youngster at Liverpool, Sterling had a huge impact, his pace and direct running played a huge part in them coming so close to winning the title under Brendan Rodgers. This earned him the big money move to Manchester City, but here his progress for club and country has somewhat stalled.
Yes, he has contributed goals, sporadically, but against the talent that he has to compete with at Man City, he has struggled to nail down a first-team place. Step forward, Pep Guardiola.
Last season Pep was finding out about his City side and was it was very much a transitional season for the club, but this year they have taken the league by storm. Unbeaten in the league, clear at the top of the table and flying in Europe.
While others in this City team have previously taken the plaudits Sterling is now getting huge recognition. Fellow Englishman John Stones has come on leaps and bounds under Pep, despite his current injury, he looks a much better all-round and in a couple of years time I expect him to be one of England's most crucial players. As for Sterling, he is finally showing how vital a role he can play in this Manchester City team.
Three times this season he has struck deep into stoppage time to give City crucial 2-1 victories over Bournemouth, Huddersfield and Southampton. Six points won just from those three goals, it makes that gap at the top of the table a whole lot bigger then it would have been with three draws. Already this season he has scored a staggering 13 goals, his best tally in a season and we are only just moving into December. If Mohammed Salah hadn't had his ridiculous start to the season Sterling would have received even greater praise.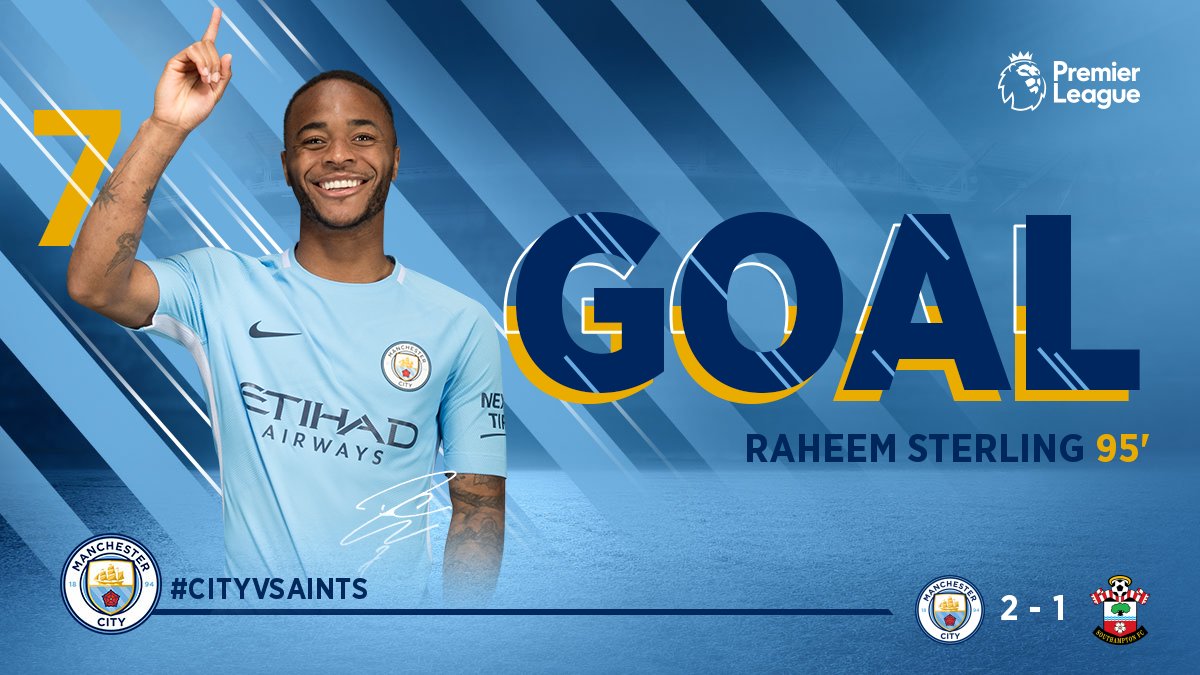 Even at Liverpool Sterling was a streaky player, so hopefully he will be able to continue his current run and do it on a regular basis.
Jesus, Aguero, De Bruyne and Silva are the star names that are thought of regarding City's team at the moment. However, Sterling's role has been just as crucial. He offers a different style to the rest which can play a big part in a successful season for a big club.
Playing alongside the aforementioned players will be helping him and he looks a more confident player for it.
If he continues his current form he could play a big role for England next summer, something he has so far failed to do for his country. After the World Cup draw on Friday, particularly against Tunisia and Panama, you wonder if the defenders would be able to cope with him in his current form.
He is a young man still only 22-years-old, despite already seemingly having been around for so long. Players all mature at different ages and this year we are seeing Sterling doing that. In Guardiola, he has the perfect manager to help his development and if the pair stays together over the next few years, as I expect them to, there is no reason why he can't become even better.
If he keeps it up he will play a very crucial role in City's season and one which looks destined to be very successful at home and abroad.