Raheem Sterling: So good, so bad
Trouble seems to follow Raheem Sterling no matter how he tries.
Image: Brad Tutterow/Flickr, cc-by-2.0.
Not since the days of Mario Balotelli at Manchester City has controversy trailed a player in England like it now does Raheem Sterling. The 23-year-old is fast becoming a figure some parts of the media love to hate. Whatever Sterling does, there is always something negative that can be drawn from it.
When a key player decides to leave one particular club for another, it is usually unwelcome by the supporters of the side he is waving goodbye to. But then, after a while everyone lets go. It's football, it's life. That's how things work.
Cristiano Ronaldo left boyhood club Sporting Lisbon to join Manchester United. Then he swapped Old Trafford for the Santiago Bernabéu. United faithful didn't want to lose their best player. But eventually, they understood.
Real Madrid fans had to swallow the same medicine when their talisman chose to ditch the serial winners for a certain enemy in Italy that seeks to take away their Champions League crown. Again, the Madridistas understood and wished him well. When the five-time Ballon d'Or award winner visited the Theatre of Dreams recently, in Juventus colours, he was given a rousing welcome.
Not so with Sterling. In fact, for him it's quite the opposite. Liverpool fans boo him with a passion whenever he takes to the field against them. Sterling hasn't done anything too different from the likes of Alvaro Arbeloa, Xabi Alonso, Javier Mascherano, Luis Suarez, and Philippe Coutinho (to name a few), although the fact that he remained in England, moving to a fellow title-rival, must be somewhat frustrating.
Of course his case is also different when he chooses to have a tattoo. Never mind the fact that players like Zlatan Ibrahimovic, Neymar and Radja Naingolan wear them like clothes and are not criticised. Sterling's inking before the World Cup generated so much backlash that Gareth Southgate had to speak out in defence of the player to help quieten the media and sooth the mood in the camp.
And then as has become usual, when the England national team fails to perform at any particular time, the man to blame is Sterling. So despite what was considered a successful outing by the Three Lions in Russia, the winger was still the odd one out...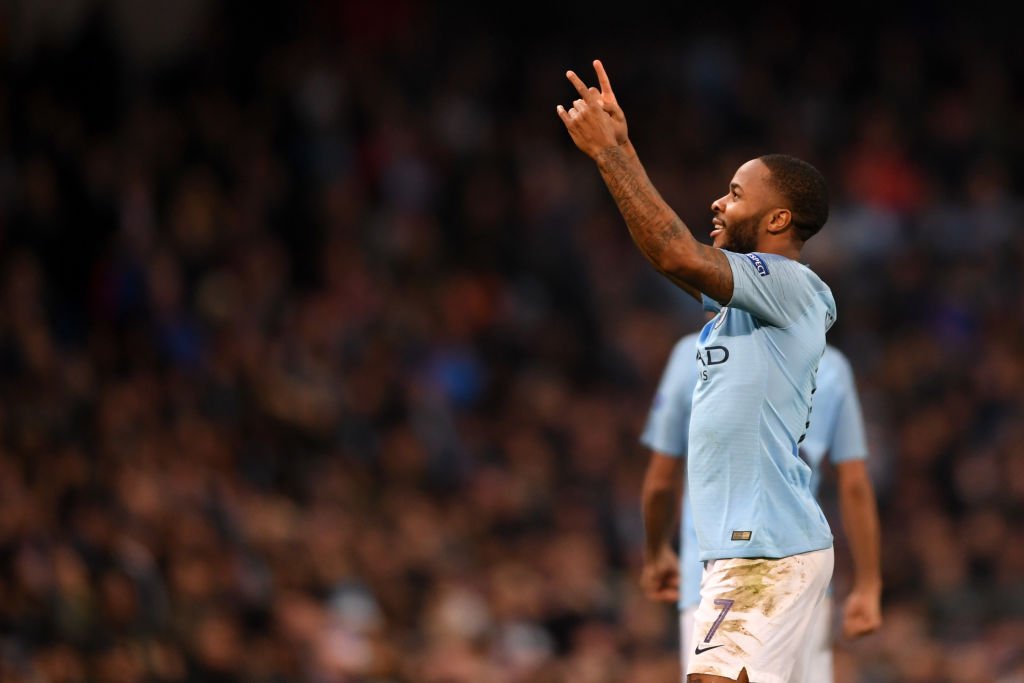 Raheem Sterling since the start of last season:
🔵 Games: 60
⚽ Goals: 30
🎯 Assists: 24
Show this man some respect. Absolute baller. 🔥
https://t.co/vv52IU9yAp
But the man in the middle of all these has refused to be deterred. He is answering his critics on the pitch. Having started the campaign with a starring role for City as they defeated Arsenal 2-0 in the opening match, he has gone on to score six goals and set up another five in just 10 games as the Sky Blues are riding high early on. Only Sergio Aguero has contributed more to the team this season. But then, the Argentine striker has played two games more.
When he signed a new mega contract extension with the club recently, the question was: he is good, but is he worth that much?
The England international was in sublime form in the last two games for the Cityzens as they demolished Ukrainian champions Shakhtar Donetsk 6-0 in the Champions League, before returning to domestic action to beat rivals United comfortably, 3-1. But that did not prevent the headlines about him from being negative once again.
Normally, when a referee makes a bad call in a match, he takes the blame. But when Sterling tripped and fell and a penalty was awarded against Shakhtar, it was all the players' fault. He should have told the officials they made a mistake, the media said. After the game, it felt like he was forced to apologise. He can't do right from doing wrong.
Even his manager knows that.
That explains why he walked briskly to meet him at the end of the game against United, to chide him about showboating. Not even the fact that it was in the final moments of the match could save the player. He is young, he has to learn you don't keep the ball away from your opponent and do stepovers in the final moments. Of course, as always, the headlines were about that, rather than yet another brilliant performance from the young man.
In the end, this has become an obsession for some in the media. Why? Sterling, quite literally, is money. News about him sells. And so whatever he does, it's often given a negative connotation, fairly or unfairly.
He is so good, yet so bad. Oh to be Raheem Sterling, eh?