Can Ralph Hasenhuttl take Saints to the Promised Land?
Hasenhuttl has transformed St Mary's.
Seven years ago, Southampton returned to the Premier League. They settled in rather quickly then survived relegation by the skin of their teeth last season. The manner in which they started this campaign under Mark Hughes suggested regular visits to the orthodontist were in the offing. A change in managers restored smiles on the South Coast, however. Ralph Hasenhuttl made an immense impact in just over a month. Steering the club clear of relegation could be the least he can achieve at St. Mary's.
A solitary win hidden behind six draws and seven defeats represented So'ton's worst start to a Premier League season since 2012/13. Usually reputed for being an intimidating place, visiting clubs were treating the ground like a McDonald's drive-thru. Three points to order, would you like chips and a shake with that? The Southampton hierarchy had a decision to make, Mark Hughes a train to catch. Sparky managed to stem off relegation in 2017/18, but the club were in no mood to go through the ordeal again.
Like many, I felt the Saints needed someone who knew the Premier League ins and outs. Even if it was Sam Allardyce, the club required a straightforward manager who would stamp his authority on the side. Second from bottom with half the season gone was no time to experiment. With Marcelo Bielsa already at Leeds, Ralph Hasenhuttl was the maddest scientist available. So much for my opinion.
The Austrian is a forward-thinking manager who couldn't care less about clean sheets and never coached outside Germany. Surely, he needed time to adjust to the Premier League. Well no, it's the other way around.
Let's be clear, under normal circumstances, the 51-year-old fits the Southampton coaching mould: young, vibrant, attack-minded, ambitious, charismatic. But you don't Beyonce your way out of a relegation fight, do you? Apparently, you do.
Eight games in, the former RB Leipzig boss has clearly turned things around. Three wins, including a 3-2 result over Arsenal, puts them clear of the relegation places by an admittedly narrow margin. With 17 games left, Southampton are far from safe but following Hasenhuttl's first month at the helm, fans can breathe much easier. If they can continue this pace, they'll be threatening the top-half before you know it.
Nobody had a tougher run-in during the festive period than the Saints. They faced three of the top six. Hasenhuttl's men came away from those fixtures with their heads held up high.
While offering more attacking verve and imagination, there is structure and method to their approach. Saturday's win against Leicester at the King Power demonstrated their resilience, playing half the game with ten men.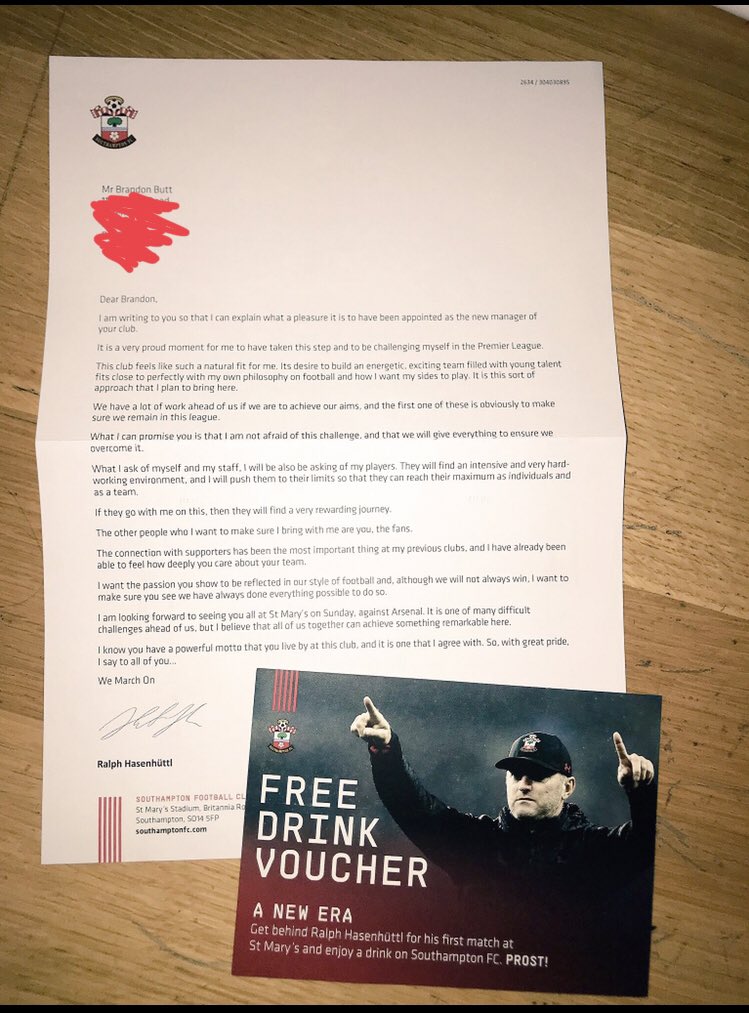 With their roster, Southampton shouldn't be involved in a relegation battle although you don't expect them within sight of the top six either. Hughes couldn't get the best out of the players. Hasenhuttl is doing exactly that. Nathan Redmond is a prime example. The forward scored two and assisted two more against Arsenal, West Ham and Huddersfield in December then struck for a brace against Derby in the FA Cup on 5 January.
Hasenhuttl is a lovable character, someone to whom the Southampton faithful can relate. He barks out orders from the touchline and celebrates every goal like a trophy, the kind of manager for whom you'd lose an arm.
Until Hughes, the Southampton board had a Midas touch with managerial appointments. The problem was convincing Mauricio Pochettino and Ronald Koeman to stay for the long term. That's difficult when you continually sell your best players.
Under Koeman, Southampton was beginning to establish themselves as a top-table team, even managing to break into Europe. The club has been on a downward trajectory since the Dutchman left for Everton. With Hasenhuttl at the helm, the future looks bright again. Who knows? The Austrian might just be the one who feels like he's come marching home.