Rangers FC: Share issue announcement not indicative of Steven Gerrard's budget
Rangers chairman Dave King declared his intention to raise £6 million via a share issue over the coming weeks. That figure was then construed as the club's entire summer transfer budget by some sections of the media.
Paul Murray and Barry Scott recently resigned as board members at Ibrox, sparking speculation that Rangers had sourced external investment to help rebuild the squad inherited by newly-appointed manager Steven Gerrard.
However, King was quick to rubbish that suggestion at a press conference on Monday. He explained the club had no plans to raise funds via other sources.
King also indicated there was no pressure to sell Alfredo Morelos in order to fund future transfer activity, insisting it was interim manager Graeme Murty's decision to keep the striker.
Numerous Scottish media outlets have been quick to ridicule Rangers' £6 million sum as wholly insufficient in trying to bridge the gap to Celtic.
Look at the figure in isolation, and it's difficult not to agree. The reality, though, is the Gers spent more than that last summer and will do so again once Gerrard arrives.
Would Rangers seriously go all out to land a household name – albeit untested as a manager – and then provide him with a measly budget to overhaul a squad that has proven far short of the required standard?
Would Gerrard have signed, risking his managerial reputation at the first step, if the transfer kitty was so low?
Gerrard's appointment is fraught with risk but as one of England's greatest ever players, he should realise that significant spending is essential to have any chance of success at Ibrox.
The incoming Gers boss would have no doubt been given assurances prior to agreeing on terms.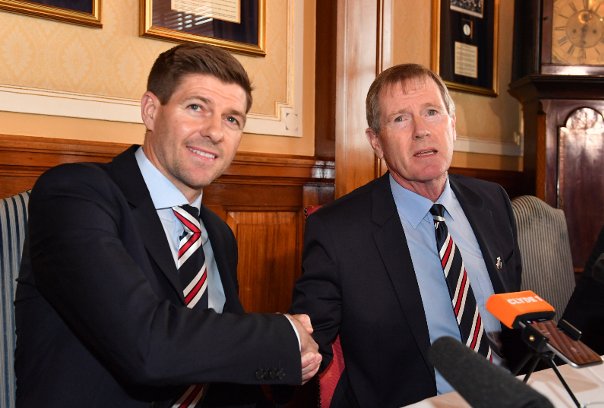 King's actual statement about raising cash via new shares issue has, perhaps unsurprisingly, been largely overlooked by the mainstream media.
A sceptic would put it down to not satisfying the terminally tiresome 'Rangers are skint' angle, which has proven popular despite its inaccuracy.
If 45,000 season tickets are sold at Ibrox once again next season, at an average cost of £320, the club will generate almost £14.5 million.
Factor in the many other revenue streams, ranging from TV money to merchandise sales, as well as a lucrative new kit deal with Hummel, and it becomes abundantly clear that Rangers are far better resourced than many news outlets care to report.
If the financial situation was bleak, as is widely suggested, King would have taken the £8 million offered for Morelos in January. He didn't, though. That alone is telling.
Regarding Morelos, King explained: ''The manager made a decision not to sell him, it was completely up to the manager. He knew that we could have sold the player but for Graeme's own targets (and) for what he wanted to do for the second half of the season.
"If Morelos went out he couldn't bring another player in. He (Murty) said: 'I would rather have the player. If you're not putting me under pressure to get the money I would rather keep the player,' and we told him there was no pressure, you make a football decision."
The Rangers chairman was then probed about how not offloading Morelos will affect Gerrard's war chest.
Summarising, King said: "It makes no difference to him [Gerrard]. He's going to get the money anyway. It really makes no difference. Steven is going to get the money he needs to do what he has to do."
Rangers' precise transfer budget remains unknown. However, only fools believe Gerrard will receive as little as £6 million.