Raul Jimenez's timely return saving Wolves
The Mexican is the man who makes Wolverhampton Wanderers tick...
Background Image Via: Wikimedia Commons/John Nickolls. CC BY-SA 2.0.
I think it's fair to say that Wolverhampton Wanderers' start to the domestic season didn't go according to plan, though starting your campaign back in July thanks to the Europa League was never going to help...
Six Premier League games had been and gone, Nuno Espirito Santo's side remained winless. The warning lights had begun to flash and the pressure began to mount on the Midlands outfit. Enter Raul Jimenez.
The Mexican endured a stop-start beginning to the 2019/20 league term. The supreme consistency in which Jimenez played with back in 2018/19 had gone missing, though, over the last week, Wolves' hit-man is showing major signs of life. Against Arsenal, the bully-boy returned. Jimenez would get on the end of a looping cross and power home a header, sending Espirito Santo and his players home with a well-deserved point. Wolves' star man would follow that up with a 92nd-minute winner against Slovan Bratislava in the Europa League; a competition in which the former SL Benfica star has been simply superb in.
It's not just his goal-scoring prowess that makes Jimenez so good. You look at his all-round game and you have to be impressed. Wolves' #9 wears his heart on his sleeve, he leads by example and commands proceedings from the front line. He's got underrated speed, dynamism, power and precision. Honestly, what's not to like? When this boy is on song, it's fair to say he's up there amongst the best in the business and I'll remain surprised that none of the so-called Premier League top-six took a punt on Jimenez after his initial loan move in the Black Country ended...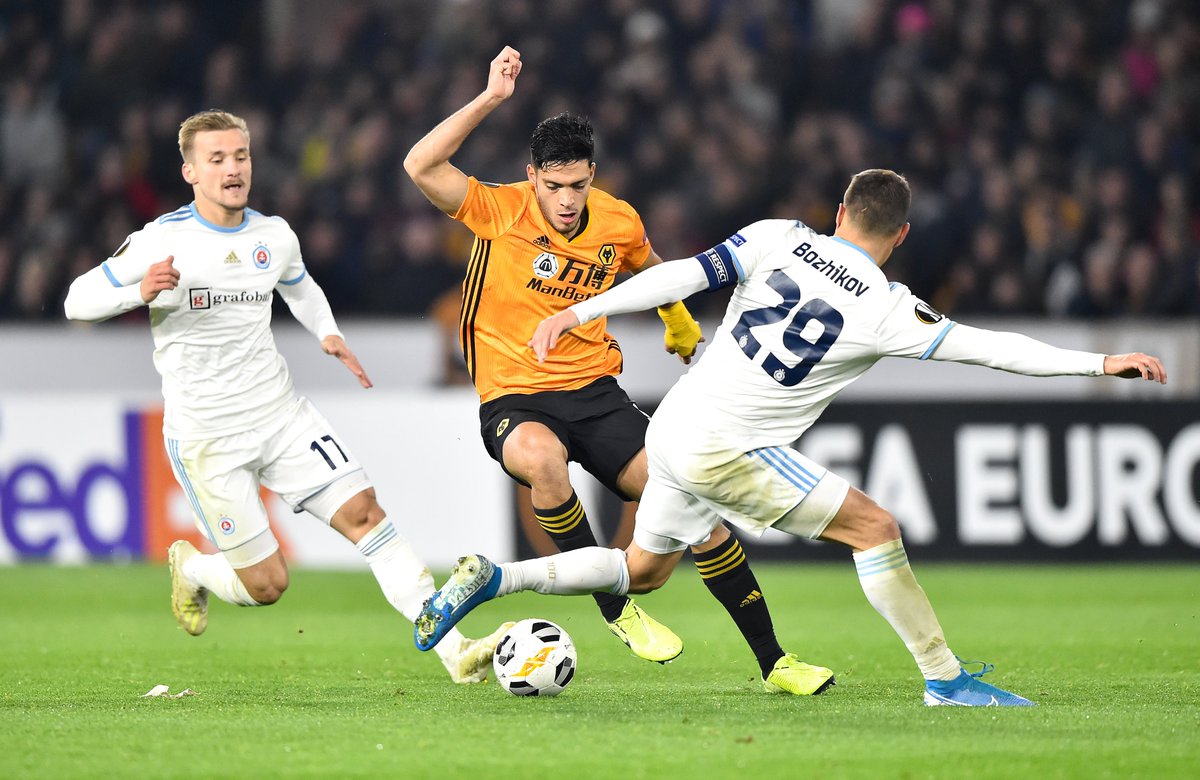 29 - Since the start of last season, Raúl Jiménez has scored 29 goals for Wolves in all competitions; 15 more than any other player for the club in that time. Marksman.
https://t.co/mCkwxGHPv4
Perhaps the best aspect is his unbelievable hold-up play. The selflessness to bring other teammates into the game is something that doesn't always come naturally for a striker, though Jimenez has it in abundance. When you add that to his big-game brilliance, we're talking about a striker who always turns it on when the lights are at their brightest. He became a thorn in the side of Manchester United last term, while his two assists against Manchester City in the early-goings of this campaign aren't getting anywhere near enough traction or credit that they deserve. This lad is a proper player.
So, after not winning any of their first nine where Jimenez excelled in fits and spurts, it comes as no surprise to learn that Wolves have looked far more comfortable when their star striker is playing at his brilliant best. The 28-year-old is the man that makes this side tick. When he's on song, Wolves can go toe-to-toe with the best that British shores have to offer. Heck, the fact that Jimenez has been brilliant in Europe, while his side has all-but booked their place in the knockout rounds only reaffirms that belief...
Today, Wolves' season continues with a fierce rivalry game against Aston Villa. A win here would further propel the Midlands outfit up the table, and you can fully expect Jimenez to give Tyrone Mings et al an afternoon he won't forget due to his strength, hold-up play and clinical finishing. That Villans backline will certainly know they've been in a game, that's for sure...