Real Madrid 0-3 Barcelona : 3 standout performers
The big games separate the truly great players from the overrated. El Clásico has been the pinnacle of world-class talent, with Cristiano Ronaldo and Lionel Messi continuing that tradition over the past decade.
With over 500 million people watching, the two most famous clubs on the planet went toe-to-toe on Saturday, battling for Spanish superiority. It was the 236th competitive Clasico. Real Madrid had tasted victory 95 times, with Barcelona on 92 wins.
In a game that had absolutely everything, Barca ran riot over their arch-rivals. Ernesto Valverde's men eased to a 3-0 victory at the Santiago Bernabeu, all but ending Madrid's title hopes. Barcelona now sit a whopping 14 points clear of Zinedine Zidane's side.
The triumph means the Catalans have beaten Los Blancos three times in a row away from home.
Here are three standout performers from Barcelona's 3-0 win at the Bernabeu.
Luka Modric: 6.5/10
Modric is often touted as the world's best midfielder. There's a reason for that. The Croatian can control a game, regardless of the opposition.
In the biggest test of the season, Modric was the most important player on the pitch for Madrid. He was the source of every free-flowing move, constantly ensuring play was switched between flanks at a rapid rate. The 32-year-old's wizardry proved the only real threat to Barca.
Despite losing 3-0, Modric completed 51 passes, created 2 chances and maintained an 88% pass accuracy.
Luis Suarez: 7/10
The Uruguayan's form has been scrutinised this season, but when it mattered most, Suarez delivered. He looked reborn at the Bernabeu. His movement was electrifying, and his off the ball work was relentless.
After being pummelled for the majority of the first half, Barcelona came out swinging after the interval. Suarez capitalised on that momentum, finishing off a swift counter-attack to score the game's all-important opening goal. Blaugrana went on to control the contest, dominating a clueless Los Blancos side.
Despite selling Neymar, the third best player in world football, Barca's attack has improved this season.
During Barcelona's El Clasico victory, Suarez completed 2 dribbles, attempted 3 tackles, made 1 interception, completed 24 passes, attempted 5 shots and also scored a crucial goal.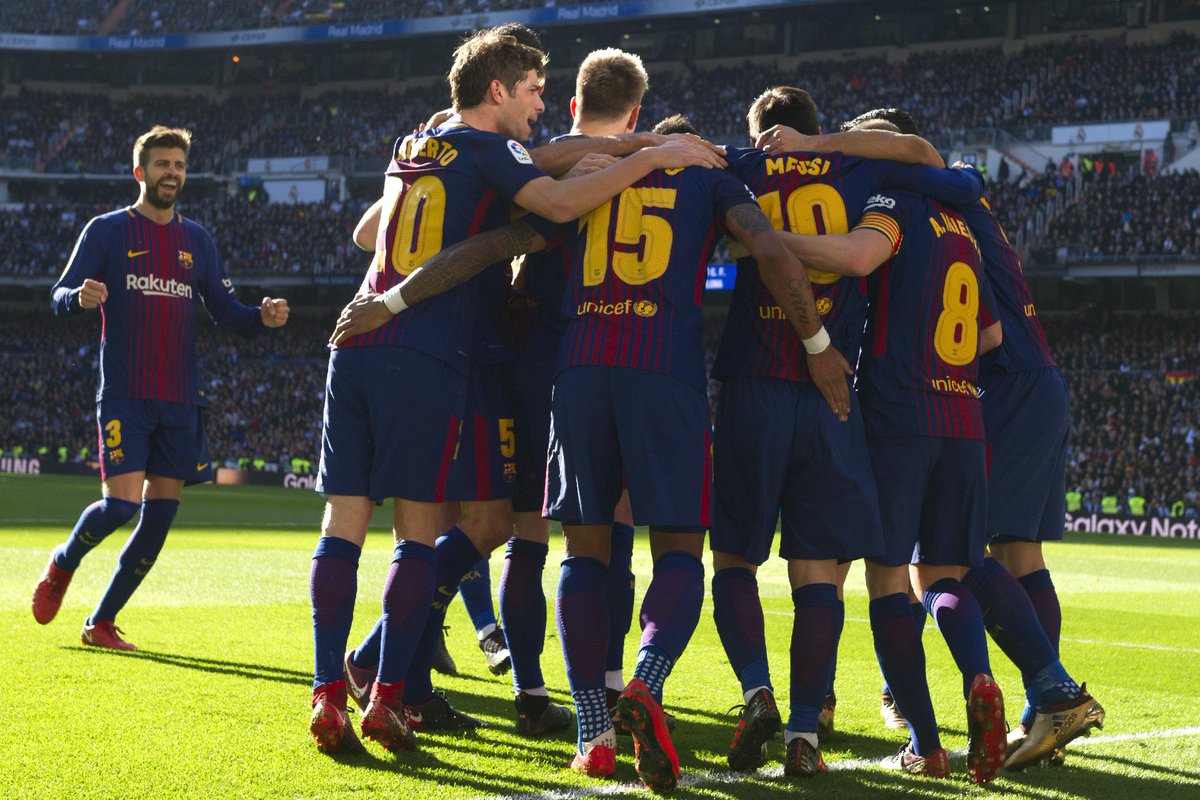 3 - Barcelona have won three consecutive La Liga away games versus Real Madrid for the first time in their history. Triumph.
https://t.co/lTXNRhRtM7
Lionel Messi: 7.5/10
Although I'm a huge Cristiano Ronaldo fan, I can admit that Messi is simply out of this world. It wasn't the Argentine's most glistening performance, but he still provided the goods against Madrid. Messi's high-pressure penalty and assist basically settled the game, confirming Barca's status as the number one team in Spain.
Lionel Messi also made history to become the record goalscorer in El Clasico, taking his tally to 25.