Why the Real Madrid clock is already ticking on Julen Lopetegui
Julen Lopetegui and Florentino Perez made Real Madrid's bed in July. Now, they must lie in it.
Many high-ranking members in the RFEF still fault Julen Lopetegui for La Roja's poor run at Russia 2018. After all, it can't be their fault. They fired him on the tournament's eve, but he agreed to join Real Madrid following the competition without telling them. He forced their hand. Whether their anger's justified is irrelevant now. The former Porto manager's learning what he should've already known: Real Madrid's no safe haven for coaches.
That's true even if the boss wins a trophy or two. Lopetegui failed in his first attempt at the UEFA Super Cup in Morocco. He remains a 52-year-old manager who's never won any major trophy as a senior coach. Even though Zinedine Zidane walked out on Real Madrid, leaving them scrambling to find a new gaffer, the former goalkeeper needed Los Blancos more than they needed him. It's the biggest club in the world. Florentino Perez can fill a managerial opening while eating his breakfast. Possibly, that's what happened. He hired a former player who could not break into the senior squad despite spending nearly four years in the youth ranks.
While he didn't anticipate the sack, the national team job was a stopover for Lopetegui. The Santiago Bernabeu's a destination any manager would covet even if it means stepping into oversized shoes and standing on hot coals. The job is the ultimate pressure cooker and offers less security than any other post except maybe Watford under the Pozzo family's 'stewardship'. Despite winning two Champions League titles prior to his final season as Madrid manager, speculation Zidane would be fired never subsided. Perhaps demonstrating his masterful understanding of the job, Zizou elected to leave before it broke him. If the one man who could write his own ticket at the club was overwhelmed, how long can Lopetegui survive?
One assumes he had a plan. You'd expect so from any serious-minded individual offered a staggering challenge. When one sits on the hot seat, however, the tendency is to open a window. Who can say when the plans flew out?
On his first matchday at the helm, he watched his new team take a beating from their city rivals. How a Super Cup might have relieved the pressure. Instead, a 4-2 defeat just added more to the pile. Lopetegui's overseen two more defeats since, including a whitewash at Sevilla's hands in La Liga. The club president doesn't want to hear the Rojiblancos top the table. That's Real's place.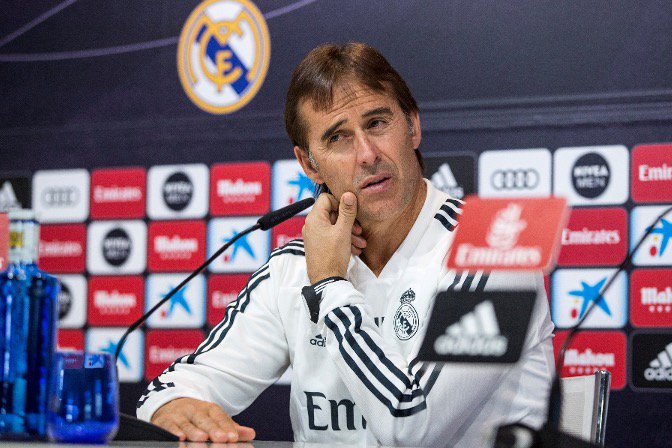 For most coaches, the occasional defeat is natural. For Real Madrid managers, it's a doomsday bell. Early defeats aside, Lopetegui's body language decries a man with a target on his back. He's played down the exit rumours by insisting his team can take the present challenges in stride, but that isn't the crux of the issue.
Why Lopetegui won't last as long as most
In a word, the answer is pedigree. He lacks it. It's that simple. A candidate to manage Real Madrid requires a steel will and proven track record to marshal the Bernabeu dressing room. Fluency in Spanish won't cut it.
Every time Madrid hires a manager without the nous to control its multi-million-pound squad, they end up sacking him within the year. Ask Juande Ramos, Manuel Pellegrini and Rafael Benitez.
Zidane was a trophy-less greenhorn manager before being appointed Madrid manager, too. The difference is he'd already owned the dressing room as the chief galactico. A tough player with a tactical mind, he was a champion. What success Lopetegui enjoyed as a player came with Logrones and Rayo Vallecano, smaller clubs. The same can be said as a manager. He did well at Porto. Wolves were sniffing around before Spain hired him. The Molineux might suit him. The Bernabeu doesn't.
Another scathing defeat Deportivo Alaves on Saturday magnified the problem. Los Blancos are in the mire. It's down to how the team's being managed. Lopetegui's decisions are being questioned here, there and everywhere. After an early barrage from Gareth Bale and Karim Benzema, the lads up front aren't scoring. It's last year all over again, without Zidane or Cristiano Ronaldo to ride to the rescue.
Unconfirmed reports say at least five senior players, including Luka Modric and Toni Kroos, are unhappy with the manager's methods. Losing this particular clubhouse ten games into the campaign 's a serious cause for concern.
Julen Lopetegui's facing a second sack in less than six months. Even if he wins La Liga, which is a very long shot, it's difficult to envisage him lasting beyond this season. Not with top gaffers like Jose Mourinho, Antonio Conte and Mauricio Pochettino rumoured to be available.