Thibaut Courtois far from keeping a clean sheet in Real Madrid blame game
Background image: Uggboy, CC-BY-SA 2.0
Real Madrid is in a position they don't like, fourth in La Liga, five points below La Liga leaders Barcelona. But they aren't doing too badly judging from last season. After 16 games, Los Blancos is in exactly the same position they were last campaign, the only difference is, albeit scoring less [24/33] while conceding more [19/11]. That's where Thibaut Courtois comes in.
Long before the 2017/18 campaign ended, Courtois made it clear he no longer wanted to be in London. Apparently, the hunger to play in Madrid still ate at him. The Belgian's love for the Spanish capital is quite reasonable. When he moved to London to join Chelsea, his girlfriend, pregnant with their first child, refused to accompany him.
She eventually changed her mind but their relationship in London didn't last. The pair split in 2017 while expecting a second child. According to reports, the couple remained close. The reunion only required Courtois' return to Madrid.
In August, Chelsea sold Courtois when he refused to sign a new contract or show up for training after the World Cup.
Disgruntled Chelsea fans
While playing for Belgium at Russia 2018, Courtois was a darling to many Chelsea fans. They were happy to see him win the tournament's Golden Glove. They knew his desire but he'd done enough to be respected as one of their own, similar to former boss Jose Mourinho.
When he signed with the Merengues, the Stamford Bridge crowd took it in stride initially. Then Courtois spoke to the Spanish media.
"In training, you see that the level at Real Madrid is high, I am now experiencing on a daily basis that [Sergio] Ramos is the best centre-back in the world. The level at Real Madrid is higher than at Chelsea."
He kissed the Madrid badge during his unveiling. Chelsea fans went haywire on social media, calling Courtois all sorts of unprintable names.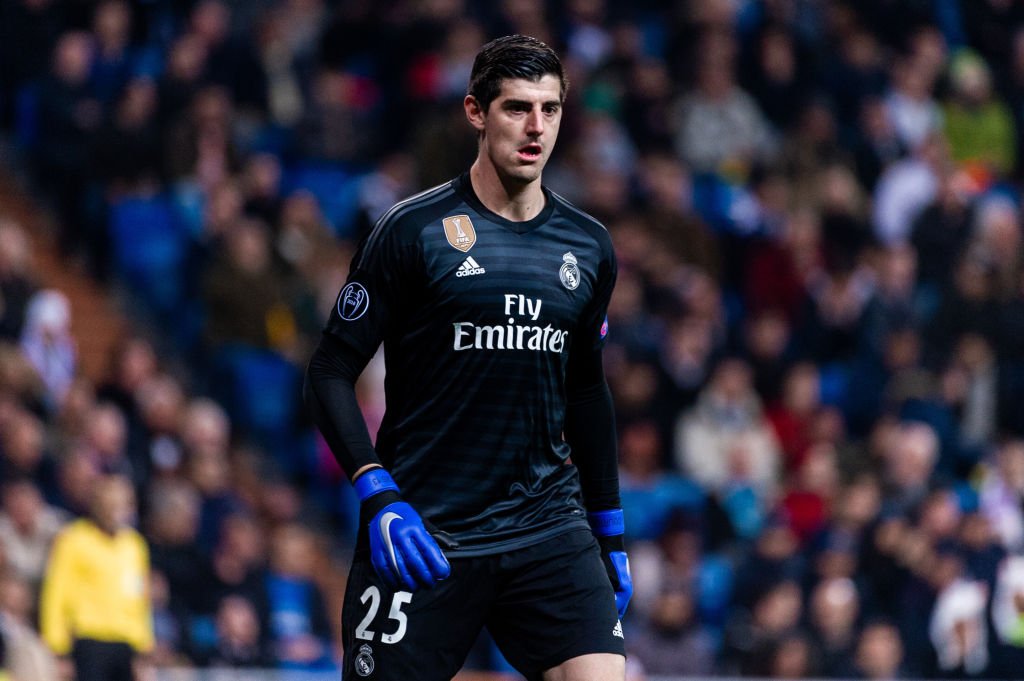 In addition, replacing the lanky Belgian wasn't cheap. Kepa Arrizabalaga set the club back a world-record £71.6 million.
Unhappy Madridistas
Courtois' arrival coincided with Zinedine Zidane and Cristiano Ronaldo's departure. Due to the latter, club morale took a hit. The Belgian stopper dislodged Keylor Navas as Madrid's first choice but hasn't impressed the hard-to-please Madrid faithful.
Over 17 games in all competitions, Courtois picked 21 balls from the Madrid goal and kept just eight clean sheets. With every goal conceded, fans flood social media with doubts regarding his ability. Against Barcelona at the Camp Nou, Courtois suffered one of his heaviest defeats as a player in a 5-1 embarrassment in El Clasico.
Not long after, another five went past him in Nations League play with Belgium. He was in goal when Eibar hammered Madrid 3-0. CSKA Moskow did the same, this time at the Bernabeu.
How much blame is enough?
In the aftermath of Real Madrid's 5-1 defeat at Barca, a Madrid fan made an Instagram post, labelling Courtois "useless". That post was liked by Sergio Ramos. Apparently, the goals he concedes are not the fault of the world-class defenders in front of him.
Meanwhile, Chelsea fans can't stop trolling him for being disloyal.
Do you think Thibaut Courtois deserves all the stick or should fans lay off?