Real Madrid still have a lot of work to do
Three consecutive Champions League triumphs earned Real Madrid an exclusive page in the history books if you don't pay attention to anything that happened before 1992. While the club endured miserable outings at the domestic level, success in the European tournament covered up their flaws and protected them from critics.
Unfortunately, Los Blancos' European fairytale came to an end this past season. Without Cristiano Ronaldo on their side, the Galacticos faded in their favourite competition. They weren't even close to their expected level.
The Merengues were brutally exposed by a young Ajax side who sent them packing from the competition at the Round Of 16 stage despite losing the first leg at home. In turn, the defending champions were humiliated in front of their own fans, succumbing 4-1 at the Santiago Bernabeu.
Quickly followed by two Clasico defeats in a week, the failure triggered Santiago Solari's dismissal. It was the second sacking of the campaign for club president Florentino Perez who let Julen Lopetegui go following an embarrassing Clasico in December.
Zinedine Zidane's return sparked hope. The Frenchman didn't turn things around during his three-month stint to end the season. In fact, he didn't really try, treating the time as an audition for the current roster to keep their jobs. He stressed a busy summer of rebuilding.
Six signings in June and July, with more than €300 million invested in Eden Hazard, Luka Jovic, Rodrygo Goes, Ferland Mendy, Takefusa Kubo and Eder Militao proved he meant business. Zizou's disinterest in James Rodriguez and Gareth Bale further signalled his intent. Then came the preseason friendlies.
The International Champions Cup (ICC) offered opportunities to put the new squad through their paces. Unimpressive is the kindest word that can be applied. The Merengues didn't win any of their first three pre-season contests.
Bayern handled them 3-1 in the opener. The next match against Arsenal was absurd theatre with Nacho and Sokratis red-carded. Despite Zidane's dislike for Bale, it was the Welshman's toe-poke that sparked Real's comeback. No one can say the Frenchman is unfair or ungrateful. Bale's allegedly pending transfer to China was cancelled after the game.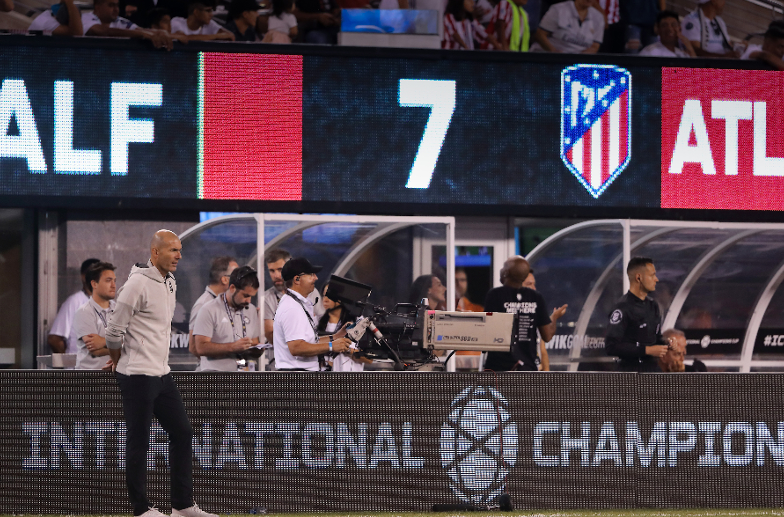 After the third match, Zidane must be considering whether to exile the entire squad to the Forbidden Kingdom or go there himself. Spanish capital rivals, Atletico thrashed his side 7-3. Diego Simeone's side were up 5-0 at the break. Captain Sergio Ramos lamented his side's lack of spirit.
We took it as a friendly and they played like it was a final. They beat us in intensity and took their chances very well. You can lose many ways, but not like that.
On the one hand, such a comprehensive defeat suggests that Zidane needs still more players. On the other, the new Champions League supremos, Liverpool, also failed to win a match over 90 minutes in their first three preparatory matches.
Admittedly, the clubs are approaching the new campaign from different starting points.
As Europe's best, the Reds haven't made any squad changes in the transfer market, signing two youth prospects and treating Alex Oxlade-Chamberlain's return from a long-term injury as new business. Their top stars are just returning from Copa America and AFCON duties. Their fans understand patience is the word of the day.
Should Madridistas be thinking the same? It's a given in football that new players require time to bed in. When a squad undertakes an overhaul of this magnitude, disorganisation and confusion are to be expected in the early going. Real at least showed some competitive fire in the second half against Atleti, winning that period of the game 3-2.
This season will be a challenge for Zidane and a test for Madrid fans. The latter will need to find the patience they notoriously lack. They should expect their squad to struggle in the opening weeks. Further business might be required in January but in the interim, Zidane should consider keeping both Bale and Rodriguez on hand. Allowing the latter to sign with the Rojiblancos certainly won't help matters. Both players are productive despite Zizou's disdain for them. At the moment, he needs all the help he can get.