Red Bull Salzburg conducting big business from corporate headquarters
People often describe corporations as faceless. It comes of frustration at being run into the ground with no one individual who can be blamed for your suffering.
Red Bull GmbH are a corporation. Headquartered just outside Salzburg, they make energy drinks. Also football teams. While RB Leipzig of the German Bundesliga and New York Red Bulls of Major League Soccer contend but haven't yet won titles and Red Bull Brasil are just finding their feet, RB Salzburg consistently run opponents into the ground. The Austrian Bundesliga isn't an elite competition. Winning it in nine of the 13 seasons since Red Bull GmbH bought and renamed SV Austria Salzburg in 2005 [and finishing second the other four years] may not be all that impressive except the side is beginning to run roughshod over the rest of Europe as well. Not surprisingly, they are doing it in a faceless manner. Consider the following.
On 27 May, Austria Wien defeated a depleted Salzburg side that had already accomplished everything it could that season, including another Bundesliga title and a semifinal bow in the Europa League. That was the last time Red Bulls lost a match. On 22 July, they gored ASKO Oedt 6-0 in the Austrian Cup first round. A week later, they began the new Bundesliga campaign by turning away LASK 3-1. On Matchday 3, they exacted revenge against Austria Wien with a 2-0 victory at full strength.
Their winning streak continued until they met Red Star Belgrade in the Champions League group stage playoff. The two played to a goalless draw at the Rajko Mitic Stadium, then a 2-2 thriller at Red Bull Arena. Red Star progressed on away goals but Red Bull remained unbeaten.
They continued their perfect domestic record before travelling to the German Red Bull Arena to face sister club Leipzig in their opening match in Europa League Group B. They surprised their counterparts with a 3-2 away win.
More perfection followed in both league and cup play, then an emphatic 3-1 win over visiting Celtic in the Europa League. Two games later, Wacker finally held Salzburg to a one-goal draw in the Bundesliga. A week later, Red Bull clawed out a 3-3 draw away to main league rivals LASK. Following that match, they began their current five-game winning streak. That mark was on the line when they welcomed Leipzig to corporate headquarters for the return leg in their Europa League group stage tie.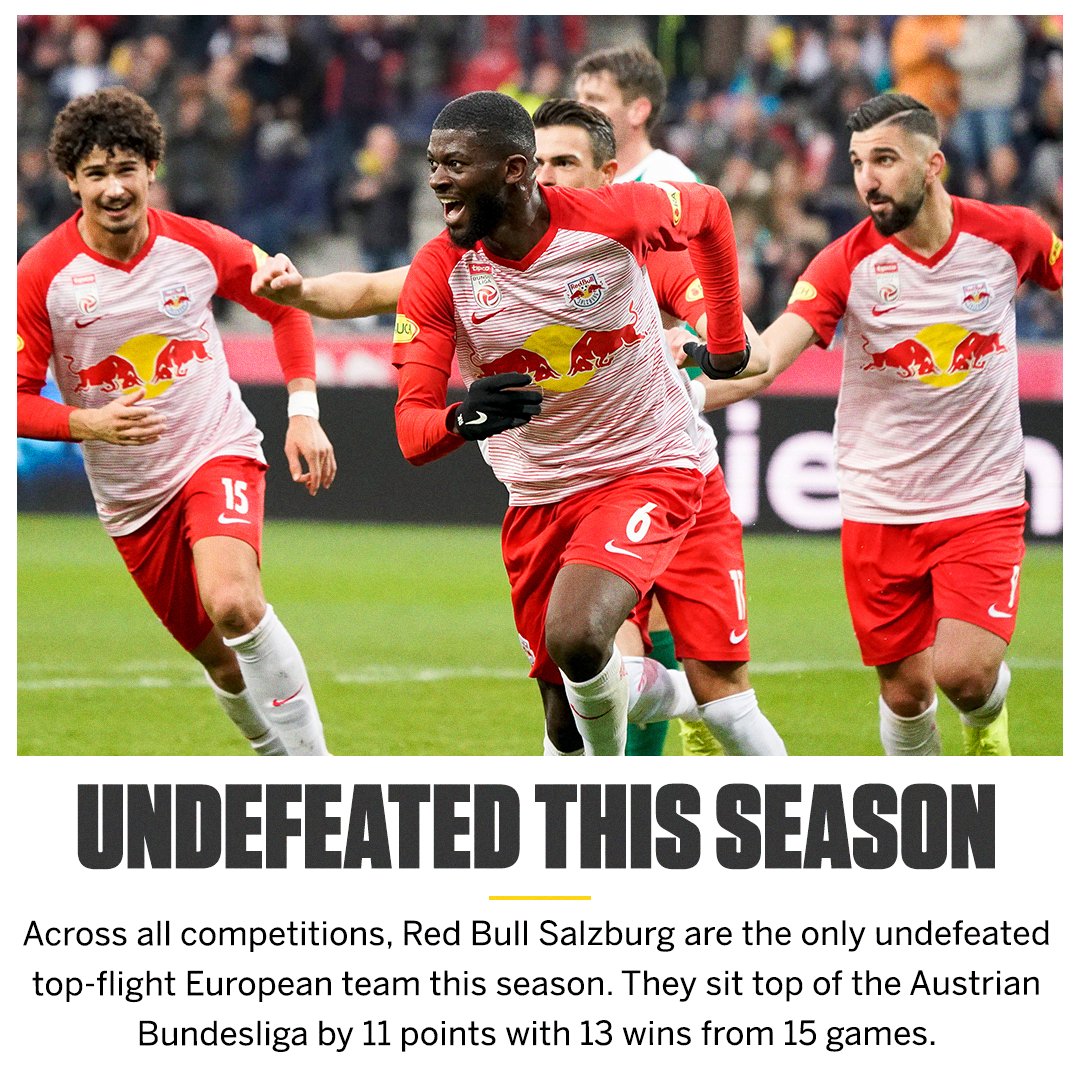 Coming into Thursday night's run of the Red Bulls, the Austrian champions had won 22 and drawn four from 26 matches played. They topped their Europa League group with a perfect 12 points from four matches. One more point taken or one dropped by either Leipzig or Celtic unlocked the door to the knockout rounds. Courtesy Fredrick Gulbrandsen's 75th-minute shot from point-blank range, Salzburg claimed another intramural victory over their German colleagues to cross the threshold into the Round of 32. Red Bull are ruthless, systematic and methodical, just like a corporation. But faceless?
Manager Marco Rose's rotation policy is so comprehensive it includes his goalkeepers. Cican Stankovic starts almost every league match while his second, Alexander Walke takes the cup and Europa League matches. The rearguard is fairly stable. Stefan Lainer, Marin Pongracic, Andre Ramalho and Andreas Ulmer comprise the back four from right to left. That said, centre-backs Jerome Onguene and Jesper van der Werff, along with right-back Darko Todorovic, claim significant minutes too.
It's in midfield and attack where you see the fluidity in Rose's squad. Every single midfielder and forward who's made an appearance for Red Bull can claim at least one goal. Everyone. Only three from the group, Diadie Samassekou, Christoph Leitgeb and Smail Prevljak have yet to provide an assist. Much was made on the weekend regarding how well Mauricio Pochettino's Tottenham side marked Jorginho off the pitch to disrupt Maurizio Sarri's system and defeat Chelsea. You cannot do that against Red Bull Salzburg. When an opponent focusses on certain players, others pick up the slack. Rose's squad is as close to anonymous as an unbeaten side can get.
If you refused to let one player beat you when facing Red Bull, your most likely choice would be striker Munas Dabbur. The Israeli's season total includes 18 goals and six assists in 26 matches. He's directly involved in a goal every 79 minutes on average. Problem: following Dabbur only creates space for Takumi Minamino to add to his 10-goal haul. Want to go after a playmaker? Hannes Wolf leads Red Bull with nine assists. Problem: midfield partner Zlatko Junozovic backs him up with seven. Amadou Haidara [ligament] and Reinhold Yabo [ankle] have been out of the squad but Rose plugs in Xaver Schlager and Enock Mwepu who naturally respond to their opportunity. Hungarian teenager Dominick Szoboszlai has stepped up from the B team where he had six goals and four assists in nine games to log one of each in 47 minutes over two appearances.
While further growth is limited by the comparatively weak competition in the Austrian Bundesliga, Salzburg insist on leading from the front in the front in Red Bull's football empire by mowing down everyone in their path. The home office is busy indeed.