Reiss Nelson: The one Arsenal fans have been waiting for
Although he has been severely criticised for being out of touch with the modern game, Arsene Wenger is still amongst the best developers when it comes to young talents. Over the years, the Frenchman has introduced to us a plethora of nobodies and turned them into bonafide household names. Now Wenger is set to present his latest prodigy project in Reiss Nelson.
When he made his first-team debut aged just 16, many fans believed Jack Wilshere could be the one to fill the void left behind by those before him. Yes, he had the talent, but injuries never allowed him to fulfil an ounce of his potential. Now the Englishman is set to leave at the end of the season, as the Gunners haven't offered him a deal he sees as appropriate. What a sad way to end an Arsenal career that initially offered so much. Arsenal fans will hope and pray that Nelson's career doesn't follow a similar path.
And they now have good reason believe such, as Nelson has every intention to commit his long-term future to the club. The 18-year-old's current contract runs out next summer, but such is the talent of the youngster that Arsenal are looking to finalise his future long before that. Amidst rumours of Real Madrid and Paris Saint-Germain looking to capture him, Nelson's words will come as sweet music to Gunners fans. When asked about a new contract, the 18-year-old replied:
"I'll be signing it soon. It is a big achievement to sign for a big club like Arsenal."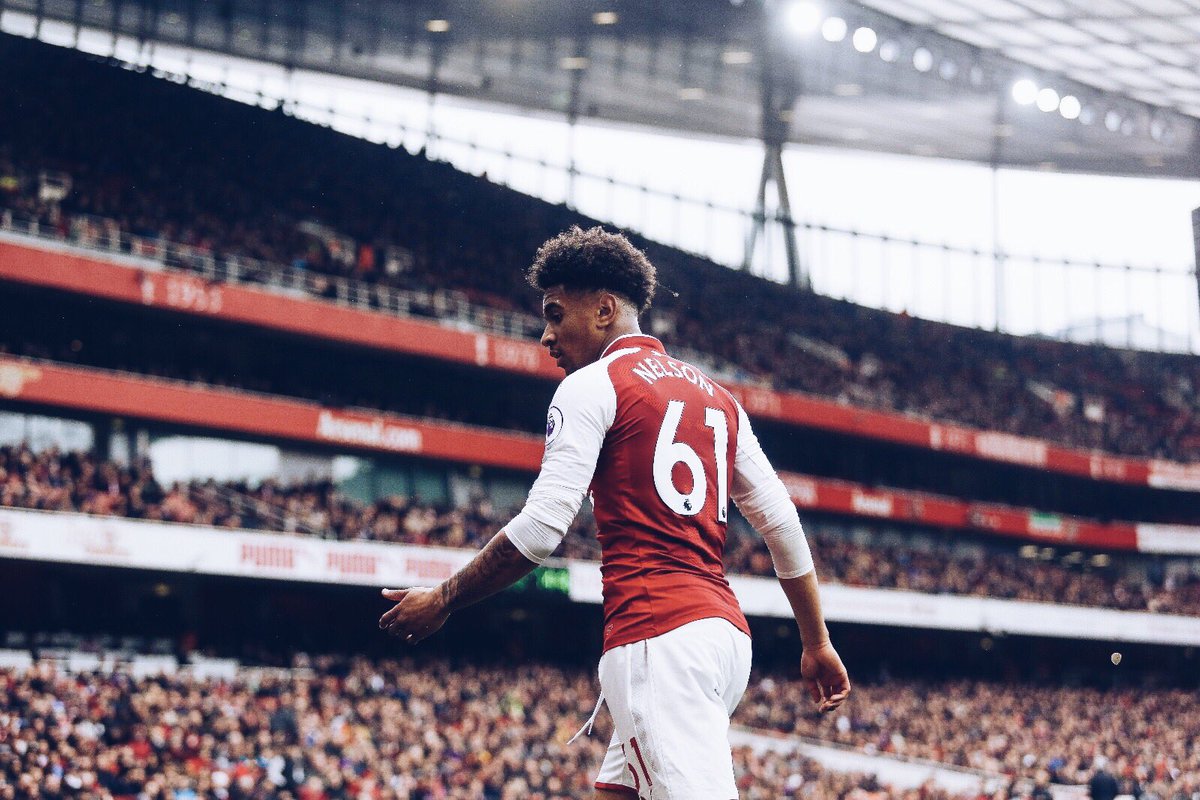 At the tender age of nine, Nelson was signed to the Arsenal academy from Lewisham Borough. In his time at youth level, Nelson played 35 games, mostly at a level above his age. On the international stage, the winger has impressively represented his country 21 times at various levels.
After a while, it became abundantly clear that the Englishman was an exceptional talent, with Wenger quickly signing him to his first professional contract shortly after his 17th birthday. The following summer, he was taken aboard Arsenal's pre-season tour.
Since that inclusion, Nelson has gone onto make eighteen first team appearances, in that time he's played as a right wing-back, right winger and a central attacking midfielder. Alongside this versatility, Nelson is an exceptional dribbler, extremely composed in the final third, he possesses great striking technique and his pace is frightening. The youngster excels at a range of different things, that's why there's such a buzz around his name.
Have you ever wondered why Arsenal fans are always so abusive of players who want to leave the club? It's because they see how much care and nurture Wenger puts into moulding that player, with that, they then get emotionally attached. So, when the player inevitably leaves for greener pastures, an outburst of raw emotion is poured out by the Arsenal faithful.
It happened with Cesc Fabregas, Robin Van Persie, Ashley Cole, Samir Nasri and even the legend Thierry Henry. These were all players that came to Highbury as young nobodies and left as stars to bigger clubs. The story regarding Nelson will be different, he's the player that will restore Arsenal to their rightful place as one of the best teams in Europe. Yes, he's THAT good.