Must Spurs move on from Eriksen in January?
It's foolish to ask 100% commitment from a player who doesn't want to be in the team.
Tottenham's stale lineup isn't even a fresh topic anymore. Mauricio Pochettino is buried under a mountain of criticism for indulging his old guard. At the fore of the wantaway movement stands midfielder Christian Eriksen. He went public with his wish to leave Spurs at summer's onset. Even though Real Madrid held a keen interest in the Dane, neither Pochettino nor club chairman Daniel Levy was willing to sell their playmaker.
They rolled the dice, so far coming up craps and face the threat of losing him for nothing next summer. The Dane knows this very well but unlike Arsenal's Aaron Ramsey, who gave his absolute everything even while already promising his future to Juventus, Eriksen doesn't look too eager to lift Spurs from their malaise.
The Argentine manager belatedly showed pragmatism, benching his star in crushing losses to Leicester City and Bayern Munich. Perhaps that rubbed the Dane the wrong way. He's not performing as he did last season. With only two goal contributions and just over one key pass per game, his performance is sub-par. A stinker at Anfield summed it up.
This cannot be tolerated much longer. Selling him in January for whatever profit is sensible. Eriksen isn't their attacking focal point anymore. He's quite replaceable. If he wants the move to Madrid so bad, then so be it. Daniel Levy can rob Florentino Perez with an inflated fee again.
Meanwhile, Pochettino should hand the Dane's role to someone else. Tanguy N'Dombele is the perfect option. He's had a topsy-turvy start to life in North London but shows signs of being the complete package. He also happily fulfils his defensive duties.
With two goals and three assists, he's appeared on the score sheet more often than Eriksen in one fewer [11] appearances. The 22-year-old will get better with experience. Utilising him as the advanced midfielder in place of the Dane can make Spurs a sturdier unit.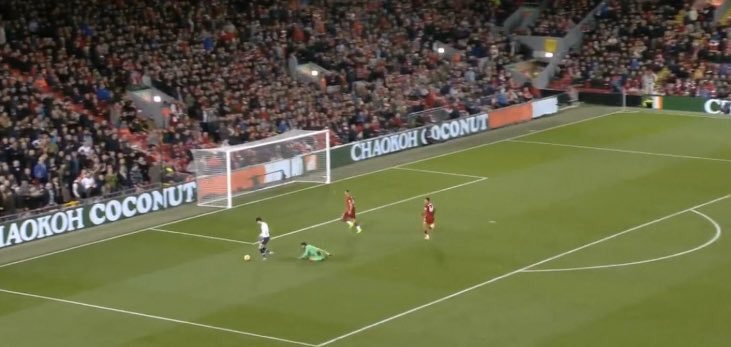 Tottenham Hotspur goalkeeper Paulo Gazzaniga created more big chances against Liverpool (1) than Spurs midfielder Christian Eriksen (0) managed in the entire game at Anfield.
#THFC #
COYS
https://t.co/L6PsGbsPTt
As much as Levy shudders at the thought, there's reason to spend in January. There are always opportunities to do good business in the winter. Liverpool sold Philippe Coutinho to fund the Virgil Van Dijk two seasons ago. Now they sit atop the Premier League.
Pochettino would, of course, prefer a direct replacement for the Danish International. The Lily Whites won't surge into title contention merely from a successful window but they can be on the path to redemption.
Atalanta's Alejandro Gomez surprisingly flies under the radar in transfer windows. The Italian side are flying high in Serie A with his creative brilliance. They won't sell easily but a big amount could force their hand. Gomez is Argentine, has strengths to flourish under Pochettino's fast-paced system and can be a breath of fresh air for the London side.
Indeed, playing alongside Harry Kane and Son Heung-min, Gomez has all the tools to take the Premier League by storm. Adapting shouldn't be an issue.
Eriksen can be replaced from within as well, if the club is committed to Giovanni Lo Celso. The Argentine's yet to truly introduce himself to the Spurs faithful thanks to persisting injuries. Yet, knowing his quality in creating chances with added flair and hounding opposing midfielders, he'd fill the void.
Regardless of their choice, January is a crucial period for Spurs to undo their recent wrongs. Depending on players who lost their hunger after the Champions League disappointment in June is clearly backfiring. If Pochettino wants to usher in a new era at Tottenham, he must start removing the deadwood and planting new seeds or else he may find himself on gardening leave.