Can Marco Reus' return spark sputtering BVB?
Dortmund's skipper can lead a Yellow and Black revival from the front.
Marco Reus' return couldn't come any sooner. Borussia Dortmund's form underwent a landslide without him. BVB edge Bayern atop the Bundesliga only due to superior goal difference. No one else stepped up in Reus' absence to hold the squad together.
Following his hamstring injury against Eintracht Frankfurt, die Borussen descended into panic. Paco Alcacer and Manuel Akanji's injuries exacerbated the issue but the captain's absence killed their spirit. Lucien Favre's side began surrendering matches they should have won.
Disappointing results to Hoffenheim and Tottenham illustrate. Jadon Sancho and Mario Goetze tried but neither is the leader Reus is. Granted, the captain doesn't address Dortmund's defensive problems. Regardless, his calming influence allows the squad to cope better with its leaky rearguard. In the return leg against Spurs, an unfit Reus made Hugo Lloris' life miserable.
Der BVB looked disorganized during his absence, often losing their shape. Opponents exploited the chaos. Dortmund won just one from four without Reus. They say absence makes the heart grow fonder. After just 360 minutes, Lucien Favre is ready to marry his star player.
Reus' thrives as the man at the Westfalenstadion. Now a senior figure at Dortmund, he elevates their attack with his intuitive play. His form surged under Favre. He leads BVB with 13 goals and six assists. Among the most prolific attacking midfielders in Europe, he lights up Bundesliga stadiums.
Dortmund feels Reus' influence frequently. He instigated the thrilling second-half comeback against Bayern in November. He bailed them out of trouble and willed them forward several times.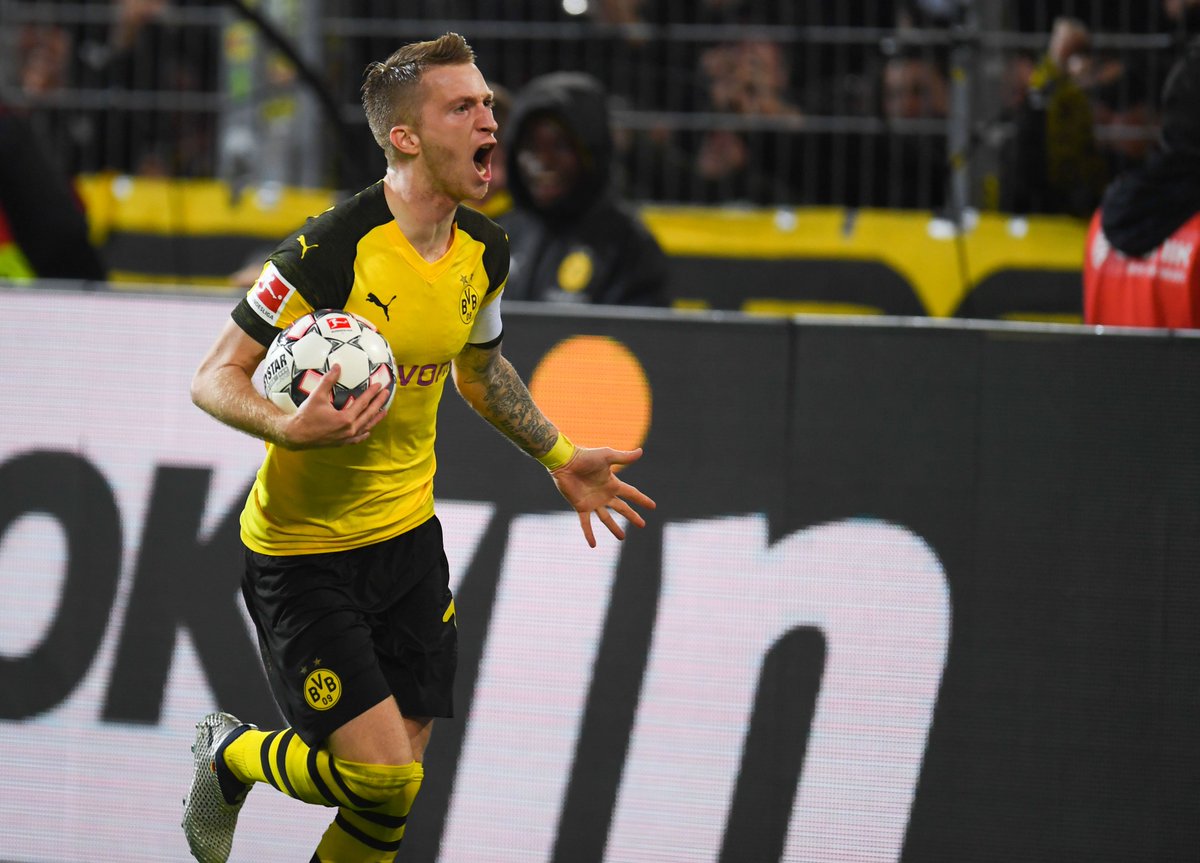 No player has scored more goals in the Bundesliga this season (13) than Marco Reus.
Another one for the BVB captain. 🙌
https://t.co/NiFAgv7ZHn
His effect on Jadon Sancho shouldn't be discounted. Reus helped the English winger adapt to the Bundesliga, creating space and time through his own movement so that the young Englishman could weave his magic.
Reus also helped Paco Alcacer settle into Dortmund after feeling left out at Barcelona. The Spaniard can only expect the ball to meet him when he finds space behind defenders.
However, his most remarkable reclamation project is Mario Gotze. The two Germans share much more in common than citizenship. Both were considered cursed with injury and past their prime. Reus showed Gotze how to prove the critics wrong. On the pitch, each plays off the other like a twin. They recall the Dortmund side built by Jurgen Klopp.
Restoring BVB's sizzling early season form won't be so easy. Bayern are level. The pressure is on. Reus isn't fully match fit and nurses an injury that tends to flare up when you push it too soon. Plagued by injuries throughout his career, he must be wary not to wander down that path again.
Dortmund's premature Champions League exit can be a blessing in disguise. With Bayern Munich poised to eliminate a stumbling Liverpool side, they'll remain preoccupied with European duties. Niko Kovac's squad isn't young or deep enough to compete on two fronts late in the season. Die Borussen must capitalise on Bayern's vulnerabilities.
The club needs a hero to rescue their title challenge. The question is whether Marco Reus has it in him to be that hero.