Right now, Ciro Immobile is Europe's deadliest striker
Europe is where the world's best strikers play on a weekly basis. And while everybody knows the usual suspects, there is one player in the Serie A that has quietly gone about his business. He is the current top scorer among Europe's big five leagues. His name is Ciro Immobile. 
When we think about prolific strikers in Europe, several names come to any football fan's mind. Lionel Messi, Cristiano Ronaldo, Robert Lewandowski, Antoine Griezmann or Pierre-Emerick Aubameyang are the popular picks due to their impressive scoring totals over past few years. However, there is one attacker that has beat all of them in the beginning of the 2017-18 season. And he goes by the name of Ciro Immobile.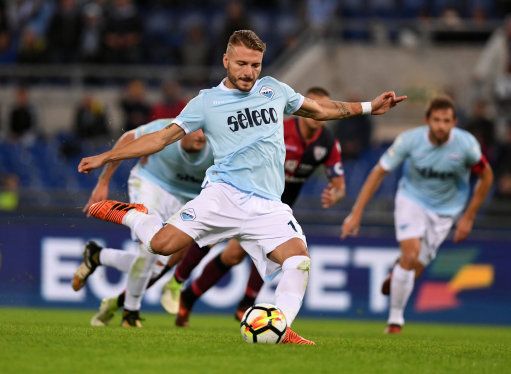 📰Tabloid Talk
Chelsea owner Roman Abramovich has sanctioned a £53m January bid for Lazio striker Ciro Immobile (Metro).
#CFC
https://t.co/SJjXCWOY11
Immobile's name should not generate a lot of consensus as one of the best attackers in Europe at the moment, and that's okay. He is not flashy as Messi or Ronaldo. He is not fast like Aubameyang, not strong like Lukaku, nor does he possess a clinical touch inside the box like Lewandowski. But the Italy international certainly has one thing going in his way. He is far more effective than any of the aforementioned players, and it seems everything he touches turn into gold this season.

The numbers do not lie. The 27-year-old forward has 13 goals in 10 Serie A appearances this current season. And if we add the Italian Super Cup and the UEFA Europa League, then it's 17 goals in 14 appearances. But it's not like Ciro Immobile came out of nowhere. One year ago, he netted 23 goals in 36 Serie A appearances in his first season with Lazio. He was one of the top scorers in the league, and it looked like a bounce-back year for him after struggling at Sevilla. But it wasn't the first time he faced adversity in his career.

Ciro Immobile also struggled while playing for Borussia Dortmund and, aside from a decent spell at Torino, it's hard to imagine him as a reference when it comes to Italian strikers in recent years. If anything, he failed to take advantage of his chances in past years. But not anymore. Right now, Immobile seems like a whole new player. He connects better with his teammates, does not isolate as much as he used to, and moves all over the attacking third if needed. He is far more effective inside the box but now can operate outside of it from time to time. That's something he struggled to do in the past.

Ciro Immobile is never going to be a world-class player. He is never going to be a striker that amazes fans and pundits with his technical ability. But the man can score. And he is proving exactly during the past two seasons with Lazio. And at 27-years-old, he is entering his prime years. So the best form of his life came at the perfect time.

Now it's up to him to maintain it. But based on how good he has been over the last 18 months, he shouldn't have problems to do so.