Riyad Mahrez benefitting from Guardiola's tough-love?
Manchester City's Algerian star is following in Bernardo's footsteps at The Etihad...
Background image: Flickr/Cleria De Souza, CC BY 2.0.
Upon joining Manchester City, Riyad Mahrez's dream of becoming a recognised world-class talent took a further step towards fruition. Simply too good for Leicester City, he deserved to be consistently vying for the Premier League title.
Despite a lavish introduction, he was soon forced to face the music being pre-emptively benched by Pep Guardiola. While unknown to the Champions' volatile style, the decision to sideline Mahrez didn't really meet many groans. But the 28-year-old's frustration grew as he watched City thrash one team after another.
Then again, no player takes enjoyment in watching his team succeed from the bench. However, rather than making a snarky statement to the media or showing his dismay, Mahrez stuck to his roots in working harder to break into the team. Guardiola, the impeccable man-manager he is, made it clear his work-rate must be at the highest level to cross the benchmark (pun not intended).
Of course at Leicester, he wasn't forced to adapt to such a high-profile style. The Foxes moulded their attack around him but at City, the tides turned. Suddenly, he had to play around their strong suit. So began a treacherous journey forcing the influential Algerian to test himself to the limit.
It's not like he had a dud season, as City did the domestic treble last campaign. He provided seven goals and four assists while being especially impactful from the bench. However, his breakthrough moment came on the very last day when his sweet strike sealed the league title for the Cityzens.
His Catalan manager was won over and a new dawn had arisen. After a stellar AFCON with Algeria, going all the way and winning the whole thing, Mahrez came back to Manchester rejuvenated and ready to make that right-wing position his own. Well, the rotation obsessed Guardiola simply cannot ignore him any longer.
Considering he's already started four games out of a possible seven proves he's seemingly winning over his manager's confidence. Two goals, three assists pose an encouraging sight, yet the Algerian's work-rate, as well as overall impact, has also been amplified.
Not only does he boast a superior passing accuracy, which is such a key factor in City's possession-based style, but his defensive contribution mirrors his tenacity this season. Indeed, he's been making nearly double the tackles and interceptions per game too, averaging 1.1 tackles along with 0.7 interceptions as compared to his 0.5 tackles, 0.3 interceptions last time around.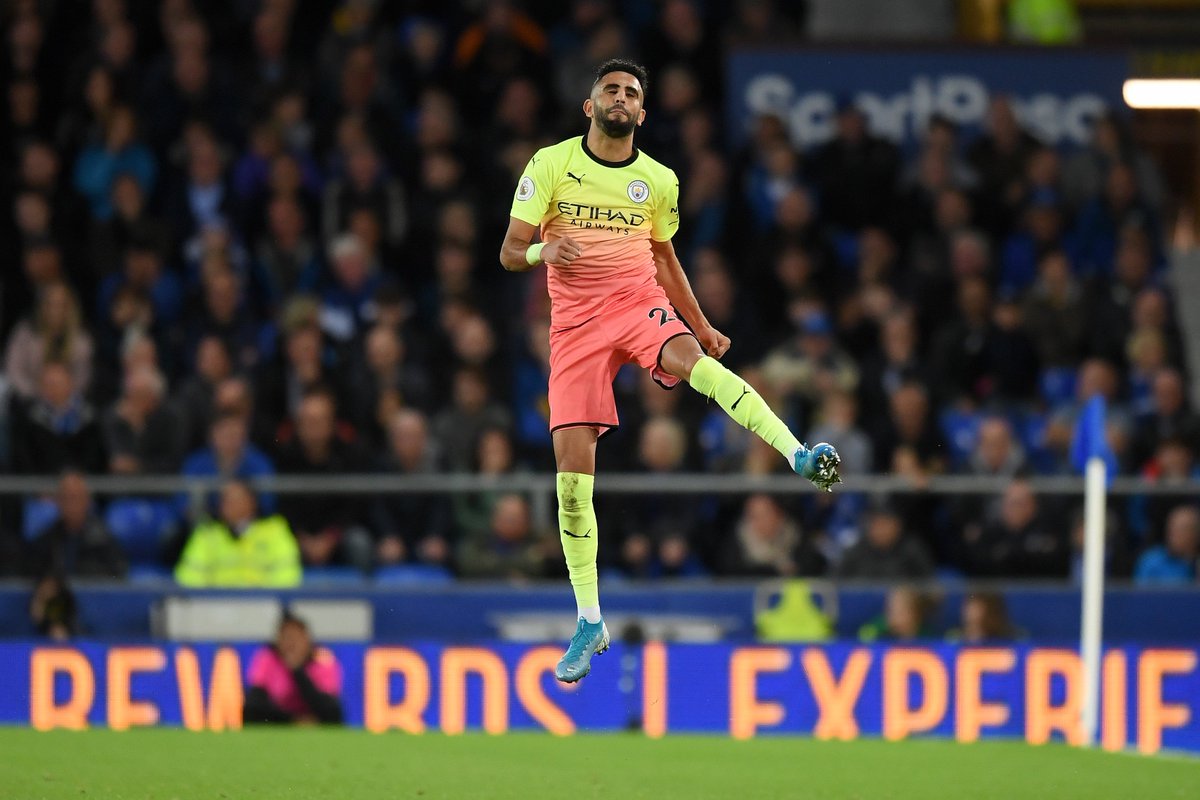 17 - Riyad Mahrez has been directly involved in 17 goals in his last 17 starts for Manchester City in all competitions (seven goals, ten assists), including nine in his last seven (four goals, five assists). Threat.
https://t.co/HqehFPsloC
Granted it's still early, but his developing workaholic nature proves he's also bought into their bloodhound mentality. Even going forward he's been more decisive with his delivery - which is exactly what is required from him.
If the 2.9 key passes and 1.3 dribbles per game don't reflect his influence over the Citizens, nothing else will. Of course, Mahrez is no Kevin De Bruyne, who is collecting assists from nearly everything he delivers from that inner right-hand side. Nonetheless, his persistence at roaring his side forward implements a cutting edge to their attacking pattern.
Indeed, if opponents decide to dig their feet right in to parry out City's attacks, the Algerian often ends up being their special weapon. With sweet dribbles outwitting defenders, the ability to create space for himself and drill in inviting crosses, he manages to conjure something up to break down even the most stubborn defences.
While Raheem Sterling's turning into more of a centre-forward than winger with his tendency to cut in, get into six-yard area scoring goals, Mahrez is quickly becoming Pep's trump card in finding killer defence-splitting passes. Of course, his stunning free-kick ability and perfection for curling one into the top-corner are special traits which make him such an asset.
At a packed side like City, rotation is an inevitable sacrifice for everyone. However, he's staking his claim at a regular spot at least on the biggest occasions. With an amplified work-rate and stark influence on City's attack, the Algerian could be Guardiola's trump card in snatching another league title for the undisputed champions.