Robert Lewandowski: The world's best striker?
Poland's captain stars every week for die Roten.
'Tor! Bayern München. Robert Lewandowski!' are the 5 most common words at the Allianz Arena this season. Bayern have suffered supposed turmoil, Niko Kovac is gone, Hansi Flick is steadying the ship. The one remarkable constant is the Polish centre-forward Lewandowski scoring.
Before Bayern's match last weekend, Lewandowski scored in every single match he appeared in. His one-game drought extinguished as Bayern mauled Red Star Belgrade in the Champions League, and Lewandowski set a record in the process; the fastest-ever four-goal Champions League haul.
Now thirty-one, the perennial twenty-plus goals a season striker is a mainstay for Munich. Although critical of Kovac before his dismissal, Lewandowski cannot be blamed. He scored in Kovac's reign for fun, the same is true in Hansi Flick's time at the helm. In his prime, the superstar striker relishes the new responsibility at FC Hollywood. His ambitions of a move to Spain and Real Madrid, donning the famous white shirt and seizing the poisoned chalice of 'Galactico' are gone. Lewandowski is the main man now for Die Roten and his influence exudes every level at the club.
Lewandowski stays behind after training to work with the talented forwards like Joshua Zirkzee and Sarpreet Singh, offering tips on their finishing. He also works hard to integrate new signings. The evolution of Lewandoski, from moody young upstart who swapped yellow for red and dreamed of making history at the Santiago Bernabeu, into the fearsome centre-forward powerhouse of 2019 is incredible. The captain of Poland is the best striker in the world and arguably the best free transfer of all time.
The tag of 'best' often evades Lewandowski. People look at him and misjudge the Pole as awkward and cumbersome. Lewandowski does not rely on blistering pace, but he does possess impressive strength, nicknamed 'The Body'. No defender in the world fazes or intimidates him – Lewandowski, son of a former Polish Judo champion, is happy to scrap, get stuck in and test himself against anyone.
Unearthed as a rough diamond by Jurgen Klopp who took him from Lech Poznan in 2010, Lewandoski bought into the German's method of hard work. The forward covers the whole front line in nearly every match. The hard graft is usually rewarded with a chance from a lucky deflection, a toe-poke or tap-in at close range. The work rate is just one aspect. Lewandoski scores from anywhere, with both feet, and in the air. He sometimes flattered to deceive at Dortmund, playing either brilliantly or abysmally. Judging on this season, it's now firmly the former. Whenever Bayern attack, defenders need to watch Lewandowski carefully. Give him an inch, and he is off – BANG. A kneeslide in front of the Bavarian faithful, the net rippling behind him and teammates lauding him.
Previously, the Pole shared striking duties with Thomas Müller, Claudio Pizarro and Sandro Wagner. Nowadays, there is no competition and Lewandowski is thriving. Before, the limelight shone on Arjen Robben and Franck Ribery. These names are history now, replaced by Lewandowski and Serge Gnabry. The latter dovetails well with the powerful striker, Gnabry's pace and skill complimenting Lewandowski's guile and strength. Both players are formidable finishers. Lewandowski as a focal point is an intelligent striker too, he possesses a good touch and footballing awareness to know when to pick a pass.
A man for the big occasion, scoring in Champions League matches, DFB Cup finals and key international games, he is a great showman for FC Hollywood. Although confident from twelve yards with a 94% penalty conversion rate in his career, only four of Lewandowski's strikes this year are from twelve yards. The decline of Luis Suarez this season means that Bayern's number nine only faces one real challenger for his position: Tottenham's Harry Kane. Both players have outstanding records and Kane is younger than Lewandowski by five years, but even so, his trophy cabinet will never be as full. In a surprise twist of fate, Kane could be the Galactico centre-forward positioned as Benzema's heir apparent; a status that seemed certain for Lewandowski even as recently as last summer.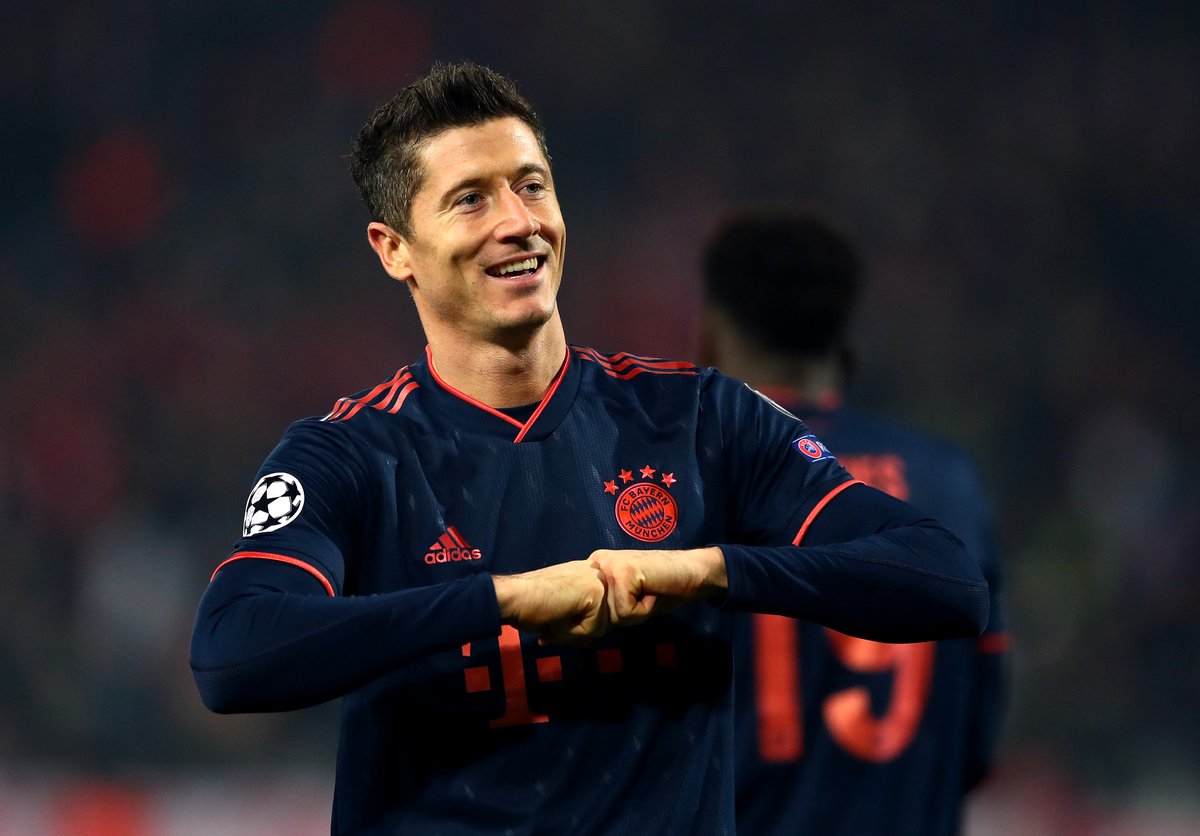 🇵🇱 5⃣1⃣ goals in 2019 for club & country! FOUR-goal hero Robert Lewandowski becomes #
UCL
top scorer ⚽️⚽️⚽️⚽️
https://t.co/W72vKZJJO2
This season, Lewandoski's plundered thirty-four goals in twenty matches and, barring a catastrophic injury, seems certain to smash his previous best of forty-three, set in 2016-17. He could even have Messi's record from 2012 in his sights, albeit a long way off. If he keeps scoring every sixty-six minutes, however, he may well get close, especially if Bayern go far in the DFB Pokal and Champions League.
Then, talk for Robert Lewandowski to be recognised as the best striker on a global scale will only grow. Take Poland to a respectable finish at Euro 2020, and Lewandoski could be in the top 3 for the Ballon d'Or. Spearhead his country to a shock title, and Bayern to another Bundesliga and Champions League crown, and the powerful Pole will be favourite to win it.