Are Italy setting a trap for England?
Despite the Euro 2020 Final taking place at Wembley, Italy are the nation on familiar ground.
Perhaps the most frustrating problem in predicting how the Euro 2020 Final between England and Italy will play out at Wembley Stadium this evening is the squad depth both managers enjoy.
Gareth Southgate and Roberto Mancini can substitute either tactically or like for like at virtually every position. Each has wingers with varying but effective attacking qualities, strong, physical centre-forwards to back up their more wide-ranging first choices, as well as a plethora of quality midfielders and central defenders in reserve. Even their respective shortcomings are similar. While right-back Leonardo Spinazzola managed a couple of appearances before rupturing his Achilles tendon, his England counterpart, Trent Alexander-Arnold, suffered a thigh injury during preparation for the tournament.
With the two managers spoiled for choice across the pitch, assuming any player will start the match is a risk with a few obvious exceptions. Obviously, Harry Kane will be England's No.9 and Juventus partners Giorgio Chiellini and Leonardo Bonucci will be tasked with keeping him as far as possible from goalkeeper Gianluigi Donnarumma.
Of course, they will have help from the Tottenham and England captain himself in that regard. Kane loves to wander back out to the flanks and into midfield to collect the ball. In doing so, he may pull Chelsea holding mid Jorginho out of position as Spain repeatedly did, leaving the ageing Bianconeri tandem alone to deal with any one if not two of England's fleet footed forwards, be it Raheem Sterling, Mason Mount, Bukayo Saka, Jadon Sancho or even Marcus Rashford or Jude Bellingham, should they decide to fill the space Harry has vacated. Bonucci anticipated the problem in a pre-match interview.
Youngsters against old men. They have very strong forwards, we will need to be very careful of them, the defence and the whole team. We know the challenges they can pose to us and we will have to be careful about their speed.
If you don't think the experienced defender was attempting to kill the Three Lions with kindness, consider how he went on from there.
In the last three games we've been lucky to come up against the three best strikers in the world. It's just an added motivation not to concede anything.
While it's fair to place Kane and Romelu Lukaku in a short list of the world's top centre-forwards, it stretches credibility to add his club teammate Alvaro Morata. You can believe Robert Lewandowski, Erling Haaland and Cristiano Ronaldo would all take offence.
While Bonucci tries to deflect curious reporters, his manager is a man so superstitious that he attempted to hunt up a vat of meatballs for a Manchester City flight home from Madrid because that was what the side had eaten following another important victory. Mancini clearly believes in consistency. It should come as no shock then that he's sent his squad out in the same 3-3-4 for the entirety of the tournament. In that sense, he is predictable, regardless of the various formations adopted by opponents. In the knockout rounds alone, Austria manager Franco Foda used a 1-3-2-4 inverted V while Belgium's Roberto Martinez deployed a 1-2-4-3 and Spain's Luis Enrique mirrored Mancini's shape on the pitch, if not his elegant fashion sense.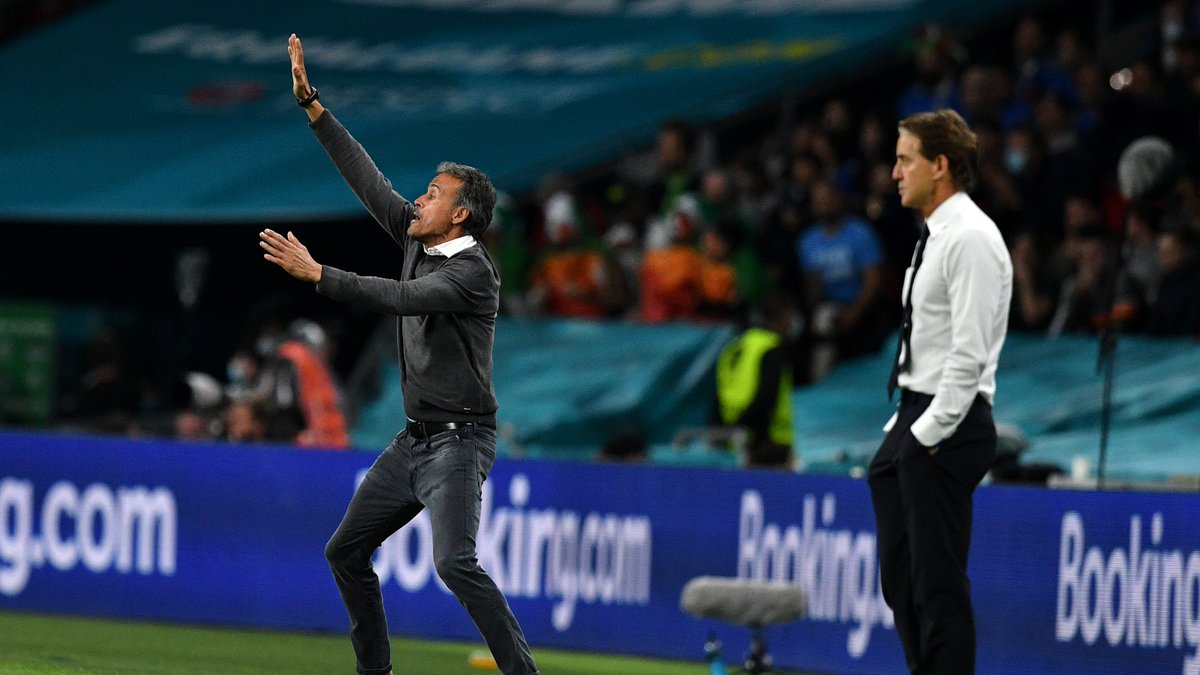 For his part, Gareth Southgate's sartorial tastes have apparently shifted. He eschewed the elegant Savile Row vest he made famous at Russia18 in favour of simply throwing a sport coat on over a shirt and tie. But who knows? He may revive his more formal look for the Final.
Tactically, he's been slightly more flexible than Mancini, lining up his squad in a 1-3-2-4 against both Ukraine and Denmark in the quarter and semi-final rounds but going with a 3-4-3 against Germany for the R16. Southgate wound up the group stage against the Czech Republic with the inverted V but shared Mancini's philosophy against both Croatia and Scotland, opting for a traditional 3-3-4 in England's first two matches.
For those times when Bonucci and Chiellini repel England's attack and gain possession, Mancini can call on the likes of Fede Chiesa, Lorenzo Insigne, Domenico Berardi and Federico Bernardeschi, giving pause to England fullbacks Luke Shaw and Kyle Walker when they consider pushing too far forward. In fairness, though both Walker and Shaw possess far more recovery speed than their Azzurri counterparts Emerson and Giovanni di Lorenzo.
Italy, therefore, are expected to sit back, soak up all the pressure England can apply and try to catch the host team on the counter. If the rest of the competition is any indication, Southgate will stress that his midfielders play deliberately, choosing the safest options rather than trying to force their way through Italy's rearguard. It's the usual dichotomy at play in major tournaments. Both squads are filled with positive players who can create and finish but guided by managers who understand caution is the byword when it comes to reaching and winning the Final.
Mancini could press high in an attempt to disrupt England's lateral and backward passing. Will he take that risk knowing that Kalvin Phillips, Declan Rice, Harry Maguire, John Stones and even Jordan Pickfrod can all deliver accurate balls over the top for Sterling, Saka or Sancho to run onto? Will Southgate send Mason Mount and his wing-men to harass Jorginho so that he has no time on the ball to crank up the Azzurri attack, all the while aware Italy can play the long ball as well?
There are pressure points in either squad that the two managers may seek to expose. In the end, it may come down to the mental state of each XI. History is on Italy's side. They can afford to be patient and confident whereas the Three Lions have been hearing "It's Coming Home" for three years now. Eagerness can easily become desperation. More than likely, that was the hidden meaning when Bonucci said, "Youngsters against old men."