Roberto Martinez is the Jurgen Klinsmann to Radja Nainggolan's Landon Donovan
Belgium manager Roberto Martinez created a furore on Monday when he released the final 23-man roster for the World Cup. Roma midfielder Radja Nainggolan was conspicuously missing. The tattooed, mohawked, chain-smoking destroyer is usually conspicuous in his presence because none of those controversial traits have made him any less a world-class footballer, but Martinez doesn't see it that way.
It's a tactical reason. Over the last two years, we have worked in a very attacking way, a very specific system and manner, and other players had those roles. Radja has a very important role in his club, and I don't feel we can give him that in the national team. He's not a player to be used in a small role.
One sniff of that statement tells you what it is. As Martinez fancies himself a refined gentleman, the term would be bovine excrement. Nainggolan is more down to earth, where it's plain and simple bullshit.
It's perfectly accurate to describe a team with players like Eden Hazard, Michy Batshuayi, Romelu Lukaku, Dries Mertens, Kevin De Bruyne, Axel Witsel, Adnan Januzaj, and Youri Tielemans as "very attacking". On the other hand, it's disingenuous to say that a team with players like Toby Alderweireld, Jan Vertonghen, Vincent Kompany, Dedryck Boyata, Thomas Vermaelen, Marouane Fellaini, and Mousa Dembele doesn't care to defend. On most such clubs, a player who can do both with excellence would not be "used in a small role." He would be valued.
Squawka tweeted an exemplary graphic that illustrates Nainggolan's worth.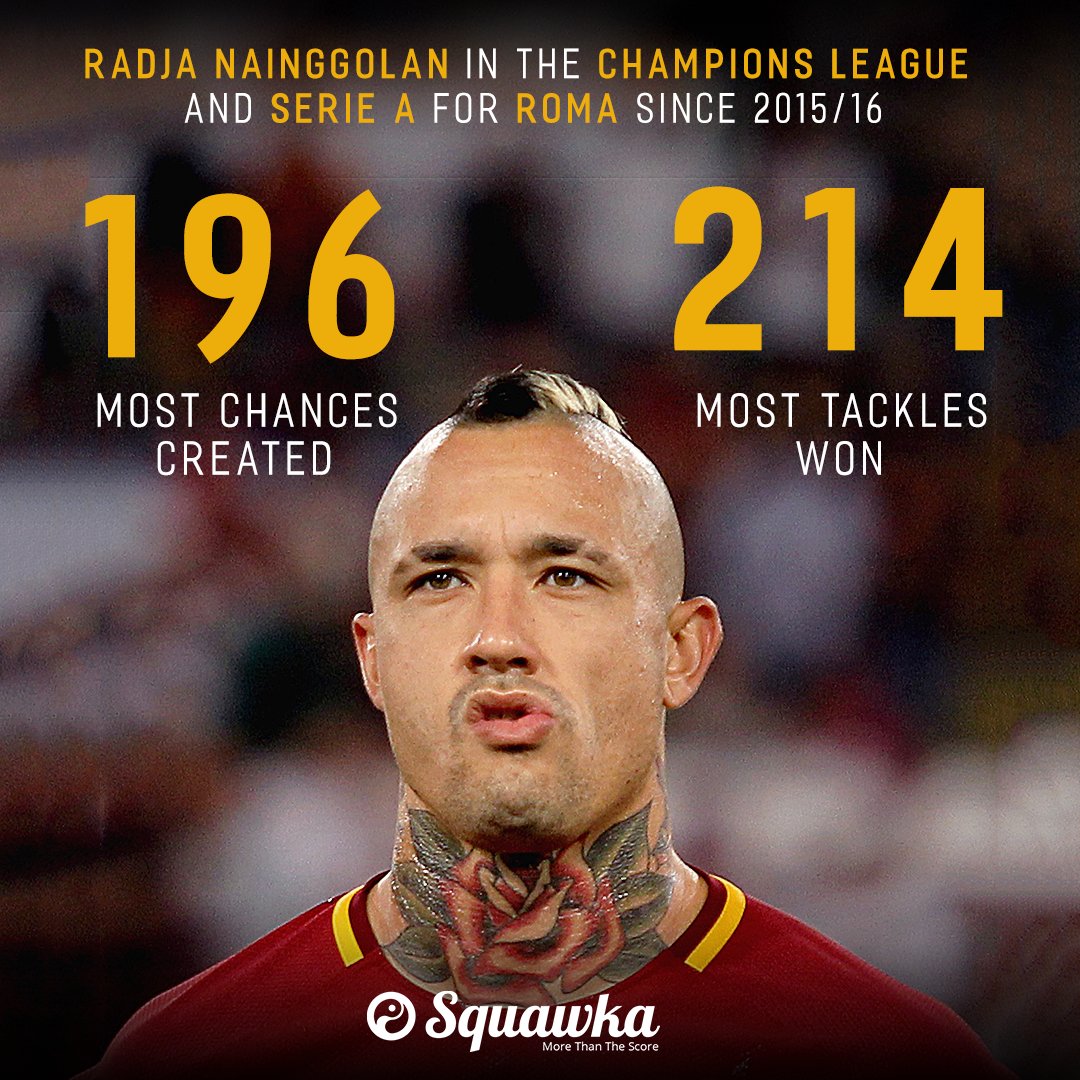 Radja Nainggolan has created more chances (196) and won more tackles (214) for Roma than any other player in Serie A and the Champions League since 2015/16.
Get a midfielder who can do both... oh wait. 🤦
https://t.co/TBj6htvZJ2
It's long been common knowledge there is no mutual admiration society between the pair, but Martinez ignores the Roma midfielder's worth at his own peril. Antonio Conte dismissed the benefits in tolerating Diego Costa's presence at Chelsea out of hand and is paying the consequences despite an FA Cup win.
One could argue Nainggolan's absence wouldn't be so strongly felt over seven [potential] World Cup matches as the Spanish international's was in 59 Chelsea games across all competitions. Fair enough, but Martinez's folly could come down to one moment in the tournament in which the genteel manager could have used the brash, garish midfielder. Ironically, Belgium benefitted from such a moment in 2014, before Martinez took over.
Under Marc Wilmots, the Belgians ran away with Group H in Brazil. As such, they were assigned the second-place side in Group G in the Round of 16. Before the tournament, most expected the pairing would be with Cristiano Ronaldo and Portugal. Instead, Jurgen Klinsmann's United States advanced.
The Americans' most successful World Cup star before 2014 had been Landon Donovan. The former LA Galaxy frontman had scored five World Cup goals, putting him in esteemed company that includes Michel Platini and Lionel Messi.
The calendar years 2010-13 had been an exhaustive time for Donovan.
| | |
| --- | --- |
| Mar-Dec 2009 | LA Galaxy season and playoffs |
| Jan-Feb 2010 | On loan to Everton |
| Mar-June 2010 | LA Galaxy season |
| July 2010 | World Cup South Africa |
| Aug-Dec 2010 | LA Galaxy season and playoffs |
| Jan-Feb 2011 | Rest |
| Mar-Dec 2011 | LA Galaxy season and playoffs |
| Jan-Feb 2012 | On loan to Everton |
| Mar-Dec 2012 | LA Galaxy season and playoffs |
| Jan-2013 | Announced sabbatical from international duty |
Between club duty for both LA Galaxy and Everton, World Cup and other international duty, Donovan only took two months off during that three-year stretch. In 2013, he elected to take an extended break from football, club and country, to help him rest for the 2014 World Cup, which he anticipated would be his last.
USMNT boss Jurgen Klinsmann was offended that a player, most especially his team's captain and icon, would view the national team as a part-time gig that he could put aside whenever he felt like it. Donovan announced his availability after missing two games. Klinsmann did not select him. The snub continued until the final World Cup qualifying matches when he temporarily relented. Donovan did not make his final cut to 23 players, however. Like Martinez, Klinsmann claimed he had better options.
[Other players are] just a little step ahead of Landon in certain areas...The media thinks he has to be in the starting lineup. Or he has to be in Brazil. That's not how it works. I have to choose the best 23 players based on what I see today.
Donovan was 30, had been away from the game four months, and was working his way back to full match fitness. Klinsmann could have weighed his experience, looked a month or two into the future, and wagered Donovan would make up that "little step" when the tournament arrived.
Instead, he selected Chris Wondolowski who, while ten months younger than Donovan, was also 30-something but had never had the Galaxy star's pace or skill. He was a poacher who snuck behind defenders and struck before they realised he was there.
Like most USMNT fans, Donovan did not understand the decision.
[I]t's a little peculiar to me, that whole idea, that if someone's physically hurt, we're OK with letting them take the time they need to come back, but if someone's in a difficult time mentally, we're not OK with letting them take the time they need to come back.
With no other choice, Donovan took his frustrations out on MLS opponents. From May 26th to the season's end, he scored 10 goals and assisted on 13 others. In the playoff's opening round, the Galaxy played a goalless draw against Real Salt Lake in the tie's first leg. In the second match, Donovan bagged a hat-trick and set up a fourth in a 5-0 romp. It was a far better, more effective performance than Nainggolan's brace against Liverpool in the Champions league semi-final second leg. The Galaxy went on to win another MLS Cup.
Klinsmann, also a Los Angeles resident, had to watch this unfold after his side crashed out of the World Cup in the Round of 16 against Belgium. The defeat certainly wasn't keeper Tim Howard's fault. With the Belgians running riot, the former Everton stopper made 15 saves.
Closing on three minutes of stoppage time, Wondolowski was in prime position to knock home a flicked-on header that would have put the Americans ahead. He skied it wide of the post.
Admittedly, there would have been controversy of a different sort had Wondo scored. The linesman incorrectly raised his flag for offside. The game still would have gone to extra time, but with a different mindset from the aggrieved Yanks, who might have felt there was something in it for them, rather than the crushing disbelief that can be seen on Brad Guzan and Klinsmann's faces after the miss. Bad call or not, the miss was a game-changing moment.
Had Donovan been in the match, it's doubtful he would have shanked the shot. He had already provided the US 57 goals in his international career, many of them difference-makers. The tally included a winner against Algeria that put the Americans through in South Africa. It came from a similar situation, where he raced in to knock home a loose ball. Ian Darke's impassioned call transformed thousands of watching Americans into soccer fans. Klinsmann's decision probably drove many away.
Had it been Donovan on the end of the header against Belgium, who knows? Maybe the linesman sees the defender playing him onside. Maybe not. The point is he, not Wondolowski, was the man you wanted with the ball at his feet. Every. Single. Time. Unless your name is Klinsmann.
Of course, Marc Wilmots was in the technical area for Belgium, not Roberto Martinez. But the polite Spaniard also had an excellent vantage point. He was in the ESPN studio providing analysis for the American broadcast. Virtually every day, he engaged in a discussion about Donovan's absence. There is no way he is not aware of Klinsmann's decision. Obviously, though, it did not impact his. Only time will reveal the consequences.