Is Ronaldo peaking at right time for Juventus?
Can Ronaldo's renewed form inspire the Old Lady?
It's that time of the year when Cristiano Ronaldo kicks things up a notch. After an uneasy start to the Maurizio Sarri era, CR7 is back to his best, regaining the elite reputation for which Juventus paid a club-record fee. With eight goals in the last five league outings, he's producing the numbers expected from a five-time Ballon D'Or winner. He now has 13 in 15 Serie A outings this term.
Operating in an expressive forward role under the Italian, he's thriving under the freedom. Ruthless when coming through the middle, he's giving defenders nightmares. Indeed, the Portuguese tweaked his style to keep moving into central areas where his skills are amplified. Sarri's flexible system allowed him to shake off the cobwebs. The Portuguese talisman worked hard to rediscover his form after knee troubles threatened to halt his progress at Turin.
The Old Lady is being rewarded for her patience, yet the boons could be sweeter. As long as he remains consistent, big things await. However, there's more work to do. Despite his heroics in Italy, Ronaldo hasn't been as inspired in the Champions League. With just two goals in the group stages, he didn't have much impact on the Bianconeri's progress. But his thirst for turning up on the biggest occasions can't be denied. The player with the most knockout rounds goals in the competition's history loves scoring when it most matters
An Olympique Lyon side stripped of its fangs shouldn't poison the Bianconeri's momentum. Memphis Depay is lost for the season with a cruciate ligament tear. Juve expect to progress beyond the quarterfinal, however. At that stage and beyond, teams like Liverpool and Real Madrid will be waiting. The Zebras need Ronaldo to build momentum from this sudden outburst.
Ultimately, Sarri is responsible for the Italian champions continued success or abrupt failure but he relies on his biggest assets. Paulo Dybala, once an outcast, is now as important as Ronaldo. With his silky style, Juventus can finesse the most rigid defence. There's reason to shine light on their budding bond. Cristiano loves playing alongside the closest teammate he'll have to Messi. They've produced magic under Sarriball but a few stumbling blocks remain. The gaffer needs to find a wrinkle or two to enhance their chemistry. Like Lautaro Martinez and Romelu Lukaku, Ronaldo and Dybala can build an intuitive partnership to cause maximum damage.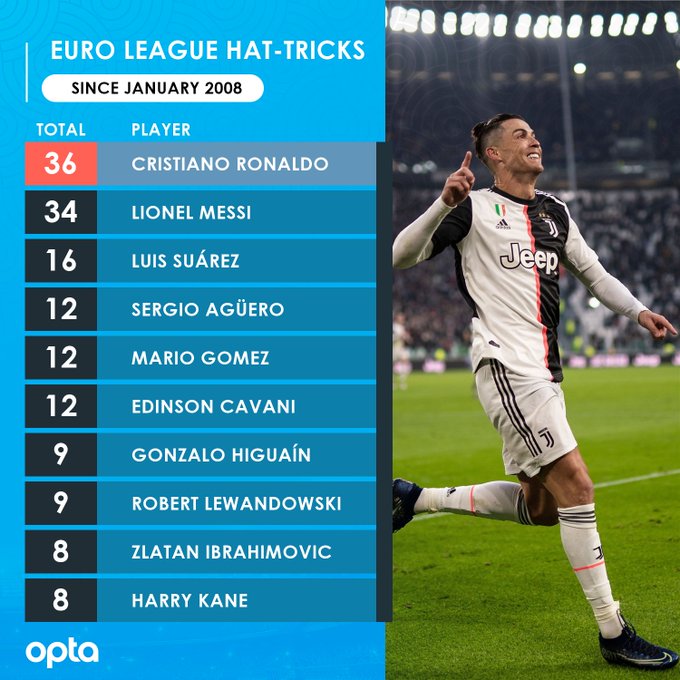 Cristiano Ronaldo has scored his 36th league hat-trick in juventus' 4-0 win over Cagliari. No player has as many since January 2008 in the top five European leagues.
Superstar.
https://t.co/G4oazNqxyA
Cristiano's hunger still drives him. He doesn't take no for an answer. The Portuguese won't stop until he's fulfilled his purpose and the Old Lady's Champions League curse is lifted.
There's also the Ballon d'Or agenda on his mind. After Messi took his sixth, everyone has written off the 34-year-old's ability to level terms again. Everyone except him. To be in contention and shove aside challengers, consistency is key. Now that he's found his stride, he must carry through to the end.
Defending Portugal's European championship also remains in his mind. He wasn't on the pitch at the end, last time. He'd like to change that this summer.
Both goals are in the future, though. At present, the eight-times-running Scudetto winners are facing their greatest challenge in that span. Inter aren't intent on slowing down. Juve bit into the Nerazzurri's goal advantage with their 4-0 victory over Cagliari to begin the second half, a triumph powered by Ronaldo's hattrick. Level on points, the Bianconeri remain six goals in arrears. This is where they expect their living legend to say, "Segure minha Madeira."