Roy Hodgson's work at Crystal Palace deserves more recognition
In a season in which Pep Guardiola has torn up English football with Manchester City, Jurgen Klopp has taken Liverpool to the brink of a Champions League final and possibly further, and Sean Dyche has Burnley in Europe, the bar for managerial achievement has been set high. Further down the Premier League table, though, there are several managers who have done excellent work at their respective clubs. Rafa Benitez at Newcastle and Chris Hughton at Brighton come to mind. Another such manager is Roy Hodgson at Crystal Palace.
In this season of giddy Premier League highs, Hodgson's work in the trenches has been largely overlooked. If the world was a fair place that would not be the case. The job he has done with the Eagles this season has been sensational. In any other year, we would be talking up his chances of winning Manager of the Year.
When Hodgson arrived at Palace to replace Frank de Boer, the club was in disarray, to put it lightly. They had lost all four Premier League matches under the Dutchman. His only win came in the League Cup against Ipswich Town. Even worse, Palace hadn't scored a single league goal before the board sacked him following a 1-0 loss to Burnley.
Three weeks into Hodgson's reign, things were no better. In fact, they looked worse. Humiliating losses to Manchester City and United had the club on seven defeats to open the season, goalless, and the defending champions waiting their turn in the coming week. The former England manager's goal difference made De Boer look like a genius for keeping Palace in matches.
| | | | | | | |
| --- | --- | --- | --- | --- | --- | --- |
| | Frank de Boer | | | | Roy Hodgson | |
| Palace | 0-3 | Huddersfield | | Palace | 0-1 | Southampton |
| Liverpool | 1-0 | Palace | | Man City | 5-0 | Palace |
| Palace | 0-2 | Swansea | | Man United | 4-0 | Palace |
| Burnley | 1-0 | Palace | | | | |
| FDB's Palace | 0-7 | Opponents | | Woy's Palace | 0-10 | Opponents |
Prevailing opinion was the club was already relegated. Everyone agreed digging out of a 0-0-3-0-17-0 line at the bottom of the table would require a miracle. To which Hodgson can now say, "Job done."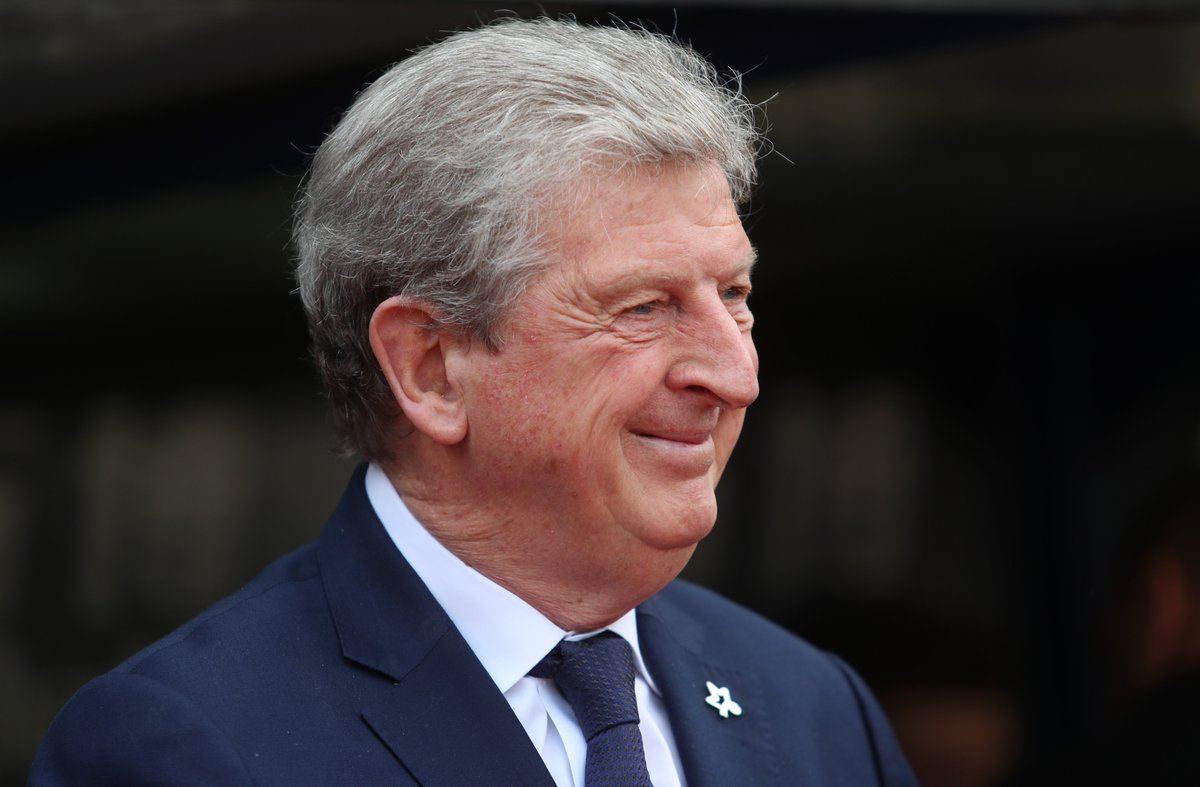 - Kept Fulham up on the final day, then took them to a European final
- Took WBA 17th in Feb to 11th, then 10th next season
- Inherited a Crystal Palace side that hadn't scored, they're now effectively safe
Roy 'Houdini' Hodgson 👏👏👏
https://t.co/MdrVY9r1yJ
Fast forward to May 2018. Relegation isn't even in their dictionary. Palace are 11th in the table, six outside the drop zone. Mathematically, only Southampton can catch them from the bottom three, but only on goal difference if Palace can't get one point from their remaining matches against Stoke and West Brom. The other six teams between the Eagles and Saints would have to leapfrog Hodgson's team, as well. If everyone else did their part, Huddersfield would have to take at least four points from Manchester City, Chelsea, and Arsenal for Palace to fall off the map. I think it's safe to say Crystal Palace will be in the Premier League next season.
In their final two matches, Palace can focus on moving in the other direction. With three points keeping them from the top ten, it would a surprise if they didn't leapfrog Newcastle and claim tenth as their own. While they play two teams almost certain to be relegated, Toon must deal with Watford, Tottenham, and Chelsea.
Although it isn't quite complete, Crystal Palace's resurrection is an even more remarkable achievement considering how Hodgson himself had been written off. The Iceland debacle at the Euros brought an end to his England reign and supposedly his career. There was no coming back from that as far as most were concerned. Obviously, that hasn't been the case.
Hodgson has shown no indications his failure with the Three Lions had an adverse effect. Rather, he has shown an ability to adapt to various situations and get the best out of a Crystal Palace squad that was at an all-time low on his arrival.
Some will argue Palace would not have survived this season without Wilfried Zaha. That is true. But those critics must ask why Frank de Boer wasn't able to help the former Manchester United prospect realise his potential in the manner Hodgson has done? The cagey old boss had the nous to build his team around the winger and give him the trust needed to thrive.
The old adage that there is life in the old dog yet could not be truer when it comes to Roy Hodgson this season.