Roy Keane doesn't want to hear about sacking Solskjaer
For a man who cuddles puppies and entertains children on live television, Roy Keane occasionally displays a surprisingly nasty streak.
As a studio analyst, Roy Keane's bullshit metre is more finely calibrated than Lewis Hamilton's Ferrari. Among other benefits, the Irishman's early warning system doesn't allow Jamie Carragher to get a word in edgewise.
Earlier this season, before Liverpool ran away with the Premier League title, Carra attempted to explain the qualities that comprise a Premier League champion. Before the Scouser could tick off the first item on his list, Keane-O cut in, asking how many league titles the Reds defender won in his playing career? If your partner was ever so groggy in the morning as to take a big gulp of milk only to realise they'd poured orange juice, you can picture the sour expression on Carragher's face.
This week, the two sat farthest apart but nearest the camera during a roundtable discussion with Graeme Souness and Patrice Evra, not exactly the greatest meeting of minds nor mathematicians since the Manhattan Project, it's true, but don't let anyone tell you the directors at Sky Sport don't know their business. The discussion centred on sack rumours surrounding Ole Gunnar Solskjaer.
Keane-O held forth, comparing Solskjaer with Chelsea boss Frank Lampard. As he began to list Lamps' shortcomings, Carra attempted to disagree. The one-time Manchester United captain wasn't having it, raising his voice to be heard. He then completed his thought, noting Super Frank failed to secure promotion at Derby County and is already on eight losses in his debut season at Stamford Bridge [ it's actually nine, one more than Solskjaer and United]. Keane wondered why no one was calling for Lampard's head, then mooted whether it had anything to do with him being English. He concluded Solskjaer deserved the same level of patience people were prepared to extend to the Blues' all-time scorer.
On the one hand, Ole has earned time. On the other, I'm not on the same continent as Roy Keane, let alone in the same room. I can safely and fairly call bullshit on his accusation of nationalism. The fractious United contingent calling for the Norwegian's head doesn't seek to replace him with an English manager. They want an Argentine.
The #OleOut mob believe Mauricio Pochettino is more qualified and can immediately fix everything they deem wrong with the squad. Pochettino's Premier League record is longer and better than Solskjaer's. He managed Tottenham to a Champions League final last term. Does that make him a better manager than the current Red Devils gaffer? Their comparative performances in 2019/20 say no and football is a what-have-you-done-for-me-lately business.
While Pochettino did more in the past, Solskjaer is 14 months into the job, not 18 or 16, you lot in the Sky Studio. He's well shy of the five years enjoyed by the former Spurs boss. In 2014/15, Poch's first season at White Hart Lane, he signed seven players to Solskjaer's four in 2019/20. Of the seven, Ben Davies, Eric Dier, Michel Vorm and Dele Alli, acquired the year before but who'd been loaned back to MK Dons, are the four who remain and Vorm only returned to the squad to provide cover following Hugo Lloris' injury. The Argentine also culled players he didn't rate, including Gylfi Sigurdsson, Sandro, Jake Livermore, Kyle Naughton, Lewis Holtby and Heurelho Gomes. For his part, Solskjaer signed Daniel James, Aaron Wan-Bissaka, Harry Maguire and Bruno Fernandes. He sold or loaned out Chris Smalling, Ashley Young, Alexis Sanchez and Romelu Lukaku. He also promoted Mason Greenwood and Brandon Williams to the first team from the U23s. Pochettino didn't promote anyone from Spurs' youth side.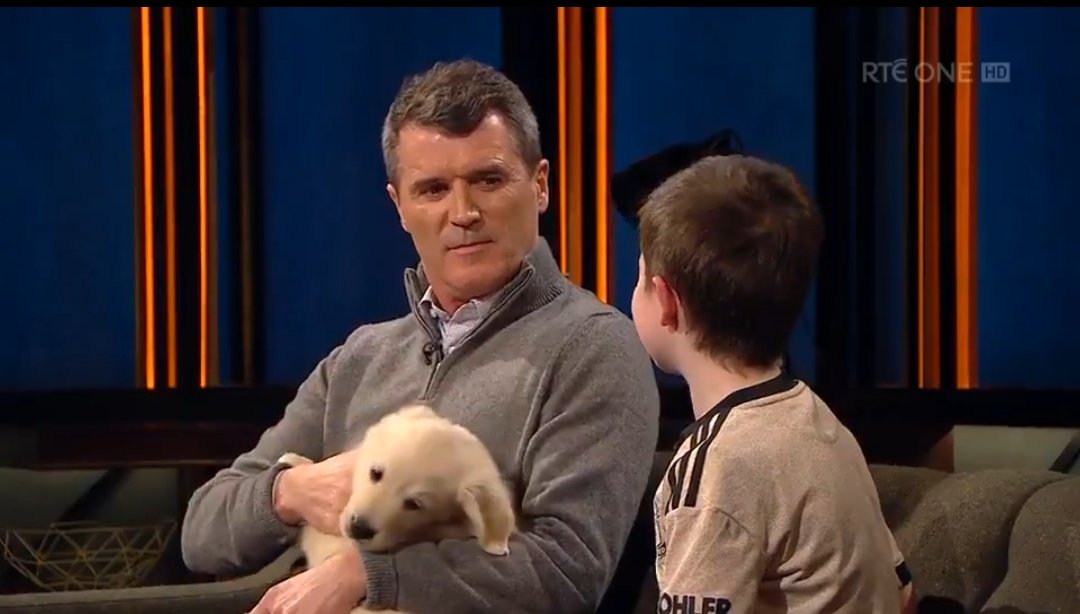 It's amazing how Roy Keane can still give out such an air of palpable menace while being nice to a child and holding a Labrador puppy in his lap
https://t.co/rPtfN7fCos
While those bought and sold vary due to positional needs, contract issues and managers' preferences, the two sets of transactions are fairly similar.
Of Solskjaer's four signings, only Daniel James can be questioned. After a brilliant start to life at the club with three goals in his first four Premier League games and six assists through December, the young Welshman hasn't scored in 2020. The boss yanked him at half-time against Club Brugge last night after he made little of two or three gilded chances. On the other hand, he did take the shot that Simon Deli handled on 22 minutes, leaving the Belgians down a man and, after Bruno's penalty, a goal that would turn into five. Regardless, if James doesn't contribute anything further for the season's remainder, his numbers still represent good value for the £15.3 million paid to Swansea for his services. Even without the end product, James' work on and off the ball, using his pace to press opponents or draw them out to the perimeter, pays dividends. He's appeared in 34 matches overall, 26 in the Premier League.
Ben Davies came to Tottenham from Swansea, as well, for £11.4 million. The left-back made only 29 appearances in his debut campaign, 14 in the Premier League, and didn't come close to matching James' appearances until his third season. Only a desperate #LUHG acolyte would argue James, Maguire, AWB and Bruno haven't made a more immediate impact than Davies, Alli, Dier and Vorm.
When you compare the first full season's work for both managers, Solskjaer stands at least level with the Argentine. Pochettino laid a solid foundation that kept Spurs in the Champions League places and contention for the Premier League title for the next four years and brought them within 90 minutes of a European Cup. Solskjaer's first year of transfer business exceeds his colleague's and results on the pitch match him. Ignoring the fact Pochettino isn't English, Roy Keane is spot-on. An argument can easily be made that sacking Solskjaer at this juncture for the Argentine is merely change for change's sake.