Why Ryan Sessegnon deserves England selection for Russia 2018
Unlike other departments, the left-back position within the England national team is blessed with quality. Players such as Luke Shaw, Ben Davies, Ryan Bertrand, Danny Rose and Ashly Young can do a solid job for the Three-Lions on any day. There's another player who can, too; Ryan Sessegnon. Within a year, the Fulham youngster is staking his claim to do bigger things than Championship football.
English youngsters are used to the hype by now. As soon as they put in a few brilliant performances, the media describes them in an epiphany, hailing them as the next big thing. What Sessegnon has achieved this season has certainly placed him in that class.
I'm not here to tell you Sessegnon is the next best thing that happened to England since Ashley Cole. Yet, a teenage left-back who has scored more goals and provided more assists than notable strikers while doing an efficient job at the back cannot be dismissed with the wave of the hand. Most of my IRAIW colleagues would.
No one would argue that 17-year-old Sessegnon does not deserve to be named in the PFA Championship Team of the Season. It's my take that he deserves something more – an inclusion in the Three Lions squad for Russia 2018.
He needs the experience
In May 2006, 17-year-old Theo Walcott was completely shocked he learned he had been included in England's squad for the 2006 World Cup in Germany. We can draw parallels between Walcott and Sessegnon. Though the left-back clearly edges out the former Arsenal man on many counts. However, the experience that being amongst the England World Cup squad did more good to Walcott's career. You can ask the man himself.
Although Sessegnon has been amazing in the Championship this term, the youngster is nowhere near the finished article. He's still in school, learning and progressing steadily in the game. A place in Gareth Southgate's 23-man squad will not derail his burgeoning career. Rather, it'll put him on the right track to becoming a world-class left-back for England.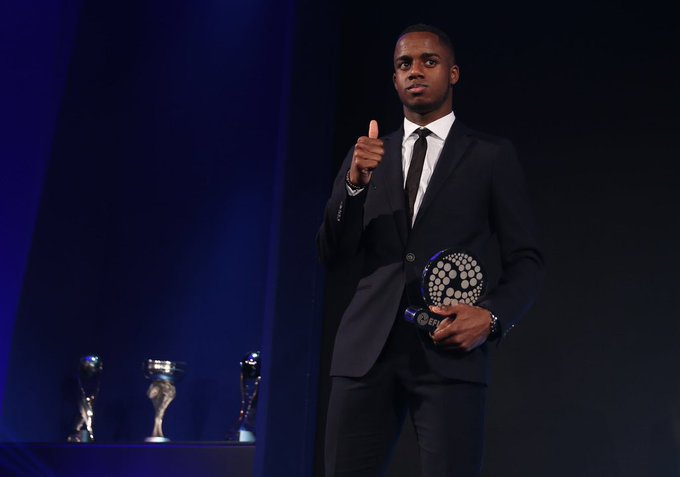 17-year-old Ryan Sessegnon picked up five #
EFLAwards
🏆 Player of the Season
🏆 Apprentice of the Year
🏆 Young Player of the Season
🏆 Team of the Season
🏆 Club Developed XI
Define: clean sweep.
https://t.co/UsAyeNIaIS
He's competent enough
Experience is needed, but the major criteria for selecting a World Cup squad is current form and competence. Ryan Sessegnon has both. Southgate has options aplenty to choose from. At most, he hand invites to three players. Though he was an attacker transformed to a left-back, the aforementioned Young cannot be overlooked based on his performances for Manchester United this season.
Shaw won't be fit enough in time to compete for a World Cup place, after being frozen out by Jose Mourinho. Rose isn't fit as a fiddle either. It makes it an open contest between the likes of Bertrand, Cresswell, Davies and Sessegnon.
Playing as a full professional for the Cottagers, Sessegnon has shown he has the tactical nous to play on the big stage. Southgate can justify his inclusion. With 14 goals and six assists, he's England's most prolific defender this year. Named Championship Player of the Season, too...
Where his contemporaries in the Premier League have mostly been fairly better than average, the young man has been astutely brilliant. Sessegnon might be edged out because he isn't playing at an elite club. How have the English left-backs who play top-tier football fared? None made it to the PFA team of the Year this season.
In the 1958 World Cup, a 17-year-old Pele was given a chance by Brazil to show his talent. He responded by being the youngest player ever to score a world cup hat-trick. Who knows what Ryan Sessegnon will do for England at Russia 2018 if he's given the chance?