Sampaoli or Messi: Who will become Argentina's scapegoat?
Argentina have dug themselves a big hole. A round of 16 place is not guaranteed after they drew to Iceland and lost to Croatia. It's not even do-or-die for Los Gauchos. They must win the game against Nigeria with a bigger goal difference than Iceland if the Vikings win against Croatia.
The criticism is mounting. From the AFA to the coaching staff, players and manager, all have something to answer regarding this performance. There are strong rumours Jorge Sampaoli will be sacked if [when?] Argentina is eliminated. Others say he has lost the dressing room.
Where to start? You guessed it.
Lionel Messi
Messi single-handedly put Argentina in the World Cup with his sensational performance against Ecuador. When the stakes were highest, he scored a hat-trick, each goal better than the previous. Argentina fans forgot all the pain and misery that preceded that performance. They were on their way to Russia.
As all those other matches demonstrated, however, Messi can't reach that level in every match. In La Albicieleste's opening match against Iceland, he was covered by at least three defenders whenever he had the ball at this feet. Messi
On the other hand, the Maestro was given a chance to win the game from the penalty spot. But a part-time film-maker wrote a different script. Hannes Halldorsson saved Messi's spot kick, the second consecutive one he had failed to convert after missing in the shootout to end the Copa America Centenario.
Against Croatia in a now crucial game, Messi was nullified. The Europeans cut all the passing lanes to Sergio Aguero and the channels for Messi. They pressed high with Ivan Rakitic and Luka Modric controlling the tempo. After the game, Messi walked out of the pitch with his shoulder and head lowered, not shaking hands with his teammates or the opposition.
We all are blaming Messi because of the expectations he had set up for us through one exceptional display in the qualifiers. He bears some blame, but hardly all. What about the manager?
Jorge Sampaoli
After the defeat to Chile in the 2014 Copa America finals, Gerardo Martino abruptly resigned as Argentina boss, citing a federation in shambles. With no outsider willing to go near a job in an organisation that was subject to a corruption investigation, the AFA appointed youth team coach Edgardo Bauza interim boss. Bauza travelled to Barcelona to convince Messi to reconsider his international retirement. It was the only success he had.
A restructured AFA then hired Jorge Sampaoli away from Sevilla. After defeating Argentina in successive Copa Americas with Chile, it was a case of 'if you can't beat 'em, hire 'em'. But Sampaoli's mojo with La Roja hasn't caught hold with La Albiceleste.
He has won only six matches from 13, changing tactics and formations from game to game. He has used 3-4-3 with Leo Messi, Mauro Icardi and Paulo Dybala as forwards. It didn't work out. He squeezed Angel Di Maria into the forward line and lost to Venezuela. He has even tried a 4-2-3-1 with Papu Gomez and Dario Benedetto, with Messi supporting from the central midfield. It was the worst result to date, although it's tough to tell whether it was the formation or the two strikers. Next came a 3-4-2-1 with Benedetto as the no.9 and Di Maria and Messi taking wing roles. Then 3-5-2 and 4-3-1-2 joined the party but failed to liven things up.
It is quite clear that the former Sevilla boss has failed to bring back the glory days back in the dressing room and is incompetent to manage such a star-studded team like Argentina.
Careless Caballero
Premier League keeper Caballero was selected for Argentina's starting XI only because Sergio Romero was injured just before the WC. Usually reliable, Caballero has made several mistakes.
Aside from spilling saves, Iceland's equaliser on Match Day One was largely due to his poor positioning.
Croatia's first goal in the second game resulted from his poor clearance. Argentina's defence is inexperienced and very predictable, but Caballero should have done more.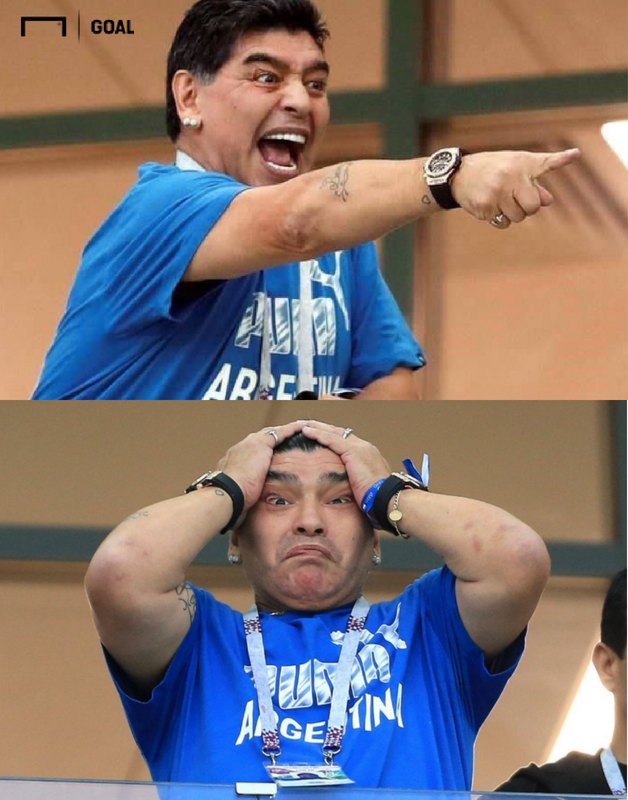 Squad as a whole
Every person associated with the Argentina Football Team is responsible for the team's woeful performance. Some more than others but none who truly stand out when all is taken into consideration.
Ultimately, Sampaoli and Messi will bear the brunt of criticism as manager and icon but Argentina's problems are deeply rooted. One coach and one player cannot fix them.