Sarri-ball: How Maurizio Sarri is getting his midfield wrong
Background photo: Vespa, CC: BY-SA-3.0
Before the season began, Chelsea had nine central midfielders on payroll. You read that right. Nine. Maurizio Sarri's first impulse on his late arrival was loan out Tiemoue Bakayoko, ostracise Danny Drinkwater and offer Ethan Ampadu a contract extension. Still able to tinker with five players, Sarri hasn't found his best combination.
According to the Premier League stats page, Chelsea leads the way in passes completed. The Blues have completed 9,255 passes after 13 games. We can doff our hats to the Italian in that regard. His possession-based 4-3-3 system has truly revamped Chelsea. The Italian has smashed a few records along the way too. Most notably, he's the first Chelsea manager whose unbeaten start to life in the Premier League lasted 12 games – eight wins and four draws.
Defeat to Spurs at Wembley didn't just halt Chelsea's 18-game unbeaten run in all competitions, though. It exposed the frailties of Sarri's midfield choices. Against a team pumped with energy and eager to pressure the Blues' smooth passing, Sarri's midfield caved in like a dilapidated building.
Long before Son Heung-Min ran Jorginho into the ground to score Spurs' clincher, Sarri's perpetual mistake in midfield was glaring. Until Mauricio Pochettino, no other manager exploited it.
N'Golo Kante and Jorginho should swap places
Let's begin with Sarri's biggest blunder in midfield: playing Kante in attacking midfield. Who does that? Not Claudio Ranieri. Not Antonio Conte. Not Didier Deschamps. Maybe some fan-boy still living in his parent's basement, if you consider playing FIFA 18 in your bathrobe 24/7 living. Sarri's fellow Italians each won a Premier League titles by playing Kante in a holding role, the Frenchman a World Cup. I don't know what that says about European politics but I'm more concerned with why Sarri, who's yet to win a title in his managerial career, decided to play Kante out of position.
Before joining Chelsea, the carton-a-day man was adamant about bringing Jorginho along. Poaching the midfielder from the jaws of Manchester City was easy. He'd be joining his former boss and guaranteed a regular place in the first team. But Jorginho's place deep in Chelsea midfield is questionable. Not because he isn't a good player but because he's supplanting the best defensive midfielder in the world.
Sarri's solution was to move Kante further upfield, claiming the world champion could score more goals. If by more, he meant one against Huddersfield on Matchday 1, then I have no argument. Otherwise...
Jorginho played well for 12 games. Stats show he's touched the ball more times than anyone in the Premier League. For his part, Kante hasn't been so influential in the final third for Chelsea. He's added a single assist to his goal. But he's been effective with tackles.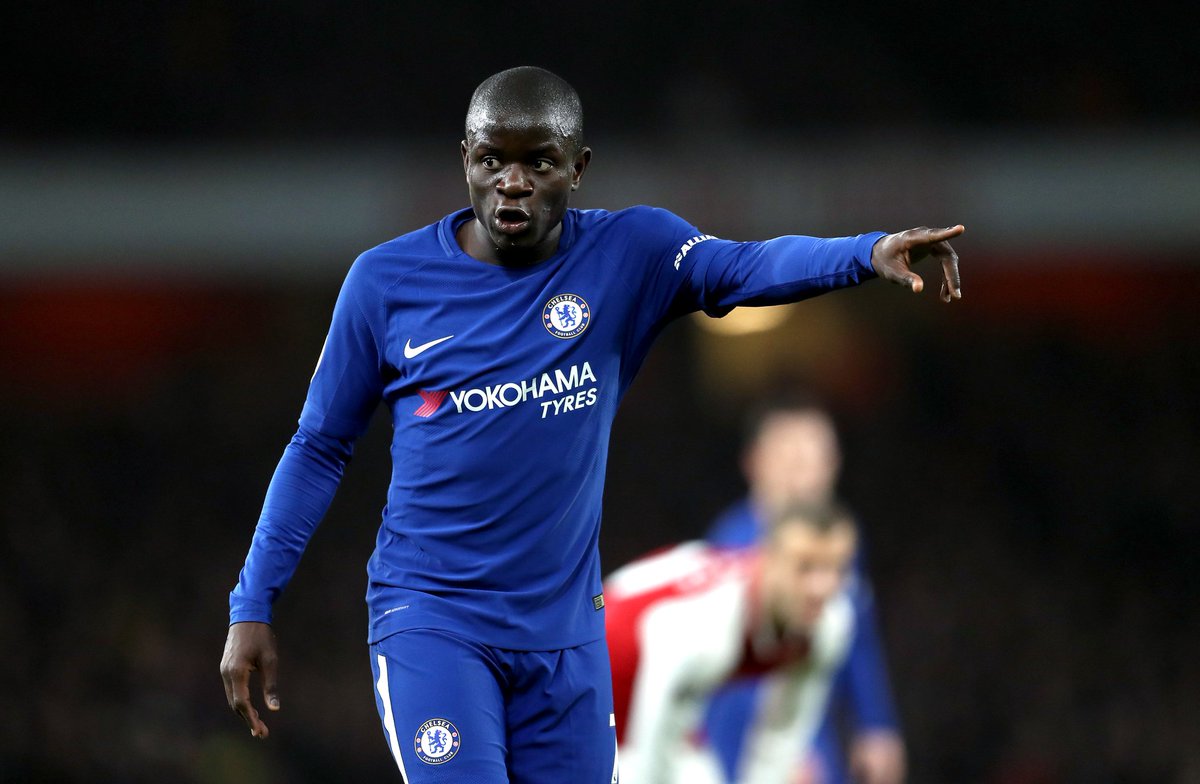 N'Golo Kanté tackles per 90 by every season of top-flight football:
2014/15: 5.0
2015/16: 5.2
2016/17: 3.6
2017/18: 3.4
2018/19: 1.8
Should he play at the base of midfield? 🤔
https://t.co/Xr6ENa550f
Sarri hailed Kante as a highly technical midfielder, capable of playing anywhere. That's largely agreeable, but every manager should seek to play his best players in their best position. Chelsea doesn't have a better defensive midfielder than N'Golo Kante.
Where then does Jorginho fit?
That's a good question because the Italian maestro is the best passer in the Premier League. If you ask me, Sarri should pair Kante and Jorginho in a midfield pivot. A 4-2-3-1 system would accommodate both in a deep role. Kante can sit deep while Jorginho is given the freedom to roam.
The rationale is simple. Kante can soak up pressure five times better than Jorginho. On the flip side, Jorginho is five times the better passer. Problem solved! No more getting exposed when teams try to run Jorginho over; they'll find a more resolute Kante waiting.
Sarri is also wrong to alternate between Mateo Kovacic and Ross Barkley for an advanced midfield role. Kovacic belongs in that pivot and Barkley doesn't. Barkley deserves to start on a regular basis while the Croatian spells Jorginho. Cesc Fabregas and even Danny Drinkwater offer relief for Barkley.
If Maurizio Sarri can tinker his midfield efficiently, Sarri-ball won't collapse against teams who can apply endless pressure. Chelsea will score more, concede less and the Premier League title wouldn't be so much a mirage.