Seeing Red in the CONCACAF Champions League
In most American sports, stadiums and arenas are built with separate routes from field to locker room for each club. A long history of ugly confrontations between players during intermissions and after games mandated the practice.
Football doesn't work that way. To promote the beautiful game's unifying image, a different ritual plays out. Teams gather quietly under the stands before walking out together to angelic music, often holding hands with young children. It is beautiful, inspiring, heartwarming.
Unfortunately, peace and goodwill tend not to last through even the first 45 minutes. Tempers flare during play. Anger and resentment build. Next thing you know as a player, you're in a 'dark alley' with the person who has drawn your ire. Giving him a piece of your mind or a good pop is instinctive.
At BMO Field, MLS Cup holders Toronto FC compounded the problem by painting the hallways in the team's colour. In the past year, the Reds have now endured two tunnel battles after big games. It's as though visitors pump themselves up for crucial matches against the Canadian side by watching The Shining.
During the 2017 playoffs, then-New York Red Bulls captain and playmaker, Sacha Kljestan, got in a row with TFC striker Jozy Altidore on the pitch. The confrontation was quickly broken up. After the half-time whistle, the pair came to blows in the red-walled tunnel. Kljestan allegedly grabbed Altidore by the throat.
That confrontation and other flare-ups led to Altidore and strike-partner Sebastian Giovinco's suspensions for the first leg in the next round against Columbus Crew. The Reds survived without their best players, went on to win the league title, and lived to fight another night. That night came on Tuesday with Club America in town for the CONCACAF Champions League semifinal first leg.
Before we get into the second melee, there is some relevant background you need to understand.
The CCL has, since its conception, been a Mexican monopoly.
Only two MLS teams have ever won the competition: LA Galaxy in 2000, DC United in 1998.
In this millennium, only Costa Rican clubs Alajuelense and Saprissa, in 2004 and 2005 respectively, have interrupted Liga MX's rule. So, 15 of this century's 17 confederation titles belong to Mexican clubs.
Club America are the winningest team in the competition with seven titles.
Their manager is the fiery Miguel Herrera.
Herrera lost his job as Mexico national team coach in 2015, immediately following the CONCACAF Gold Cup.
The reason? In a rage, he punched a Mexican reporter in the neck at the PHL (Philadelphia) International Airport
Why was he in a rage? I don't know. Mexico had just won the competition.
To summarise:
You have a club that fully expects the upstart MLS champions to lay down in the semifinals because that is the way it's always been.
They are managed by a fiery little man who looks like a Mexican Maradona replete with the irrational temper and persecution complex.
And the upstart MLS champions did not comply with tradition.
TFC did not lay down. Well, Sebastian Giovinco did after a fashion, going to ground to take a penalty which he then converted on nine minutes. Club America was not happy with his actions, claiming he had exaggerated any contact. The kindest thing to be said is they should know.
America levelled when Andres Ibarguen shouldered his way through four TFC defenders at the top of the box to fire past Alex Bono 12 minutes later. That may have relaxed any half-time tension, but Jozy Altidore was on hand in the six-yard box to bang home the winner a minute before the half.
So, here we are in the dark alley with the foreboding red walls again, and two versions of subsequent events.
Club America boss Miguel Herrera says members of his team were struck by Toronto police during the confrontation.
Multiple America players were involved in a brawl and the police hit them – including [Agustin] Marchesin, Bruno [Valdez] and [fitness coach Giber] Becerra. In my opinion, if the police are going to be in the tunnel area it should be to separate players, not to hit them. A Concacaf staffer was present there and saw everything so I hope they report it.
Never mind the pot/kettle/black element in Herrera's "opinion". TFC manager Greg Vanney, who to my knowledge has only ever spoken to reporters, disagrees.
I was front and center, and I saw everything. I'm not really going to digress into 'he said, she said'. All of that, I think, will play itself out here in the next couple of days. I would disagree with him [Herrera] strongly. Just in defense of the Toronto police, I'm going to disagree with him strongly, because that's not what happened.
One of their coaches [who] took exception to, I think, the PK, was having a go at Sebastian [Giovinco], and Sebastian kept walking, and Johnny [Osorio] stepped in between the assistant coach and Sebastian. I told the coach and the head coach that his coach shouldn't be talking to our players. He needs to keep moving. And the next thing was an elbow from said coach, assistant coach, who was talking, into Johnny's nose. And if you want to see Johnny's nose, you can take a picture of it if you want. And then it escalated from there.
Osorio's nose apparently wasn't photo-worthy, as no one seems to have taken Vanney up on his invitation. The player did talk to the media, backing up his coach's version of events. He said America coaches, not players, confronted Sebastian Giovinco.
I didn't see no players. I didn't see any players involved. I saw [Herrera]. I saw the head coach. He was there.
Two of their staff it looked like. I stepped in to say just relax. One of the guys took a little cheap shot. I took it and kept going. It escalated to a little bit of a thing.
After the match resumed, Toronto went about their business professionally. Ashtone Morgan added a third goal just before the hour, pouncing on a loose ball in the six in a similar manner to Altidore. Toronto will journey to the Estadio Azteca next week with the advantage, but, apologies to Sacha Kljestan, not a stranglehold on the tie.
If Herrera and his staff were aware of the previous incident, perhaps they thought it was worth trying to lure Giovinco into another suspension for the second leg. As it is, their situation is not that bad. They must score two goals and keep a clean sheet to go through in their massive fortress.
Can they do it?
Yes.
Will they?
I don't know.
Herrera certainly imbued his passion on his squad and staff but apparently his ill-discipline too. Vanney and TFC, on the other hand, have the cold professionalism, confidence, and ruthlessness that managers like Zinedine Zidane and Jose Mourinho advocate as the mentality that wins titles. Toronto lost their first MLS Cup final to Seattle in 2016, then came back stronger in 2017 to defeat their nemesis.
The next step in their pursuit of greatness is the Champions League. Their result against Columbus, without Altidore and Giovinco, then Ashtone Morgan's second-half insurance tally in this match, suggest they are fully focused on their goal. The balance of power may be shifting.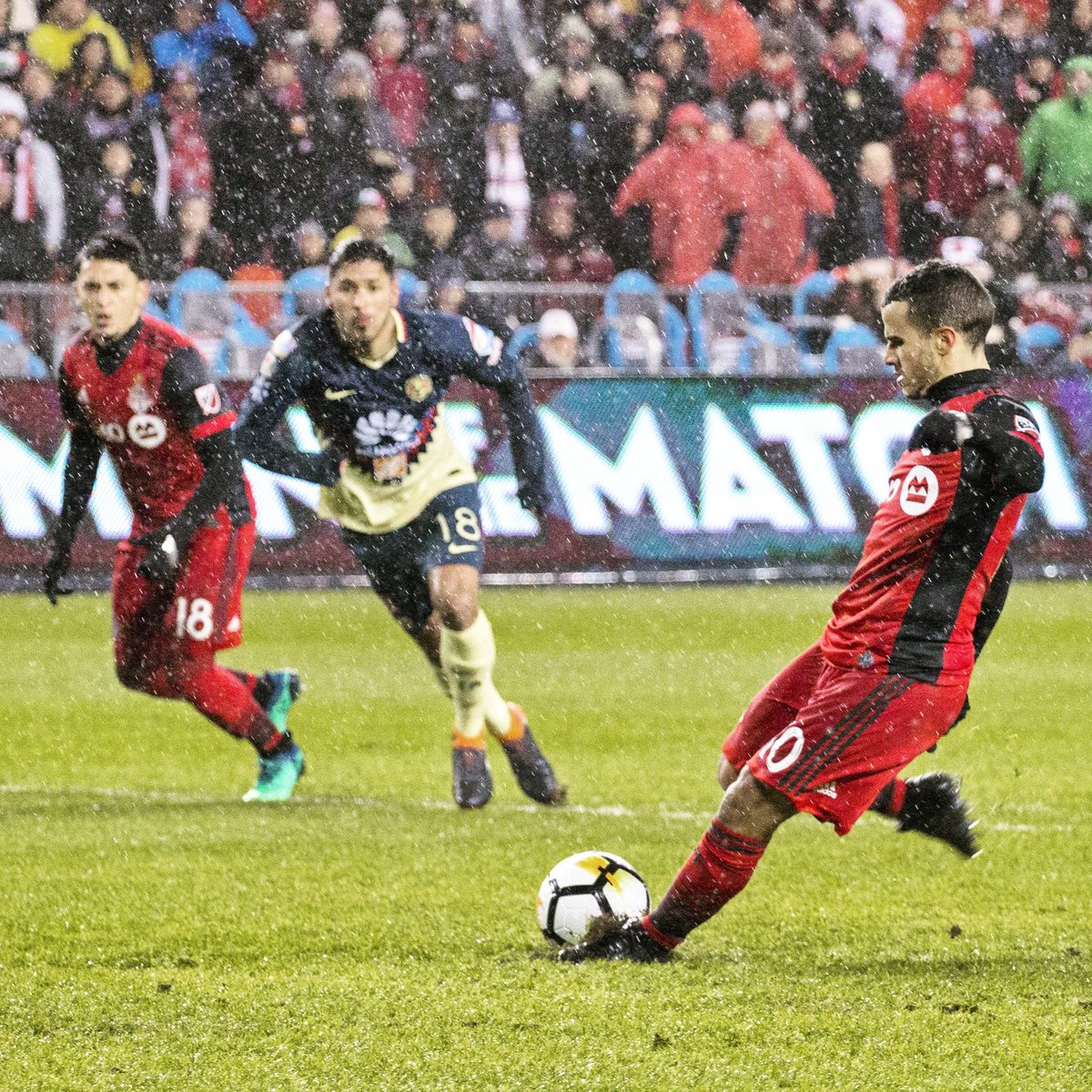 Sebastian Giovinco about to score the penalty kick during tonight's CONCACAF Champion's League Semi Final against Club América. 3-1 for TFC tonight which is a result I can quickly get used to.
#TFClive #
TORvAME
#
SCCL2018
https://t.co/o1XMeD5w3L