Are Juventus crazy to sell Moise Kean? Or worse?
Background image: Gianluca Scarfo
Not many months ago, Juventus shed the spotlight on a special youth academy product. Moise Kean strode the Allianz Stadium pitch with a Pogba-esque swagger and powered in goals like Didier Drogba.
The 19-year-old proved his mettle with strikes against AC Milan, Udinese and Cagliari. Repeated racism chants didn't penetrate his thick skin. Praised by those around him, the teenager looked set as the Juventus' future #9. Then the club hired Maurizio Sarri as manager.
Suddenly, the Bianconeri are open to entertaining offers for him. Sensing an opportunity, Everton pounced, making a strong offer Juventus is actually entertaining. The Toffees are short in the final third. Cenk Tosun isn't productive. Dominic Calvert-Lewin isn't far enough along the learning curve. Kean is everything Marco Silva needs to revitalise his attack.
If this deal goes through, Sarri may have already shot himself in the foot. His own striker situation is shall we say complicated? Gonzalo Higuain is no longer favoured. Mario Mandzukic serves best as an inverse winger rather than centre-forward. Both he and Cristiano Ronaldo can only continue their brilliance for so long before moving onto a retirement plan. Paulo Dybala is unwanted. Time is running out on a potential deal for Manchester United [and former Everton] finisher Romelu Lukaku. The Premier League transfer window closes on 8 August.
Selling a dynamic striker yet to hit his prime is ludicrous. Granted, the teenager loves showboating and having fun on his own time but those traits will fade with age and experience. Not everyone is a Ronaldinho. Opting to ship off a future star ahead of those who are played out [Higuain, Sami Khedira] is strange.
Nor are the Bianconeri backed into a corner. They're scrupulous when keeping their books in order and premium purchases like Ronaldo and Matthijs de Ligt aren't usually an annual event at the club. Regardless, they can afford to buy anyone they wish without needing to sell first.
In his first proper campaign with the first team, the 19-year-old netted six league goals. That's a promising beginning, not a premature peak.
In addition, the club is also considering sending both Dybala and Mandzukic to Manchester. What is the Italian word for depth?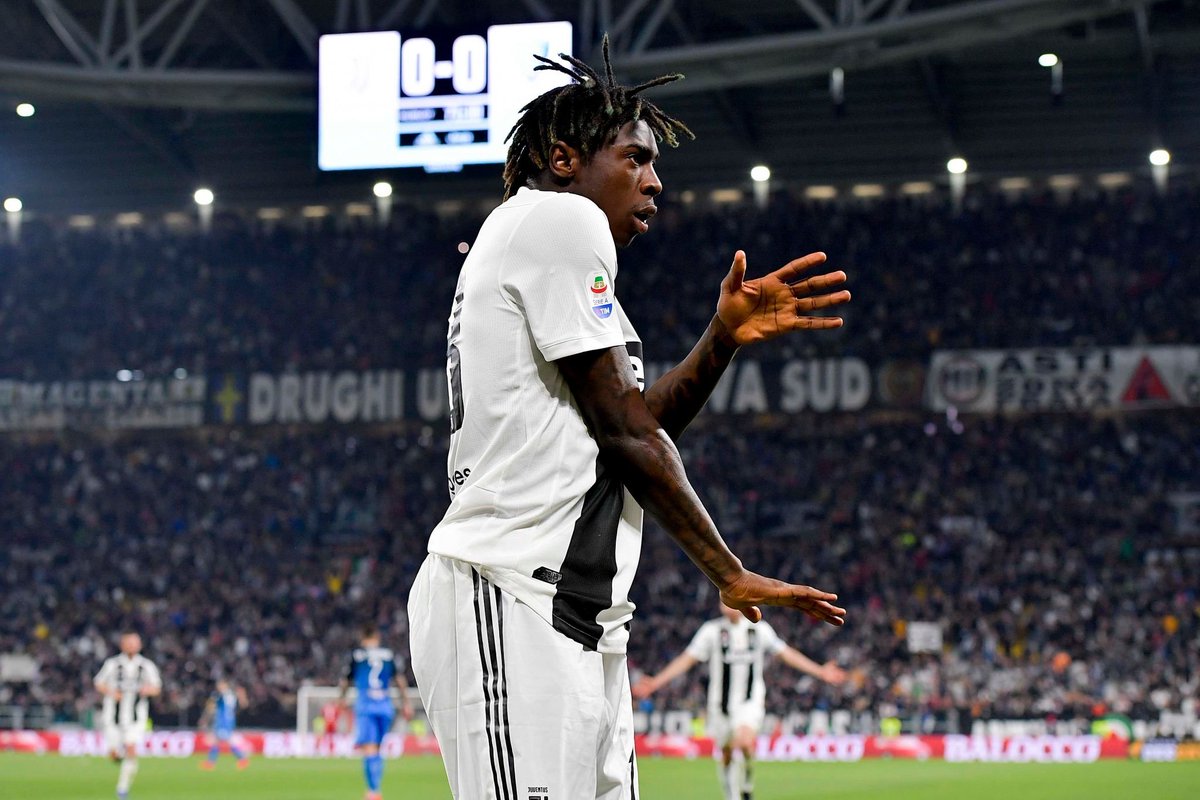 Moise Kean (19) in all competitions for Juventus and Italy in 2019:
• 17 games
• 9 goals
A goal every 82 minutes.
https://t.co/116qtqekLE
As proven by his topsy-turvy reign at Chelsea, Sarri-ball can't work without a proper hitman upfront. If the 19-year-old takes the Premier League by storm, how foolish will the chain-smoking ex-banker look?
It will also make the Old Lady appear worse than foolish. The club's support for their prodigy was, to put it kindly, muted when he spoke out against the racist chants heard at various stadiums. Club legend Leonardo Bonucci criticised him for his stance. Only departed boss Massimiliano Allegri backed him. Selling the budding star rather than confronting the problem is, to again put it kindly, the easy way out. Some will consider it cowardice or, worse, complicity.
We're talking about appearances and reality might be completely different. Nevertheless, the Bianconeri are defending the Scudetto for an eighth consecutive season and have won more titles than any Italian club. Their influence in Lega Calcio is immense. They are passing up an opportunity to lead Italian football into the 21st century and permanently put the taint of their corrupt influence during Calciopoli behind them.
It's said you're defined by the battles you fight. You can also reveal yourself in those you avoid.