Sergio Aguero: The best Premier League striker this decade?
AGUEROOOOOOOOO!
Arguably the greatest moment in football commentary. Definitely, the most spectacular thing we've seen in Premier League history. Sergio Aguero closed his debut season at Manchester City by delivering their first top-flight title in over forty years. Since then, the man from Buenos Aires has come from strength-to-strength.
This weekend was a memorable one for the now 30-year-old; making his 300th appearance for Manchester City, while penning a contract extension at Eastlands. Obviously, he found the back-of-the-net, too, scoring against a hapless Cardiff City in yet another drubbing handed out by the Champions.
It got me thinking, where does Aguero rank when discussing the best strikers in Premier League history? Well, for me, he's probably top five. Alan Shearer, Thierry Henry lead the way, while Wayne Rooney is probably next up. Then comes the Manchester City legend. Who cost the club a meagre £38million. What a bargain!
Since Aguero's arrival, many strikers have emerged. Didier Drogba as preparing to exit stage left, while Luis Suarez began making a real name for himself. Then you have Romelu Lukaku, who's goal record speaks for itself. We can't forget about England's man-of-the-moment Harry Kane, either. In fact, the Tottenham Hotspur talisman is probably the man who runs Aguero the closest out of the current crop.
Honestly, though, Aguero's untouchable. He's been the best, most consistent hit-man from day one. An amazing tally of 205 goals, at a strike rate of over two goals every three matches is just ridiculous. I mean, sure, it helps when you've got David Silva and Kevin de Bruyne feeding you the football, but you still have to stick it away.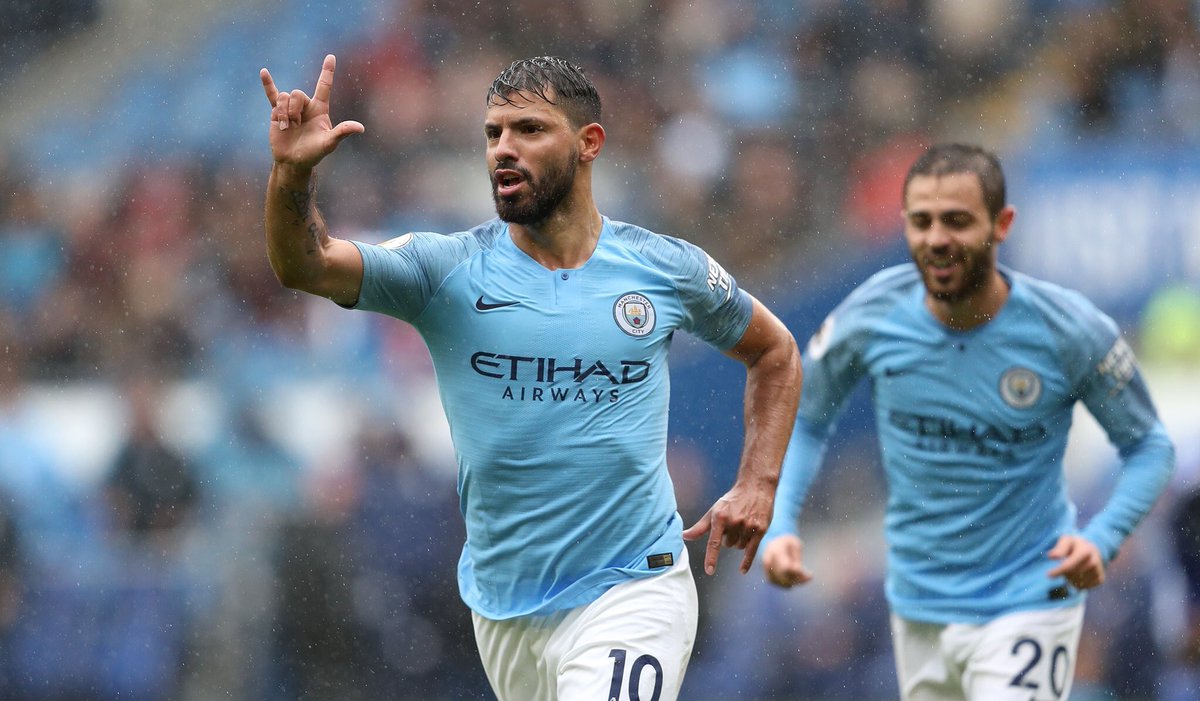 Aguero Stats: Sergio Aguero is joint 4th on goals scored for a single club in PL history (Lampard also 147).
Rooney: 183 (United)
Henry: 175 (Arsenal)
Shearer: 148 (Newcastle)
Aguero: 147 (Man City)
Lampard: 147 (Chelsea)
37 more goals to reach the top spot. Next season?
https://t.co/z759N6zec7
Aguero sits tenth on the all-time Premier League top scorers list with 147 strikes. Andrew Cole, in third place, sits at 187. I wouldn't bet against the 30-year-old reaching that tally before he leaves City. He'd be the most successful overseas goal-getter this country has ever seen.
It's not just the frighteningly brilliant rate in which he finds the net that is impressive, either. It's the timing. When City need him most, Aguero steps up to the plate. He plays his best football when the lights are the brightest; just ask Manchester United, their fans can't drive Aguero to the airport to head back to Argentina quick enough.
The striker hasn't had it all easy. There have been obstacles to overcome, hoops to jump through. Aguero has had to adapt to three extremely different playing styles. Roberto Mancini brought him in, Manuel Pellegrini changed things drastically, with the biggest adjustment coming when Pep Guardiola took charge. He's won titles under all three. That's mightily impressive.
There has also been huge competition for Aguero year-in-year-out. Carlos Tevez, Edin Dzeko, Alvaro Negredo, Mario Balotelli, Emmanuel Adebayor, Stevan Jovetic and Wilfried Bony have all come and gone. Perhaps his biggest challenger is still at City. Gabriel Jesus is one talented young man. That's an elite list of forwards to beat out - considering he's been involved in a one-striker system for the most part.
City fan or not, you just have to respect what Aguero has done. Somewhat surprisingly, he's yet to win an FA Cup trophy. Completing the domestic set would be more than deserving. While, we all know he, like his manager Guardiola, will be chasing the big one. They've gotten off to a bad start by dropping their first game at home to Lyon. Would you seriously bet against them turning things around and going all the way, though? I certainly wouldn't...