Plymouth Argyle set for huge rebuild after relegation
Player of the Year Ruben Lameiras is set to leave relegated Argyle
Background image: Lewis Clarke (CC BY-SA 2.0)
Main image via: Euanargyle (CC BY-SA 4.0)
Plymouth Argyle should have been safe weeks ago. But, after suffering a frustratingly avoidable relegation back to League Two, Chairman Simon Hallett now finds himself faced with a huge rebuilding project to undertake.
The first item on his lengthy to-do list is to appoint a new manager.
Derek Adams' sacking had been coming. A winless April saw the concession of 15 goals in five games and rising discontent from supporters.
The straw which broke the camel's back was Argyle's 5-1 defeat at Accrington Stanley in their penultimate game of the season. After that, the dissenting voices were just too loud to ignore.
Former boss Ian Holloway is in the frame to return to Home Park but his appointment would likely divide the fanbase; some would love to see him back to attend to his unfinished business while others are still angry with him over the way he left back in 2007.
A name like Holloway would certainly be able to attract players but Argyle's recent spending history (or lack thereof) suggests the money might not be available for him to buy them.
Those opposed to Holloway's return would prefer a younger, hungrier manager looking for a long term project. Someone who isn't afraid to blood youth and galvanise the fans instead of antagonising them as Adams seemed to towards the end of his reign.
Former Pilgrim and current Bristol Rovers manager Graham Coughlan has also been linked to the job but his relative lack of managerial experience and the compensation implications – he signed a two-year deal at Bristol Rovers back in January - might put Hallett off.
Paul Hurst, who did so well at Grimsby and Shrewsbury before an ill-fated five-month spell at Ipswich, is also in the running but interest from Scunthorpe, only an hour from his native Sheffield, may prove decisive.
In the last few days Ryan Lowe, who somehow managed to get penniless Bury promoted to League One this season, has emerged as another potential candidate. Like Coughlan, though, he's inexperienced and tied to a contract.
Coughlan is still favourite for the job on SkyBet. Holloway coming in 2nd & Hurst 3rd.
I remember following the odds when DA became manager & he just came in from nowhere so lots of twists & turns to come.
They have Warnock at 14/1! Sure he'll drop from Prem to FL2! 😂#pafc
Hallet's decision to sack Adams after the Accrington game had the desired effect. The players responded with all the guts and passion you would expect to see from a side fighting for their lives; things that had been lacking in the preceding weeks.
Argyle, playing relegation rivals Scunthorpe, needed to better Southend's result to stay up; they went into the game knowing that even a win may not be enough.
They lead 2-0 before being pegged back in controversial style. In his desperation for survival, Josh Morris flouted sportsmanship and enraged the sell-out crowd at Home Park.
With the ball in his hands, Argyle goalkeeper Matt Macey signalled to the bench that he was injured. It was clear to everybody in the ground that the Arsenal loanee was hurt and about to throw the ball out of play so he could receive treatment.
Morris didn't get the memo. He sprinted to keep Macey's, admittedly weak, throw in play before lobbing the hobbling stopper and levelling the scores.
Rage bubbled from the stands, on the pitch Antoni Sarcevic lead the Argyle remonstrations. No take backs, no walk-ins.
Thankfully. at least for Morris's well-being, Graham Carey scored the winner, set up by Ruben Lameiras and Argyle for a few fleeting moments thought they had done it.
But Southend's 88th-minute winner against Sunderland over 250 miles from Home Park condemned them and their opponents to the drop.
How Argyle found themselves with their destiny out of their hands come the final day of the season is hard to fathom.
Indeed before their dismal April, things had looked almost rosy in Devon. In January they won four out of five matches, in February they went unbeaten and thumped Rochdale 5-1 in what many thought was a coming of age performance.
Even in March, when their form dropped off a little, they managed to pick up a point against eventual Champions Luton and three against Shrewsbury.
But it was two draws at the end of March which set the tone for Argyle's run in. Against Blackpool, they squandered a two-goal lead to draw at Bloomfield Road and at home to fellow strugglers Bristol Rovers they twice led before drawing 2-2 for the second consecutive week.
Had Adams' men held on to win in either of those games they would not have been relegated.
Argyle's demise can be traced back much further than the end of March, though, all the way back to pre-season when Sonny Bradley left for Luton.
With his contract up for renewal, he was offered a new deal but turned it down. The word among those in the know is that it was a fraction of what he deserved after two impressive seasons at the heart of the Pilgrim's back four.
He left with a heavy heart but with little choice. His decision to go was derided by the Green Army at the time, but with the season now over, the league table suggests it was a wise move from the 27-year-old.
He will be testing himself in the Championship next season while Argyle tries to plot their escape from League Two.
Bradley's absence was keenly felt this season as Argyle shipped 80 goals, the third worst defensive record in the division. Not even the 18 goals of Freddie Ladapo, one of few successful summer signings, could help the save the Pilgrims.
Generally going forward wasn't a problem - although they did only notch twice during that dreadful April - the 56 goals that they scored were more than the three other relegated teams and the seven teams directly above them. In the end, the difference between relegation and survival was just three goals.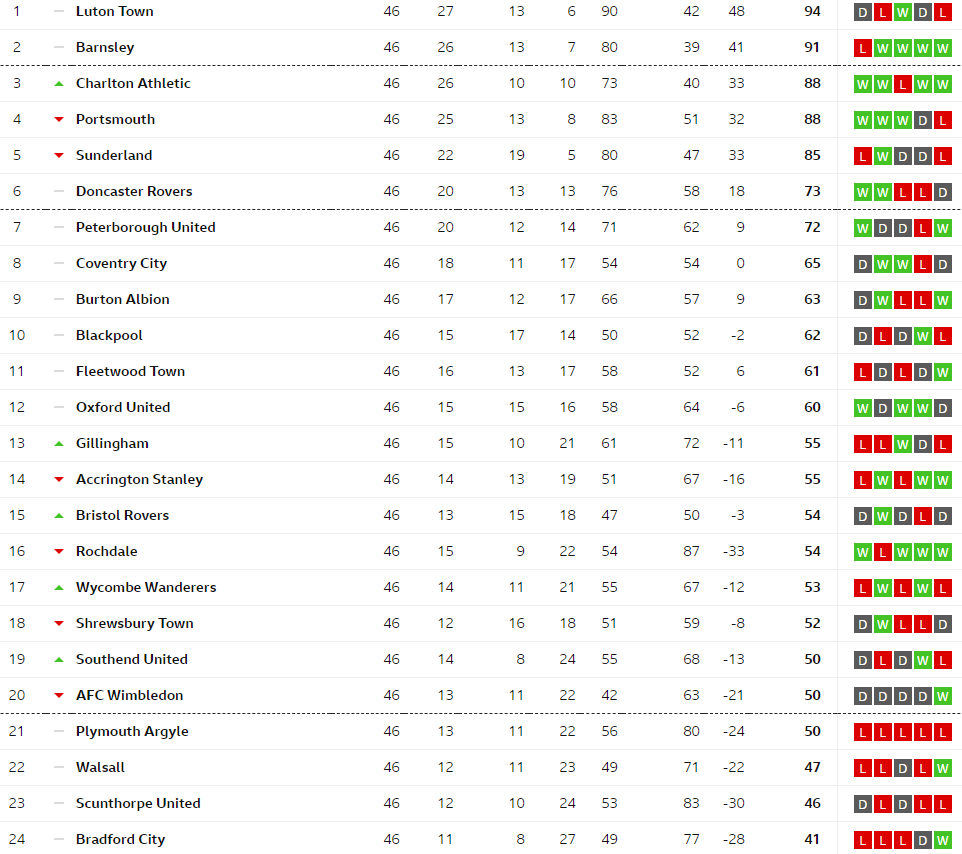 This is how the League One table finishes 👇
#AFCW's great escape is confirmed by the narrowest of margins...
...and #
CAFC
's big win sees them secure third spot and completely shake up the play-offs!
https://t.co/8jDl3JMu3B
The club's relegation makes a mockery of the new grandstand which is currently being built; a necessary development for the club's future will now be used by critics and rivals as a stick to beat them with.
A new stand, however nice, is scant consolation for a group of fans who undoubtedly deserve better from their side. Their commitment to following a team whose closest away day this season was a 240-mile round trip is unrivalled.
They took 1200 to Wycombe, 1000 to Charlton and 1500 to Coventry and lost every time.
In total Argyle lost 14 of their 23 away games this season, only bottom-placed Bradford lost more.
Club legend David Friio summed up the feelings of many supporters with a tweet before their relegation decider against Scunthorpe:
'One day you will support a team at your level of dedication.'
Lamieras and Carey have been offered new deals but they are unlikely to sign them. Both players are simply too good to play in League Two and Argyle don't have the money to tempt them to stay.
Defender Ryan Edwards and midfielder Jamie Ness have already confirmed via Twitter that they will be leaving.
Ladapo, while still under contract, is likely to attract interest from League One or possibly Championship clubs in the market for a goalscorer but if Argyle are harbouring any thoughts of making an immediate return to the third tier they must do what they can to keep hold of him.
The short-term future is unsure for Argyle and the decisions that are taken this summer are crucial. Get them right and it could mean an immediate return to League One, get them wrong and the consequences for this sleeping giant and its loyal supporters could be serious.
But somewhere beneath the disappointment and anger, there is a kind of perverted excitement for next season. In a sadistic sort of way fans are looking forward to the drudgery of League Two, for the fight, the away days and the no-frills nitty-gritty of the fourth tier. For a new manager and new faces. A fresh start after the ill-feeling of relegation.
Only time will tell how long that might last.