Champions League implements VAR; Should mic'd up officials be next?
Mike Dean is one red card from a century in his career. Wouldn't you love to know his thought process?
The Champions League returned last week for the Round of 16. Unfortunately, so did the controversy.
On Tuesday, Manchester United welcomed Paris Saint-Germain to Old Trafford. The 2-0 defeat was Ole Gunnar Solskjaer's first in his dozen matches as United boss. Even more amazing, it was the worst defeat the Red Devils ever suffered at home against European opposition. In the decades of matches that came before, no visitor ever beat United by more than a goal in the Theatre of Dreams.
The margin of defeat can be blamed in good part on the poor fortune to lose both Anthony Martial and Jesse Lingard just before the break. Bad luck through injury is hardly controversial, however. When it comes through an official's clear error, well, that's another pot of bouillabaisse.
While PSG were clearly the better side even in a more closely contested first half, the outcome may have been entirely different had referee Daniele Orsato booked Presnel Kimpembe for hauling down Marcus Rashford from behind. It would have been the defender's second caution and put Les Rouge et Bleu down a man for the second half. At the very least, the defender wouldn't have been on hand to score the opener from Angel di Maria's corner kick.
VAR could not help in this instance. Only the circumstances surrounding a straight red card are reviewable. Semantic or not, a second yellow card is not a straight red. PSG escaped the hangman's noose, living to pummel United in the second half.
On Wednesday, Ajax felt the Red Devils' pain. The Godzonen played Real Madrid off the pitch in the first half at the Johan Cruijff ArenA. They won every 50-50, dictated the tempo and did everything other than score. Late in the half, it appeared they'd finally done that as well when Thibaut Courtois spilled a save and the loose ball was headed home by Nicolas Tagliafico. The former Chelsea keeper and his teammates hung their heads, believing they were deservedly down a goal, not knowing VAR was about to come to their rescue. Reviews revealed Dusan Tadic to be offside and clearly interfering with Courtois ability to recover the ball. While a hard pill to swallow, it was the correct decision even though everyone knew the stage was set for Los Blancos to turn the tables in the second half.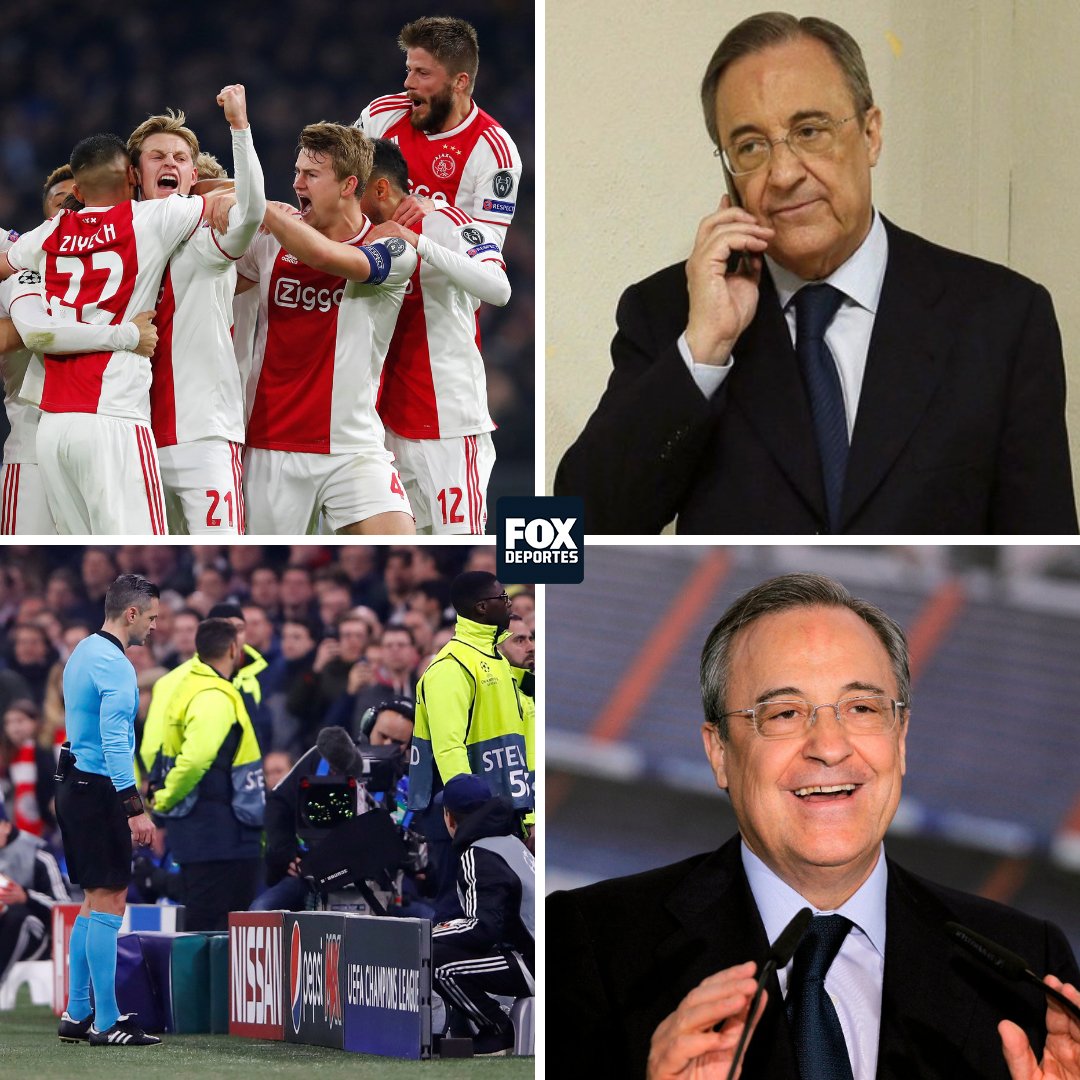 Turn the tables they did. Karim Benzema put the Merengues ahead on the hour with a well-struck volley. To their credit, Ajax did not give in. Striker Hakim Ziyech levelled on the counterattack 15 minutes later. In the 87th minute, though, Real benefitted from another non-call. As they broke on a counter of their own that would be finished clinically by Marco Asensio, Lucas Vazquez bundled over Frenkie de Jong, effectively taking him out of the play. Match official Damir Skomina sprinted past perhaps 15 feet to one side of the incident, electing to follow rather than stop play.
In both cases, observers were left to wonder what the referees were thinking? In football, that's always a question without an answer.
If Skomina somehow missed a textbook foul committed right next to him, the VAR official should have been in his ear immediately after the goal. Unlike a second yellow, fouls committed during the buildup to a goal are reviewable.
In the United match, it wasn't within Daniele Orsato's prerogative to be lenient with Kimbempe because the player was already on a yellow. When an attacking player is brought down from behind, the rules unequivocally state it is a bookable offence. The incident took place in clear view of the linesman even if Orsato's sightline was impeded. One or the other should have signalled a foul, at which point the player can only be sent off. If neither had the stomach to make such a critical call, they didn't belong in charge of a Champions League match. The player's illegal action influenced the game, not their officiating.
As with VAR, football is hopelessly behind other competitions. In both cricket and rugby, viewers would not be left wondering what the referees were thinking. Those sports link the match official's microphone to the broadcast feed. When they explain a call to a player or dress them down for improper contact, everyone listens in. The process is transparent, consistent and professional. Referees in top UEFA competitions wear microphones to communicate with the linesmen, fourth official and video assistant referee. There is no valid reason those communications can't be shared.
We would know, for instance, whether the officials felt Marcus Rashford had no play on the ball [even though he clearly did] or that Vazquez's contact with De Jong was incidental [it wasn't]. If a mistake was made, the official would be forced to take the heat but that is as it should be. We all want officiating to improve. When a referee makes an error for everyone to see and hear, UEFA and the leagues under its purview will be forced to demonstrate how the mistake is corrected. Knowing they are more accountable, officials will be more consistent. Most importantly, fans will have greater confidence in an open system.