Should Manchester United sell David De Gea?
David De Gea is about to put pen to paper on a £375k-a-week salary. Or, he isn't. No, he is. Actually, just give us a few more minutes please? We'd like to look over the menu again.
The Spaniard's to-and-fro with the United hierarchy has been tedious. Is it time they said enough is enough?
Ole Gunnar Solskjaer has made good on his promise to shift the deadwood. Romelu Lukaku burned his bridges with all the grace of your drunk uncle at Christmas; and like two villains banished from a Disney movie, Alexis Sanchez's petulance and broodiness has joined him at Inter Milan. Gone too are Matteo Damien, Chris Smalling (loan to Roma) and Ander Herrera – though there is considerably less ill-feeling from the United faithful to these three. Indeed, Herrera's grit and fight often symbolised what United ought to be.
The motivating factor behind most of these out-goings is getting rid of players who aren't totally committed to United. Under the acrimonious reigns of Louis van Gaal and Jose Mourinho, Old Trafford became a place to collect an eye-watering pay-check. Paulo Dybala's mooted move from Juventus to Manchester was called off after the Argentinian asked for a bumper pay-rise and United officials felt the diminutive forward wasn't completely invested in the cause.
Which leads us back to De Gea. Is he truly committed? Numerous reports suggested United have been trying to tie down the Spaniard since the start of last season: including our story on how De Gea's mistake against Barcelona in last season's Champions League quarter-final should've been the final straw.
Paris Saint Germain and Juventus are both leading characters in the conversation regarding De Gea's future. Both sides represent a far better opportunity for silverware than United. You can understand De Gea being tempted: after all, he's 28 and about to enter the fabled 'peak' years.
Footballer's have a lot of spare time. Either De Gea has endured countless, conflicted and tortured hours looking out the window, ruminating over his future or he's playing a game. It seems harsh to accuse United's stand out performer for four of the last five seasons - winning The Sir Matt Busby Player of the Year Award – but no other explanation seems reasonable.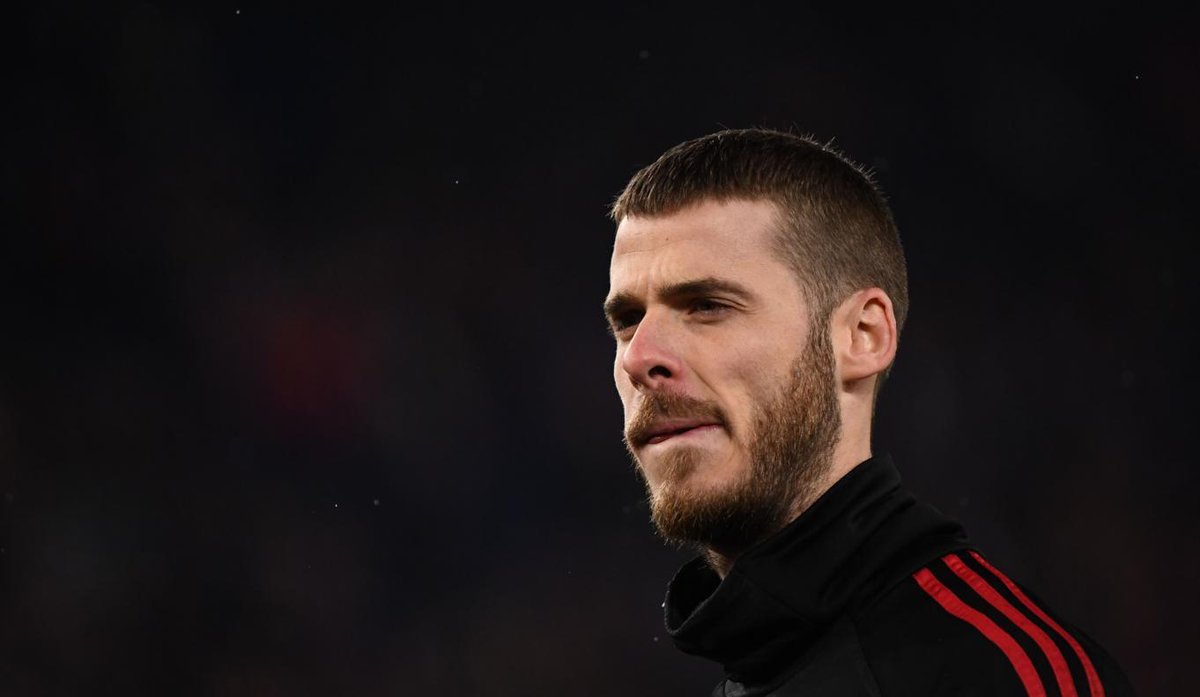 He's kept just two clean sheets in his last 20 matches.
He's lost his number one spot in the national team.
Kepa Arrizabalaga replaces David de Gea in the Spain starting XI.
https://t.co/U8uBF5H0Yh
He may have played the long game, making United sweat; or, he may have been waiting for concrete offers from Juventus and PSG. Both outcomes suggest a man who is not on-board with Solskjaer's rebuilding efforts.
Aside from the concerns over his commitment, there is evidence to suggest the former Atletico Madrid man may be past his peak. United's epilogue last season read like the wish-list of a particularly scornful rival fan. A recurring theme throughout United's pathetic collapse was a litany of surprising mistakes by their normally steadfast keeper.
They've carried on into the new season, too. At home against Crystal Palace, De Gea undermined Daniel James' superb equalising-strike, letting in a saveable shot from Patrick van Aanholt. Being beaten at his near-post will always invite the critics, but it wasn't the location of the goal that was most worrying, it was the tired and un-Dea-Gea-like response. Normally standing up-right until the ball is struck, De Gea instead committed before Palace's left-back struck the ball. Off-balance, caught in a no-man's land between saving with his feet – a staple of his game – and with his hands – usually reserved for more air-borne shots – he was left red-faced.
Questions marks were raised further when he failed to collect or clear the cross that led to Janick Vestergaard's towering header as United stuttered to a 1-1 draw at St Mary's against Southampton. Rooted to his line and unwilling to command his box, it was yet more evidence of De Gea not being pro-active or being sluggish to respond to situations.
While his shot-stopping skills are instinctive and likely to return, his distribution remains a concern. So far this season, De Gea has made the least passes in the league: 72. Don't mistake this for United being forward-thinking and forward-facing in possession. This is an indictment on De Gea: consciously or sub-consciously, United's players are reticent to go back to their keeper. A passing accuracy of 79% compared to Manchester City's Ederson's 89% tells you why.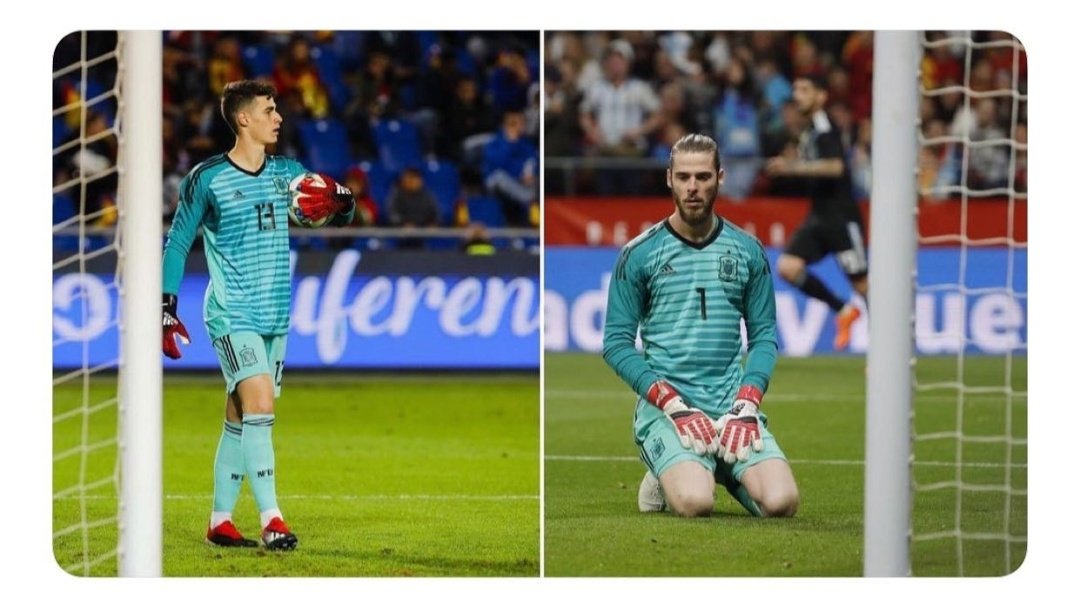 Kepa Arrizabalaga replaces David De Gea as Spain's No.1, due to just 2 clean sheets in his last 20 matches.
Oh how the mighty have fallen.
https://t.co/tQ8bGwVnhK
In Victor Lindelof and Harry Maguire, United finally have a centre-back partnership that shows promise. Of course, there have been teething problems, but they appear a perfect foil. So, is a world-class goalkeeper really needed if those two will afford greater protection? Four of the last five Champions League have been won by Real Madrid, who had Keylor Navas in goal; Leicester City stormed to the Premier League title with Kasper Schmeichel; United won a succession of league titles with Edwin van der Sar.
Yet De Gea, arguably, is the only player at the club who deserves to be a top-earner. Van Gaal and Mourinho's time at United would be cut a lot shorter without De Gea and he has single-handedly won games on his own for the Red Devils: a rare occurrence for a goalkeeper. He has made more of an impact than Paul Pogba or Alexis Sanchez.
Retaining a world-class keeper also sends a signal of intent. Despite certain weaknesses and frailties being exposed over the last year, the Spanish international is still amongst the top-five keepers in the world. A back-five of De Gea, Aaron Wan-Bissaka, Lindelof, Maguire and Shaw could be moulded into one of the most proficient defences in the league.
United's decision to cease their pursuit of Dybala was an uplifting sign of refusing to become an open-vault for mercenaries looking to fill their coffers. De Gea is not just after more money, granted. Yet his refusal to sign across the dotted lines after a protracted negotiating period of over 12 months suggests he doesn't really want to be at the club.
United are better off cutting their losses, receiving a substantial fee in January and reinvesting that money into the rebuilding job that Solskjaer is attempting.