Should Myron Boadu depart AZ Alkmaar?
Boadu is the hottest of prospects with a wealth of options.
It's possible you haven't heard of Myron Boadu. After all, he's just an 18-year-old playing for AZ Alkmaar. No big deal.
But look closer and you'll see this forward has the makings of an international superstar. The youngster is a key element of an attacking line leading Alkmaar to a healthy title challenge alongside juggernauts Ajax. With 17 goals in 27 appearances, he's impressed with his physical and technical ability.
Boadu is the perfect striker. Bursting with pace and mobility but also blessed by the footballing gods, or perhaps the coaching masterminds beavering away behind the scenes at AZ, with the technical skill, tactical sense and positional knack that the world's titans of the game all possess.
He's been on the radar for some time, banging in the goals for Jong AZ from the age of 15, and making his first team debut at 17. He even scored on his international debut in a 5-0 win over Estonia in Euro qualifying.
Big clubs are sitting up and taking notice. With AS Roma among the teams reportedly lining up huge bids for Boadu, the Dutchman could be departing his home country within the next few weeks, destined perhaps to follow in the footsteps of fellow AZ youth product Vincent Janssen; who earned a move to Tottenham in 2016 after impressing for De Stadionklub.
But there are obstacles to Boadu's departure. His side is, understandably, unwilling to part with such a talent and are demanding a fee in excess of €22million, a shade more than the sum received for Janssen. That could put off potential suitors, unwilling to see a repeat of the Janssen farce; the young striker is now plying his trade in Mexico after flopping like a beached haddock at Spurs.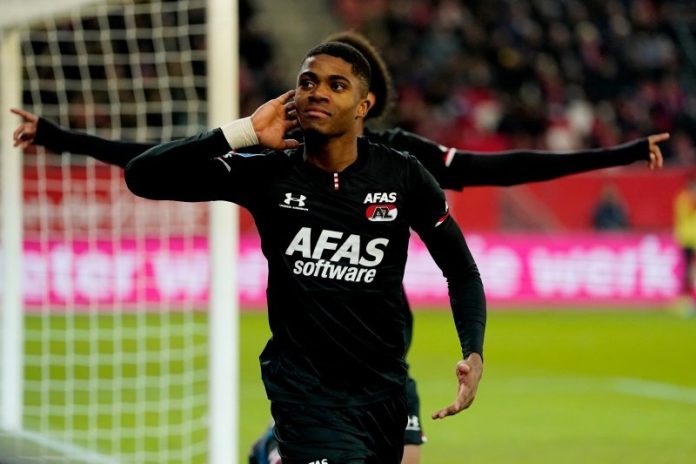 Another option for Boadu could be a sideways move to Ajax. But Alkmaar would presumably baulk at selling their star man to their title rivals, a deal that would essentially hand the title race to the bigger club.
Boadu himself may be inclined, and well-advised, to stay put. Alkmaar's coaching staff and the opportunities they've given him did wonders for his game. It seems to make sense for the striker to remain where he is for the remainder of the season and see if he can't help his boyhood club to that first Eredivisie title since 2009.
He turned down Arsenal as a youth player in favour of more regular game time with AZ. He'd do well to remember that now. While Boadu would no doubt get Serie A minutes if he did move to Roma, he'd be competing with a new class of emerging youngsters and would by no means be the first name on the team sheet as he is currently.
At the very least, Boadu should put off making a move until this season's end. He's got the chance to help his boyhood club to make history. If he stays put, the talented-teen can continue to develop while building his reputation in a strong league.
With things going so well, why change them now? There are years ahead for Boadu to tour the world, picking up medals and staking his claim as a global superstar. For now, there's time to finish what he started, perhaps leaving AZ as a celebrated hero sometime soon.