Should Phil Foden follow the example set by Jadon Sancho?
Phil Foden in action for Manchester City
Phil Foden and Jadon Sancho, both 18 years old, both products of the Manchester City academy but both now on very different career paths. Whilst Foden is fighting around the fringes of the City first team squad, Sancho is now an integral part of a Borussia Dortmund side that currently tops the Bundesliga and finds himself a part of the senior England setup for the first time. All this begs the question, did Foden make a mistake in staying at City, and is it time he followed the path of his former academy buddy?
For Sancho his, at the time, controversial decision, not to sign a new contract with City and instead join Dortmund now looks highly justified. He is earning rave reviews for his performances. He is currently tied for most assists in Europe's top leagues and has helped inspire Dortmund to the top of the Bundesliga, has earned a promotion to the full England squad, is highly valued by his club and is predicted to have a bright future. The 18-year-old Sancho would be perfectly entitled to believe that he made the right choice.
Foden, meanwhile, has been restricted to the odd late cameo in the Premier League plus one start in the League Cup and hasn't made the step up to the senior England squad yet. For all the talk of how talented he is, how much the club values him and how highly Pep Guardiola rates him, those words have simply not be translated into minutes on the pitch.
It could be argued that Foden is benefiting from training with the likes of David Silva and Kevin de Bruyne every day, these two, along with Ilkay Gundogan, are the players blocking his path through. Foden may currently be happy with his situation but how much longer will that continue to be the case? It is for precisely this reason that Sancho left City. He saw his path become impassable by high profile signings and decided it was time to try his luck elsewhere.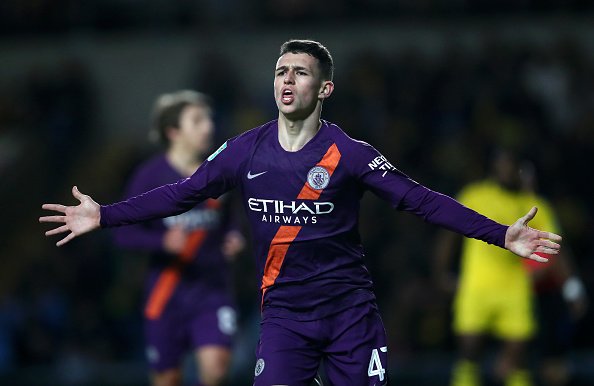 If Foden needed more encouragement, another look at that latest England squad might well provide it. Another new name in that squad is that of Mason Mount. The Chelsea man, knowing he wouldn't see game time at Stamford Bridge opted to join Championship side Derby County, managed by Chelsea legend Frank Lampard. His form for them, including his role in eliminating Manchester United from the Carabao Cup, saw him also earn a first call-up. Gareth Southgate has proven that in the right circumstances he is prepared to call up players he knows from the Under 21 setup, even if they play below Premier League level.
But alas, Foden doesn't fit one of Southgate's main criteria for selection, namely being a regular for their club. He might only be 18, but it's possible that Foden is suffering in his current situation. The likes of Sancho, Mount and Ademola Lookman, who spent the second half of last season on loan at RB Leipzig, shows there is a new breed of English footballers. In the past, only an intrepid few Three Lions players ever tried their hand in a foreign league and most did so in the peak years. Now, youngsters are being more daring in their careers and are prepared to move abroad early if the opportunity presents itself.
If Foden is to develop in the way that both City and England believe he is capable of then it might well be time for Foden to follow in their footsteps and make the move away, even if it's just temporary.