Mikel Arteta wants Granit Xhaka to stay; Should he?
Can fans follow the new boss' lead and forgive the Swiss midfielder's transgression?
Granit Xhaka sits at a crossroads. One path leads away from the Emirates and his toxic relationship with fans. The other leads back into the clubhouse where a welcoming manager values his skills and leadership. Which should he take?
Since he told fans where they could go in no uncertain terms following Arsenal's match against Crystal Palace, he became persona non-grata at the club. Unai Emery removed him from the lineup even though the player posted an online open letter explaining he reacted to the most base among the Gunners fanbase, the ones who threatened his life and loved ones.
Xhaka's agent recently confirmed he agreed personal terms to join Jurgen Klinsmann's project at Hertha Berlin although the Swiss star would not be immune to criticism in the Bundesliga. German fans are known to be rowdy in their own right. Regardless, the success at Borussia Monchengladbach that attracted Arsenal's attention in the first place indicates he'd be returning to a familiar environment in which he is more likely to be appreciated.
His game suits the fast-paced, attacking style found in many deep-lying midfielders at Teutonic clubs. His [cough] arsenal of passes would create more opportunities for the Old Lady's promising but inconsistent front three.
That being said, a move to the German capital is a step down. Arsenal struggle this season but it's not for lack of talent. Unai Emery's attempt to cure the malaise that crept in during Arsene Wenger's final years only created more doubt and confusion. The Gunners lost their identity. Freddie Ljungberg's short caretakership failed to change anything. Mikel Arteta's appointment has.
The Spaniard encouraged the squad to press in unison, leaving no space for opponents to exploit after the first pass. He also started Mesut Ozil, Xhaka and David Luiz, three players often criticised for their defensive failings but all passing savants. As Manchester United discovered, the new, reassured Arsenal can control matches again.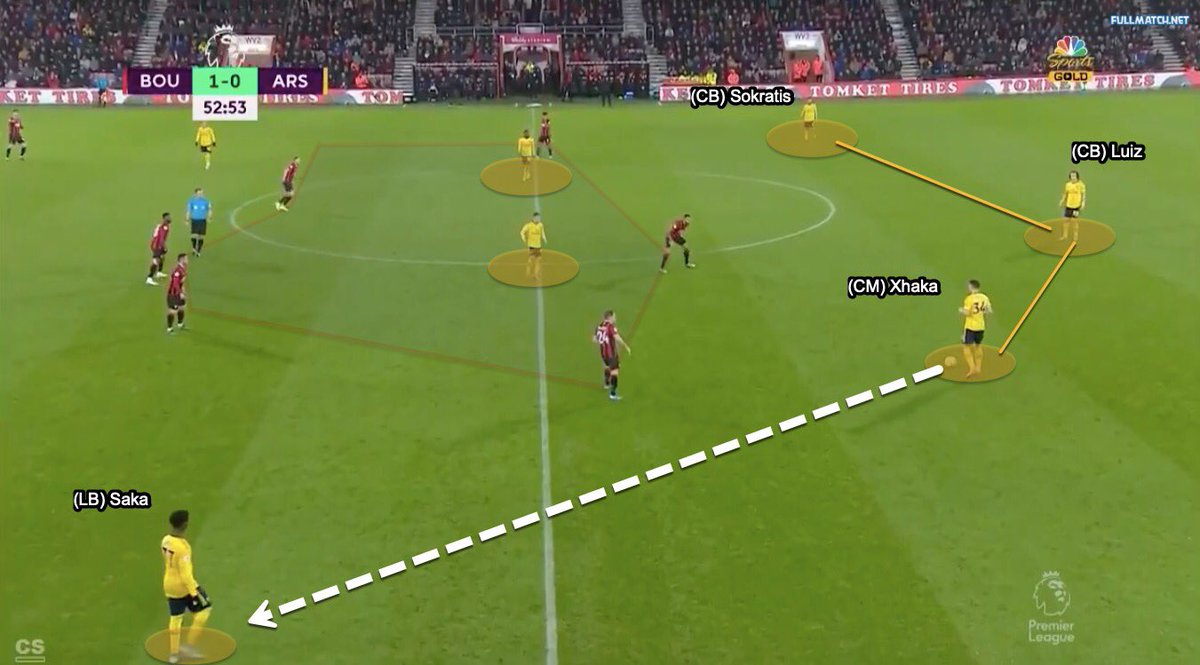 Arteta getting the best out of Xhaka:
Arteta tweaked his positioning having him drop into the back-line.
This allowed for him to receive the ball in space, covering up for his deficiencies of turning slow and turning the ball over under pressure.
#afc
https://t.co/3xMYL9nYJM
With one forward, one midfielder and one defender who can all pull strings, the Gunner can quickly settle into possession. In theory, one is always nearby whenever and wherever they win the ball. Losing Xhaka disconnects the defence from the forwards. Luiz would be tempted to try too many long balls. Greater onus would be placed on Ozil to track back than suits his leopard-in-the-grass approach to recovering possession. The trio offers the Gunners a delicate balance that evaporates when one is removed from the equation.
At 27, Xhaka's prime years are upon him. No offence to Klinsmann or Hertha but does he want to waste his best form for a team with far less potential? He'll be freed from the intense pressure in North London but in an even worse position to win anything. It's understandable why he would want to leave. No one likes to be abused or underappreciated. But should he walk away from a manager who stuck his neck out to support an unpopular player? Arteta believes in him. If they can turn the club around together, the fans will too.
Moreover, Arteta was a playmaking midfielder himself. Their styles and positioning are as different as you would expect from one who is 6'1/180lbs while the other stood in at 5'9/150. Regardless, their ability to read the game is similar even if Arteta was more effective off the ball. Already, you can see the new gaffer's influence on the younger man's play.
In his only two appearances under Arteta, the man born a generation too late to make a guest appearance on the Flintstones recorded 90% passing accuracy. He created more chances, operated efficiently from a deeper position, dictated tempo in a fluid style. With Lucas Torreira's bulldog presence, he's more comfortable controlling games. Indeed, with the Uruguayan bullying opponents, Xhaka finds relief. As long as Arteta sets the Gunners up in a shape that gives the Swiss international time and space to turn [he tends to panic when pressured], he can provide a positive influence.
Arteta developed later than most but was known for his composure and mental strength when handling the ball in close quarters. Given time, perhaps he can eliminate the weakness in Xhaka's game. Pep Guardiola valued the Spaniard's man-management on the training ground. Will the Arsenal squad come to appreciate it as well? Will Xhaka? The question can only be answered if he stays.