No 'Songs of the North' at Old Trafford
Is it Solskjaer's unassailable positivity that sours him for Manchester United fans? Well, zippitty-doo-dah.
Bobby McFerrin would never make it in Manchester's red half. His philosophy is turned upsidedown on the Old Trafford terraces. As Ole Gunnar Solskjaer attempts to rebuild the squad from the academy up, all you hear on social media is, 'worry; don't be happy'. Negativity colours supporters' opinion of everything the manager does. Once upon a time, when you could rely on Premier League managers to say interesting things on a regular basis, Sam Allardyce lamented that people had opinions about the Premier League.
I hate perception. There's far too much of it in football.
On the one hand, like much of what Big Sam says, the remark sounds ridiculous. The whole idea of football is to give us something to mull and argue over a pint or at the water cooler [over a pint]. On the other hand, don't you just wish people would see things as they are rather than through some prism or other?
The facts regarding Sunday's game between Manchester and Sheffield United at Bramall Lane aren't in dispute.
Solskjaer opted to counter Chris Wilder's 3-5-2 with a 3-4-2-1
It didn't work for three reasons: a] the visitors were played off the park in the first half, b] Anthony Martial was too isolated up front and c] the Blades are far more familiar with and proficient in a back three.
Only David de Gea prevented the scoreline from being worse than 1-0
Phil Jones failed to take his first Premier League opportunity this season with both hands
Rather, he took it on his back while Lyn Mousset hared off towards goal
Solskjaer changed to a back four in the second half, lifting Jones [off his back] for Jesse Lingard
Mousset doubled the lead despite the Norwegian's tactical switch
Brandon Williams and Mason Greenwood then scored their first Premier League goals to level terms
Marcus Rashford put the Red Devils ahead
Solskjaer threw on Axel Tuanzebe, reverting to a three-man back line to protect the lead
The three-man backline did not protect the lead. Ollie McBurnie claimed the equaliser after a lengthy VAR review
Everyone and their aunt has a different perception of what all that means. [Read on for mine]
Spoiler Alert: Perception ran wild and unchecked on social media following the match. As usual, the negative view took the fore. Two themes eventually emerged.
Solskjaer has no clue
VAR has no clue
With regards to Ole, fans couldn't understand why he reverted to three centre-backs late after the original switch supposedly ignited his side's comeback. The truth is it didn't.
Solskjaer's quiet demeanour admittedly gives the impression he is naïve and lacks competitive fire. Jose Mourinho wore his emotions on his sleeve. He spoke with his heart more than his head at times. Conversely, the Norwegian criticises his side with a smile, not a scowl. Rather than naivete, Ole manipulates the media in a different manner to his predecessor. A relentlessly positive expression ensures that supportive remarks are printed.
The difference between this team and last year's team is huge. At 2-0 down, my mind's going back to Everton. Last year, we would have been three, four or five down. There is no doubt about the drive, the attitude, the energy of these boys.
Meanwhile, other statements revealing he sees what everyone else does tend to go overlooked.
[Sheffield] looked like they wanted it more than us and believed more than us. We had one shot on target in the first half and that's unacceptable, not good enough. It's mixed emotions because we have not performed in the majority of the game.
Mourinho feuded with players in the press. That approach led to his sack at three successive clubs. Solskjaer supports his squad without denying their shortcomings. His detractors assume he's just as reticent to discuss them with his charges behind closed doors.
While many believe Ole is too nice to light a fire under his squad, this match suggests otherwise. The Red Devils came from two goals down to take the lead in perhaps the Premier League's most daunting fortress. Going into the second half, Sheffield United remained one of only two teams in the Premier League to concede less than ten goals. Something was said in the Manchester dressing room at half-time to spark the change that forced the Blades to yield three in less than 45 minutes. Whose words do you think they were?
If emotion rather than tactics drove the fight-back, then changing shape to protect the lead can't be held to blame for losing it. You can be as resolute in defence as you are in attack. Ask Sheffield United or Leicester City. You can bet pounds to peanuts that an equaliser on the counter while United went for a fourth goal would have raised the same firestorm. It's not the tactics; it's inconsistency and poor execution, qualities to be expected from a young squad [and Phil Jones].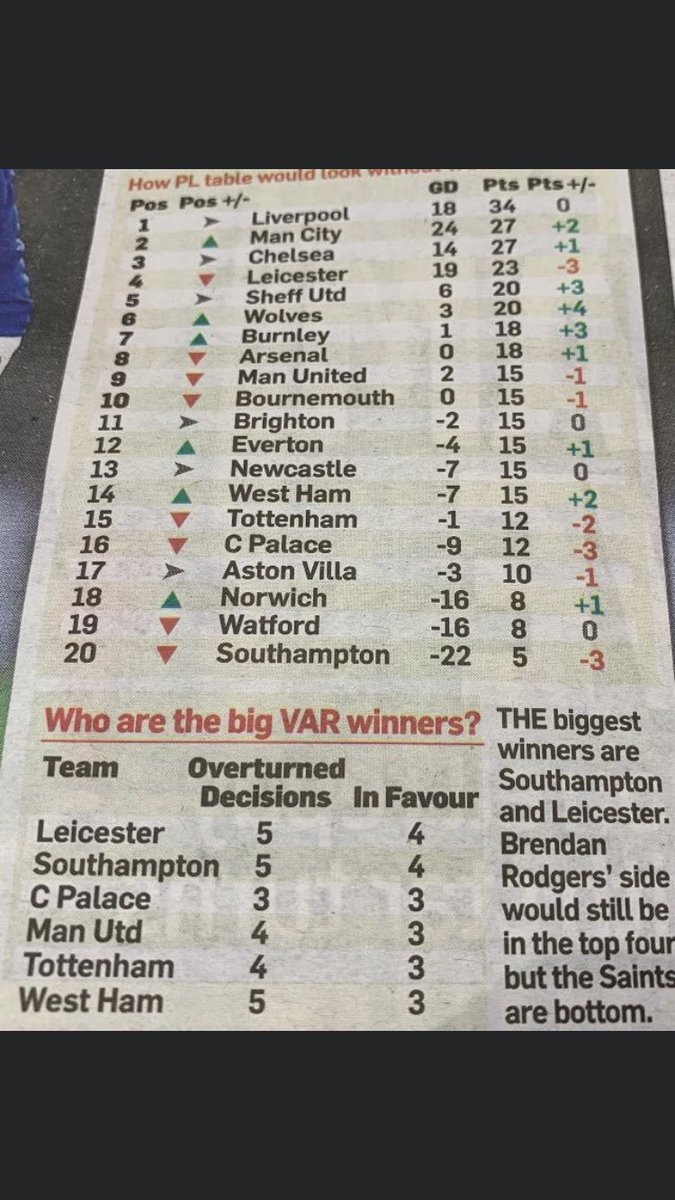 And VAR? Like Solskjaer, the process endures universal condemnation even when it makes the right call. There was no clear, obvious perspective that depicted the ball in contact with Ollie McBurnie's arm rather than his shoulder. By definition, the goal deserved to stand. Perhaps with the [metaphorical] ghost of Sam Allardyce whispering in his ear, Chris Wilder said something interesting on the topic.
If an armpit can be offside, it can score a goal.
Similarly, if Ole Gunnar Solskjaer can evoke a response from his squad that turns a match on his head, he deserves, at the very least, to manage another.
Maybe you've just buried your head in your hands at that conclusion but those of you who find it "unacceptable" Manchester United were played off the pitch for the greater part of the match at Bramall Lane either forget or willfully ignore the history behind the standard to which you would hold the current manager. In the process of winning 38 trophies in 26 years under a certain Scot's iron hand, the Red Devils were played off the park too many times to recall. If they hadn't been, there would be no such thing as Fergie Time.
Sir Alex understood it was the result that mattered. Take this one as an indication your club is beginning to remember its identity.