Solskjaer culling deadwood makes room for young stars
Background image: Jakub Mularski
They say change is necessary for any rebuild. It was essential for shaping both Pep Guardiola and Jurgen Klopp's empires. Ole Gunnar Solskjaer learnt the hard way how much he must change Manchester United to bring back the glory days. He constantly reminds that this is no short-term process. It'll take more than one season for the Red Devils to challenge for the title again.
Unfortunately, pragmatism doesn't go down well with United supporters whose sense of entitlement tells them it's a weakness. Nevertheless, Solskjaer stands by his word. While fans desire an immediate transformation, the Norwegian is more methodical.
That isn't to say the faithful won't get what they want. Those who complained that the Premier League window closed before all the deadwood was culled from the squad assumed it wouldn't happen without time to sign replacements. Solskjaer doesn't think United need replacements. Not with so many outstanding young players waiting in the wings.
Deeming the time right, the baby-faced assassin finally moved this week. Alexis Sanchez's nightmare is over or at least suspended for 12 months with his loan to Inter. Unexpectedly, Chris Smalling is Serie A bound as well. He'll spend 2019/20 in Rome with the Giallorossi. Since taking over in December, Solskjaer has allowed six first-teamers to depart. He may not have had much choice with Ander Herrera but Marouane Fellaini, Antonio Valencia, Romelu Lukaku, Sanchez and Smalling are all by design. Mistake-prone Phil Jones is now expected to follow and quite possibly Nemanja Matic as well.
United's squad is as thin as ice but the silver lining comes in their academy prospects. They're probably the biggest winners in the culling. With little depth anywhere on the pitch, Ole looks towards his youngsters to fill the void. The class of '19 isn't guaranteed to match '92 but they have as much potential.
The manager is already playing up Axel Tuanzebe as "the future" of United's defence. One can't disagree. The centre-back played a major part in Aston Villa's Championship promotion, handing him hefty experience. He's strong, assertive and reads the game well enough to make timely challenges. Moreover, his calm distribution is needed in United's uncertain ranks.
It isn't necessary to throw him to the lions, however. Eric Bailly and Marcos Rojo can provide cover when healthy and fullback Matteo Darmian, who appears to be staying in Manchester, can be of service in central defence.
The Harry Maguire-Victor Lindelof partnership is set in stone but when the fixtures begin to pile up, rotation will be necessary. The 21-year-old will get chances sooner rather than later. He'll have to prove himself to justify Solskjaer's faith and buy the boss some much-needed time.
Meanwhile, there are several options to replace Sanchez. Some might say Mason Greenwood already has but Tahith Chong automatically comes to mind when discussing versatile attacking players. Don't let the hair fool you. The young Dutchman is far more technically adept than Marouane Fellaini. Well suited to the left-wing role, his dribbling ability and link-up play troubled defenders in United's preseason.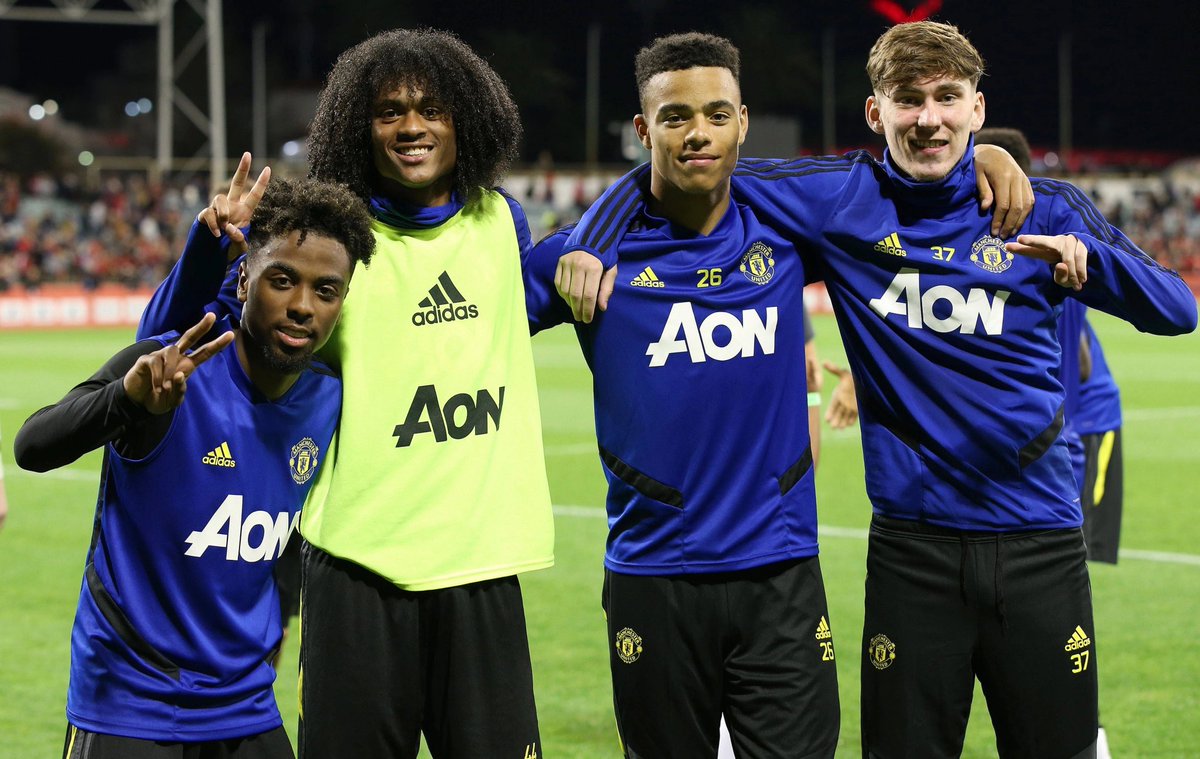 #
MUFC
academy dey hot:
Angel Gomes:
• 52 games
• 23 goals
• 12 assists
Tahith Chong:
• 54 games
• 19 goals
• 21 assists
Mason Greenwood:
• 45 games
• 47 goals
• 13 assists
James Garner:
• 57 games
• 9 goals
• 6 assists
Our boys dey vex. 🔴🇾🇪
https://t.co/u2U35ZtYsZ
The 19-year-old's is full of tricks when moving with the ball but his liveliness in the final third especially catches the eye. Having played occasionally at the senior level, Solskjaer deems him ready to play a more important role. Don't call him the next Ryan Giggs yet but don't rule it out either.
While Chong is expected to feature heavily, Angel Gomes is another boy-wonder ready to pounce. England's U17 World Cup-winning captain possesses the leadership qualities craved by OGS while being a feisty figure in attack. He may have been considering his future at Old Trafford before Ole, but the Norwegian's convinced him he has a future role. Albeit undersized at 5'3", the electric winger uses that to fit into tight spaces and run narrow channels. Gomes can add an unpredictable touch off the bench to spice up United's attack. With some experience, fans might be dubbing him the next Solskjaer.
James Garner also stands in line. Dubbed the next Michael Carrick, last year, he never received sufficient playing time to live up to the hype. With Nemanja Matic apparently looking to leave and Fred's pre-season antics ticking off Solskjaer, he could finally have his chance.
Mason Greenwood's already established himself a first-teamer. He could use more playing time to hone his form. With Lukaku and Sanchez out of the picture, he should get it.
Solskjaer expects to hear that "you can't win anything with kids" often this term. If we're being honest, reaching the top isn't the goal this season. Building a solid foundation to make it possible for years to come is. The young players have very little experience. They could crumble under the weight of unrealistic expectations. There's the physical aspect to consider as well. They aren't through growing yet.
Ole knows the path to redemption is treacherous. More hiccups like Crystal Palace will happen. The short term isn't his concern, though. By integrating a lethal counter-attacking style with fluid movement, he's taking 'baby steps' to get his side back to playing the "Manchester United way".