AFC Wimbledon enjoy MK Dons redemption some 16 years later
AFC Wimbledon; a proud and historic football club celebrated in some quarters like never before as the 2017/18 season came to an end. A 0-0 draw away at Doncaster Rovers secured their safety, guaranteeing a third season in a row in League One. However, for many fans, it means so much more. For the first time in their relatively short history, they will be playing next season one division higher than MK Dons.
In 2002 a decision was made to move Wimbledon to Milton Keynes, a story which sadly means the two sides will always be mentioned in close proximity. Wimbledon's heritage, history and everything that comes with it moved up the road, against the fans' will.
AFC Wimbledon was formed with the majority of Wimbledon supporters switching allegiance to the new team. The Combined Counties League Premier Division was the destination for their first season in 2002/03 as a new club and they have been on the march ever since. Five promotions in the clubs first nine seasons saw them back in the Football League.
After just about surviving in the fourth tier for a few years, they gained promotion to the third level of English football via the playoffs. The same season MK Dons were relegated from the Championship; meaning the sides would meet in the league for the first time.
A large number of Wimbledon fans don't want the clubs to be mentioned in the same breath and for good reason. However, this upcoming campaign will be a hugely proud moment.
Relocation in football
While in sports involving franchises, such as the main American sports, it is a team, not the place that is the constant. In recent years in the National Football League two teams, the Chargers and Rams, have relocated to Los Angeles and while people certainly are not always happy with it, it is seen as a part of the sport.
Here though in our football it is not. Those involved in Wimbledon's relocation saw it as an easy way to get a Football League team in Milton Keynes. They offered the proposal to several league sides at the time with a clear intention of not being fussed which current team made the switch if one was happy to do so. The other option? Starting from the bottom. Obviously, that didn't appeal.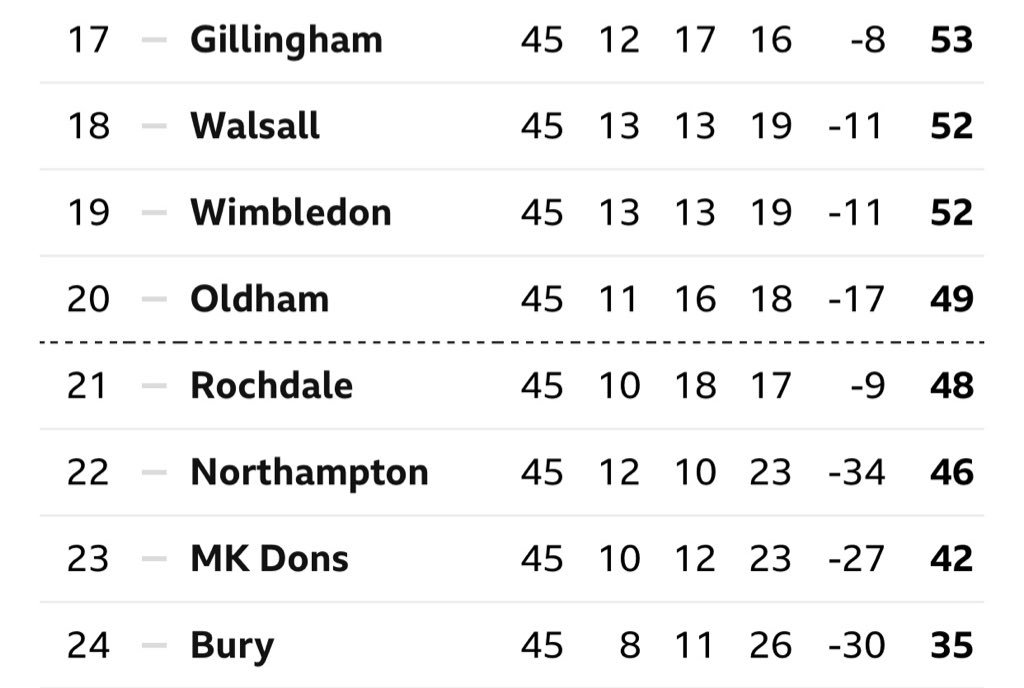 Milton Keynes lied, cheated and STOLE the league position we EARNED via promotion and relegation over 113 years.
We reformed.
We gave them an EIGHT division head start.
Just 16 years on we are League 1, they're League 2.
We should be magnanimous but that feels GOOD.
#Wimbledon
https://t.co/aJYvusn2IY
This season
Earlier this term, in the club's meeting at Wimbledon, the home side refused to use any reference to 'Dons' in relation to their programme and on the scoreboard simply using MK. Dons is the traditional Wimbledon nickname name the club still uses. The EFL looked into this before any charges were dropped.
Last season, Wimbledon finished a very respectable 15th in their first season in League One and last week's 0-0 draw at Doncaster meant they had guaranteed their place in English football's third tier for another campaign.
Meanwhile, MK Dons have spent the majority of their time in League One since the move. However, in 2015 they were promoted to the Championship, but only for one season before coming straight back down. During 2016/17 the sides met for the first time in the league, but this year will be one to remember for those original Dons fans who have been all the way to the bottom of the league and back. In the same week Wimbledon secured their position in the league MK Dons lost to Scunthorpe to confirm their relegation.
It means for the first time since both clubs have existed, Wimbledon will be a division higher then MK Dons. A true footballing justice.
For Wimbledon, they will hope it is the end of a chapter they will never be able to forget. They have a lot to look forward to with a move to a new ground they will truly call home now just one year away. For now though, regardless of what every fan says this will be an end to a season they will always remember. Some form of redemption has been gained.