Spending the only solution to Arsenal's woes
It's said money buys power. In order to drive an expensive car, live in a luxurious house and become respected and powerful, a person needs to spend money. A lot of it.
That attitude has seeped into the footballing world, particularly in recent years. The rich clubs have engulfed the beautiful game with massive spending. As a result, they are cruising at the summit of their respective leagues, leaving those reluctant to spend trailing behind.
Manchester City, Barcelona, Paris Saint-Germain, Bayern Munich and Celtic all currently top their domestic tables due to massive financial strength.
Once the transfer window opens, it's another chance for the rich to flex their muscles. They recruit exciting talent to fill the voids of declining players. The more money spent, the stronger clubs become.
Arsenal, however, has taken a different route. The owners have shown unwillingness when it comes to buying players, especially the expensive kind. The North London club possess the resources to spend outrageous amounts, yet a refusal to sacrifice cash in search of success takes precedence.
Forbes ranked Arsenal the world's sixth richest football club, valued at over $1.9 billion. The Gunners are the most wealthy team in London. Their finances mean they are capable of buying a brand new first eleven.
Despite such financial depth, Arsenal don't compete with Europe's elite in the transfer market. It's proven a major setback for the club, particularly in recent years.
Last season, Arsenal failed to make the Premier League's top four for the first time under Arsene Wenger. Missing out on Champions League football looks likely again this campaign. The Gunners currently sit sixth, five points behind fourth-placed Liverpool.
Arsenal's gradual decline risks getting worse if the situation isn't arrested. An early FA Cup exit to Nottingham Forrest didn't help matters. Wenger's side should be competing for major honours, not struggling to make the top four and losing to Championship sides.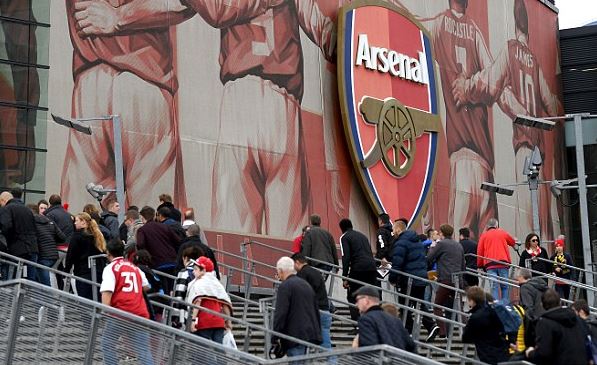 It's time for change at the Emirates. Arsenal's hierarchy must learn from other clubs.
Follow Europe's most successful
Pep Guardiola was named the Premier League's best manager the past four consecutive times. Wenger, however, would have produced another invincible season with the squad at Man City's disposal. A side containing Kevin De Bruyne, Raheem Sterling, Leroy Sane and Sergio Aguero makes scoring goals almost effortless. The Citizens are also consistent defensively. They proved that by going 22 league games unbeaten before slipping up at Anfield.
It took a staggering £222 million last summer to make the Premier League a one-horse race. With the lead at the top now 12 points, City will surely be crowned champions.
Paris Saint-Germain realise wealth buys strength. The Qatari Investment Authority spent €222 million to sign Neymar, with Kylian Mbappe's loan deal expected to become permanent next season, costing a further €180 million. The addition of the attacking duo made the Parisians serious contenders for this season's Champions League. PSG's unlimited finances will hold Ligue 1, perhaps even Europe, captive in the long run.
Barcelona possess immense power. The Catalan giants continue to splash the cash. Last summer, they spent €105 million to acquire Borussia Dortmund's Ousmane Dembele and €40 million on Paulinho. The spree looked over, but then came January. Barca went back for Philippe Coutinho with an outrageous offer of £142 million. Liverpool couldn't refuse.
After spending a huge amount over the past six months, Barcelona's sights are firmly set on the treble. They went on a 29-game unbeaten run in all competitions before tasting defeat to City neighbours Espanyol. Ernesto Valverde's side top La Liga with an 11-point advantage, as well as reaching the Copa del Rey semi-finals and Champions League last 16.
It's time for Arsenal to realise wealth brings power. The club's financial capability makes challenging for the Premier League title a necessity.
Arsenal's team needs refurbishing from back to front. Release the inconsistent players and sign proven quality. The rebuilding process will prove expensive; however, an improvement would surely follow.