Which Premier League club best fits Bruno Fernandes?
Fernandes is widely expected to join Manchester United, yet Premier League rivals still have an opportunity.
Background image: Reimund Bertrams.
Sporting Lisbon's Bruno Fernandes is in demand after his prolific 2018/19 season. The midfielder is almost certain to join the Premier League should he leave Portugal this summer. Speaking nine days ago, he told reporters, 'I'd like to play in England, but it could be when the club (Sporting) decides, I'm not in charge'.
Manchester United is currently the odds-on favourite for Fernandes' signature. Valued at around £70 million, he's a priority along with Juventus' Paulo Dybala as the Red Devils search for a formidable attack. Rumours regarding a deal being in place circulated on Tuesday. It didn't take a Sporting CP spokesperson long to quash those suggestions, describing them as 'completely false'.
There's time for other clubs to step in, then. Liverpool is continually linked to Fernandes. The Reds have had a quiet transfer window so far, only signing Seep van den Berg, a 17-year-old Dutch defender. If they're waiting to catch a big one, the Sporting star will signal their intent, while also infuriating their greatest rivals.
Manchester City may want in on that as well. The Citizens can bolster their already feared squad at will owing to Sheikh Mansour's far-reaching resources. Wolverhampton Wanderers, too, shouldn't be ruled out. A marquee addition will send Wolves another step in the right direction.
Fernandes has something to offer all four those Premier League teams, albeit to varying degrees. Last campaign, playing as either a central or attacking midfielder, he netted 31 times in 50 competitive games. His 12 assists prove he's not merely a goal machine.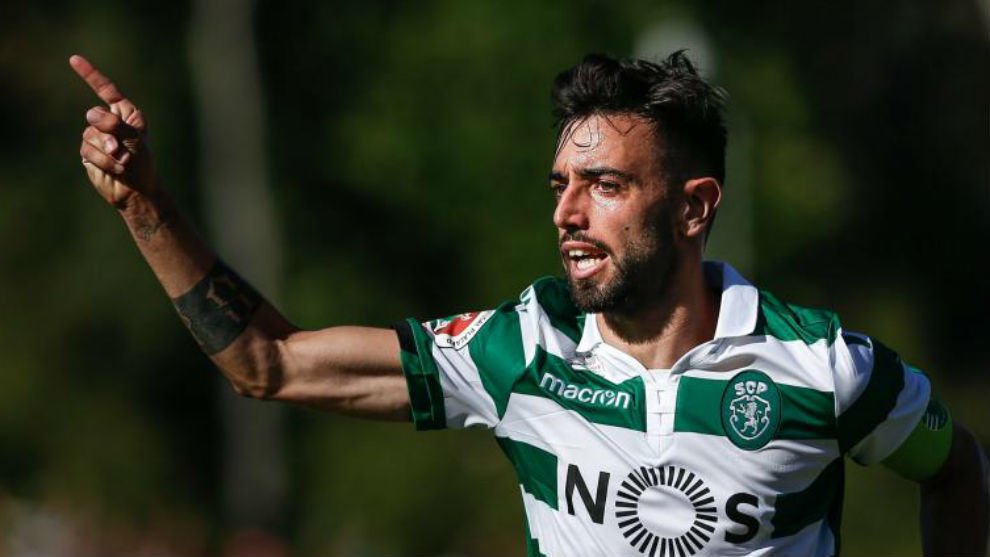 Bruno Fernandes was directly involved in 23 goals in 22 appearances when played as a central midfielder last season.
Unbelievable output. 🚀🚀🚀
https://t.co/04wFKagd9B
Manchester City
David Silva's silky style controls midfield for City. Ilkay Gundogan's all-round competence provides back-up. Further forward, Kevin De Bruyne's ability to influence matches makes him one of Europe's top talents. Promising youngster Phil Foden is his deputy.
Fernandes' excellent link-up play will complement what's already there. His determination to track back and help out defensively is a trait bred into the Premier League champions. At 24, he can grow for years to come alongside others such as Bernardo Silva, Raheem Sterling, also 24, Leroy Sane, 23, as well as Gabriel Jesus, 22.
In Pep Guardiola's set-up, it's often De Bruyne who takes control, driving the team forward in central areas to contribute both goals, assists. Factoring in his gifted teammates, is there space for Fernandes? Even if it's a yes, his arrival could stunt Foden's development. The 19-year-old started only three league contests last season as it is.
Manchester United
Ander Herrera left United to join Paris Saint-Germain on a free transfer. Paul Pogba's future is shrouded in doubt, with an exit to Real Madrid on the cards. Old Trafford is desperate for a quality central midfielder. Fernandes' superb decision-making is needed. To thrill supporters further, his accurate two-footed shooting will rekindle memories of Cristiano Ronaldo.
As things look, the Red Devils are relying on Juan Mata, who's sublime at times yet undeniably in decline, and Jesse Lingard, an inconsistent performer, to penetrate from midfield. Andreas Pereira is targeting a breakthrough campaign. Fred, meanwhile, hasn't shown his usefulness.
He doesn't stand alone. Ole Gunnar Solskjaer, having previously only managed relative minnows, Molde and Cardiff City, hasn't coaxed either Pogba's or Romelu Lukaku's best, among quite a few others. As a result, fans quickly turned on those two big-money men. Should Fernandes risk similar?
Wolverhampton Wanderers
The midfield trio, Leander Dendoncker, Ruben Neves, and Joao Moutinho adapted seamlessly to the Premier League last term. They played a crucial role as Wolves secured a seventh-place finish, appearing 92 times between them. Romain Seiss is their back-up.
Nuno Espirito Santo's Portuguese contingent is helping push the club to where few thought possible prior to Fosun International taking ownership in 2016. Himself born in Sao Tome, he's afforded vital roles to fellow countrymen Neves, Moutinho, Diogo Jota, and Rui Patricio. Fernandes' technique coupled with tenacity mean he's an outstanding candidate to join this particular clique.
It's difficult to find a drawback, yet one does exist for the West Midlanders. Fernandes is accustomed to being Sporting's talisman. He's a renowned set-piece taker. Neves is unlikely to take a backseat, in that regard, or any other. Will such a situation disrupt squad harmony?
Liverpool
Jurgen Klopp has moulded a midfield which trusts captain Jordan Henderson, dependable James Milner, all-rounder Naby Keita, and forceful Georginio Wijnaldum. Each has proven deserving in recent times.
All four those midfielders provide both energy, endeavour. They win back possession, allowing the Reds' fantastic front three to shine. That tactic is clearly paying dividends, having conquered Europe in May and just missed out on the Premier League title. Is a change worth risking to accommodate Fernandes?
Perhaps change is what's needed to improve again. Liverpool must do something in order to surpass Man City. They've not replaced Philippe Coutinho's play-making skills. Fernandes can be it. His creativity and goals are absent in their middle third. He starts attacks from deeper areas, too, as well as harasses opponents high up the pitch.
Verdict
Wolves are in the market to make significant purchases, but it's too soon to more than double their transfer record on Fernandes. Besides, he'll probably want a grander stage to perform.
He'd be City's most expensive signing ever also. They could find a way to make room for the Primeira Liga's reigning best player. Nonetheless, their main focus is a centre-back after losing Vincent Kompany.
United need Fernandes much more. He's an in-form player ready to help achieve their objective of a top-four finish. Representing such a global brand will surely tempt him. That's should a better offer from elsewhere not materialise.
At present, Liverpool are a greater appeal to world-class talent. Fernandes has what's required to boost their title pursuit. Don't be surprised if the Merseysiders spoil Old Trafford's parade before next Thursday's 5pm deadline.