Can Tottenham challenge for the Premier League title next season?
Mauricio Pochettino is on a mission to transform Tottenham Hotspur. Managing a club which has become synonymous with near misses owing to not winning a trophy since the 2008 League Cup, the Argentine is determined to change the narrative.
Tottenham came close to silverware in May. Losing the Champions League final to Liverpool was a bitter pill to swallow, but beating record-breaking Manchester City en route sent out a huge statement. Pep Guardiola's team achieved unprecedented domestic success by adding the League and FA Cups to their second successive Premier League title.
Spurs aren't necessarily failing. They have secured a top-four position in each of the past four seasons. Pochettino's side even ran close to winning the title in 2016/17 before capitulating toward the campaign's conclusion to finish in second place, seven points behind Chelsea. During a period where England's top teams continue to spend consistently to bolster their squads, no one would have blamed Tottenham for settling as 'best of the rest'.
Pochettino isn't made that way, though. He's proven an inspired appointment, turning Spurs into both a domestic and European powerhouse. The 47-year-old's achieved all that on limited resources. Having spent absolutely nothing in the last two transfer windows, it becomes clear the manager is top-notch. Elsewhere, the success of Man City's Guardiola, Barcelona's Ernesto Valverde, Paris Saint-Germain's Thomas Tuchel, and Bayern Munich's Niko Kovac has all been influenced by heavy financial backing.
The consistent progress that enabled Tottenham to reach the Champions League final for the first time in their history suggests something big is around the corner.
Spurs' readiness to break their transfer record, previously a £36-million fee paid for Davinson Sanchez two summers ago, in order to secure one of Europe's top midfielders confirms that assertion. Tanguy Ndombele was a sought-after man due to his performance at Olympique Lyon. The 22-year-old attracted interest from several notable sides, including Premier League champions City. He put all rumours to bed on Tuesday, sealing a £55-million move to north London.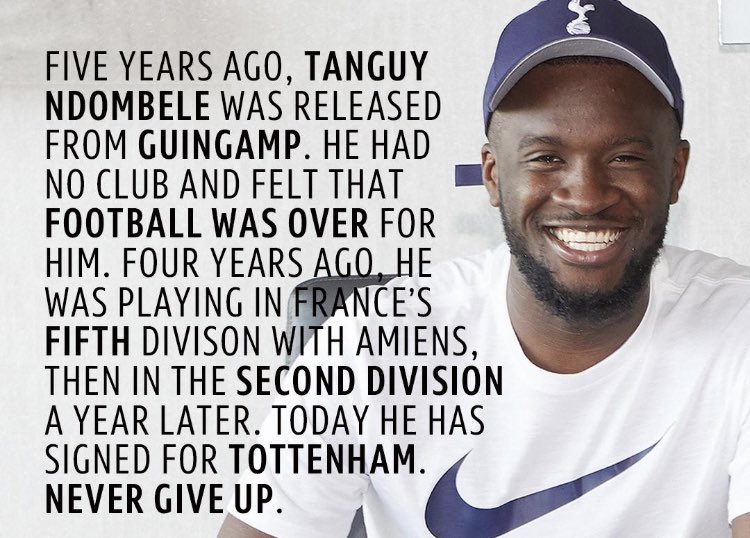 Tanguy Ndombele could not be more of a Mauricio Pochettino signing if he tried.
A player told he wasn't simply good enough but had the inner belief to keep on fighting his way to the top, our team needs winners and this man is going take us to glory.
#WelcomeTanguy
#THFC #
COYS
https://t.co/L5bAA5PeOx
Launching an assault for the Premier League title should be Tottenham's immediate target. The problem is another team wants it more. Liverpool may have gone into the Champions League final with a strong desire, but their obsession to be crowned English champions is even stronger.
Liverpool's owner, John Henry has stated next season's focus is on winning the Premier League. That comes as bad news to Spurs as the Reds are better equipped to get the job done. After finishing just one point behind City, as well as finally lifting his first trophy while at Anfield, Jurgen Klopp will be intent on going one better this time around.
Guardiola has ambitions of his own. Winning two titles in a row is good, three even better. The Catalan-born coach wants to completely dominate England. The continent, too. Like Liverpool's fixation with ending a 29-year wait for a league title, Man City will do everything possible to conquer the Champions League. That could serve as a distraction, leaving the door open to others.
Manchester United, Chelsea and Arsenal, each wounded from this past campaign's performance, will all hope to take full advantage. As will Tottenham, to win their maiden Premier League trophy.
To make that happen, Harry Kane must continue to be instrumental. His and Son Heung-min's goals are crucial to Spurs' hopes. Ndombele's acquisition will help the midfield. Should Christian Eriksen remain beyond this transfer window, he along with Dele Alli, Victor Wanyama and Eric Dier can all hold their own in the middle of the park as well.
However, it's in defence where Tottenham will suffer. Toby Alderweireld is linked with a move away. Even if he stays, the Belgian is 30. His compatriot, Jan Vertonghen is two years older. Age is catching up with the duo. Similarly, left-back Danny Rose is approaching the big 3-0. Spurs' replacements aren't at the required level yet.
AS Roma are considering a move for #
thfc
centre-back Toby Alderweireld and the idea that Nicolo Zaniolo could be included in any potential deal has been suggested. [The Guardian]
Sir Alex Ferguson once said 'attack wins you games, defence wins you titles'. Unfortunately for Pochettino, his current backline is simply not good enough. Tottenham conceded 16 and 17 more goals than Man City, Liverpool respectively this past season.
Considering those two formidable teams, in addition to anticipated improvements at Man United, Chelsea and Arsenal, the title odds are firmly stacked against Spurs. Pochettino could, of course, engineer another surprise as he did in the Champions League. But don't bet on it.