Sticking with Derek Adams is paying off for Plymouth Argyle
I was at the Bescot Stadium in early September to see Plymouth Argyle play Walsall.
At that early stage of the season, we had picked up just one win from our opening six games in all competitions.
Ryan Taylor, our tireless lone-striker, had broken his leg on the first day of the season and Antoni Sarcevic had picked up a straight red-card along with a three-match ban in a 4-0 home loss to Scunthorpe the weekend before we travelled to the Black Country to face Walsall.
It had been a poor start to life in League One after the euphoria of promotion the previous season and manager Derek Adams was already under pressure from some sections of the Green Army over what were perceived as defensive tactics.
The game at the Bescot was one to forget for Argyle and one of the worst I have seen as a supporter. The lack of confidence in the side was clearly evident as we hoofed long ball after longer ball in the direction of disinterested loan-striker Nadir Cifici, a man who ran about four yards all afternoon.
Our back line looked shaky and our midfielders were marooned in no man's land as Walsall's diminutive playmaker Erhun Oztumer ran rings around them.
The game finished 2-1, a late and undeserved consolation coming from our talismanic Irishman Graham Carey who had been outshone by Oztumer all afternoon and struggled, like the other ten outfielders, to have any impact on the game.
Walsall weren't a fantastic outfit, Oztumer aside they were fairly average but fairly average will beat desperately poor any day of the week.
I left that game struggling to see how this group of players could help us this season and pitied Derek Adams for the job that faced him; that of trying to galvanise a group of players who seemed completely void of confidence.
Our next nine league games failed to produce a win. We looked dead and buried, out of our depth. Adams was bullish, refusing to blame the players and blaming our sorry run of results on bad luck.
He was met with ridicule on the terraces and in the press and it was hard to disagree that he hadn't become a little delusional. There were strong calls for him to go from many Argyle fans and you couldn't have blamed him if chairman James Brent had given in to the whims of the baying mob calling for the manager's head.
But he didn't.
On October 21st, over two months since our last win, we picked up three points against AFC Wimbledon in the kind of gritty, ugly performance you would expect of a side that was rooted to the bottom of the table.
In the 21 league games since then we have won 14 and climbed from the foot of the table to the play-off places.
The calls for Derek Adams to be sacked inevitably died down and the flaming torches were extinguished and the pitchforks put into storage.
The anger directed at Adams was replaced with adulation for his tactical nous, cool-head and determination to turn things around.
For the sound-minded and rational there was never any doubt that Adams was a good manager. In his two previous seasons, he had taken us to a play-off final and then to automatic promotion. Factor in last season's impressive FA Cup run which saw us push Liverpool all the way in a replay and you're looking at an excellent two years for the Scot.
Alas in this society of instant gratification, a shaky start in a new division can cause memory loss among fans. People who had overtly praised Adams for finally getting us out of League Two were the same ones who wanted him gone after our home defeat to Fleetwood in October.
As I write this article we are unbeaten in seven and have won six of those matches including games against Blackburn Rovers and Shrewsbury, 1st and 2nd place respectively.
Ryan Taylor came back from his broken leg to lead the line in a way that none of his replacements in the intervening months could manage. Antoni Sarcevic got over his early season red-card and an injury that followed and put in a number of match-winning performances whilst Nadir Cifici, much maligned during his short stint in the Westcountry, went off to try his luck at Motherwell.
The kind of form we are producing at present was almost unimaginable after the Walsall game when we had looked depleted of ideas, energy and, belief; it was a day when the best we could have hoped for this season was scraping survival on the final day.
But there was one man who clearly could imagine such a turnaround and James Brent's faith in his manager should be applauded.
Knee-jerk reactions to bad form are all too common in football. Managers are offered long-contracts and then dismissed as soon as the going gets tough. More than anything this makes no financial sense and seems a peculiarly common course of action from Chairmen whose job it is to ensure the smooth running of their club in that respect.
James Brent came to Argyle in our hour of need and provided the funds required to save us from extinction after the negligence of the previous board had left us teetering on the brink.
Since then he has been frugal; Argyle seldom spend cash on players and Adams has proved himself to be a shrewd operator in the loan and free-agent markets – Sonny Bradley and Graham Carey, our two most valuable assets, are fine examples of this.
That being said, Brent knows when money needs to be invested. Tying the aforementioned Carey to a new deal when Championship clubs were rumoured to be sniffing around was once such example.
More important to the progression of Argyle in recent years, though, is his faith in Adams's ability to steer the club in the right direction.
That faith is being repaid and, if Argyle manage to make it into the play-offs, Brent, as well as Adams and the players, will have played an instrumental role.
Given the job that he has done since taking over in 2011 it is hard to fathom why, during the January transfer window, some Argyle fans were calling for him to sell up over a perceived lack of ambition.
It is true that Argyle didn't spend any money but once again we managed to keep hold of our prized assets and sold the out-of-favour Jake Jervis to League Two Luton for a six-figure sum.
Rather than view this as a shrewd bit of business from a club which, not too long ago, nearly ceased to exist, some Argyle fans chose to view the January transfer window as a failure and indicative of James Brent's reticence to invest in the squad.
I would implore those fans to look at the league table.
Derek Adams won the February manager of the month award after guiding Argyle to five wins out of five and into the play-off places; in December we had been bottom of the league.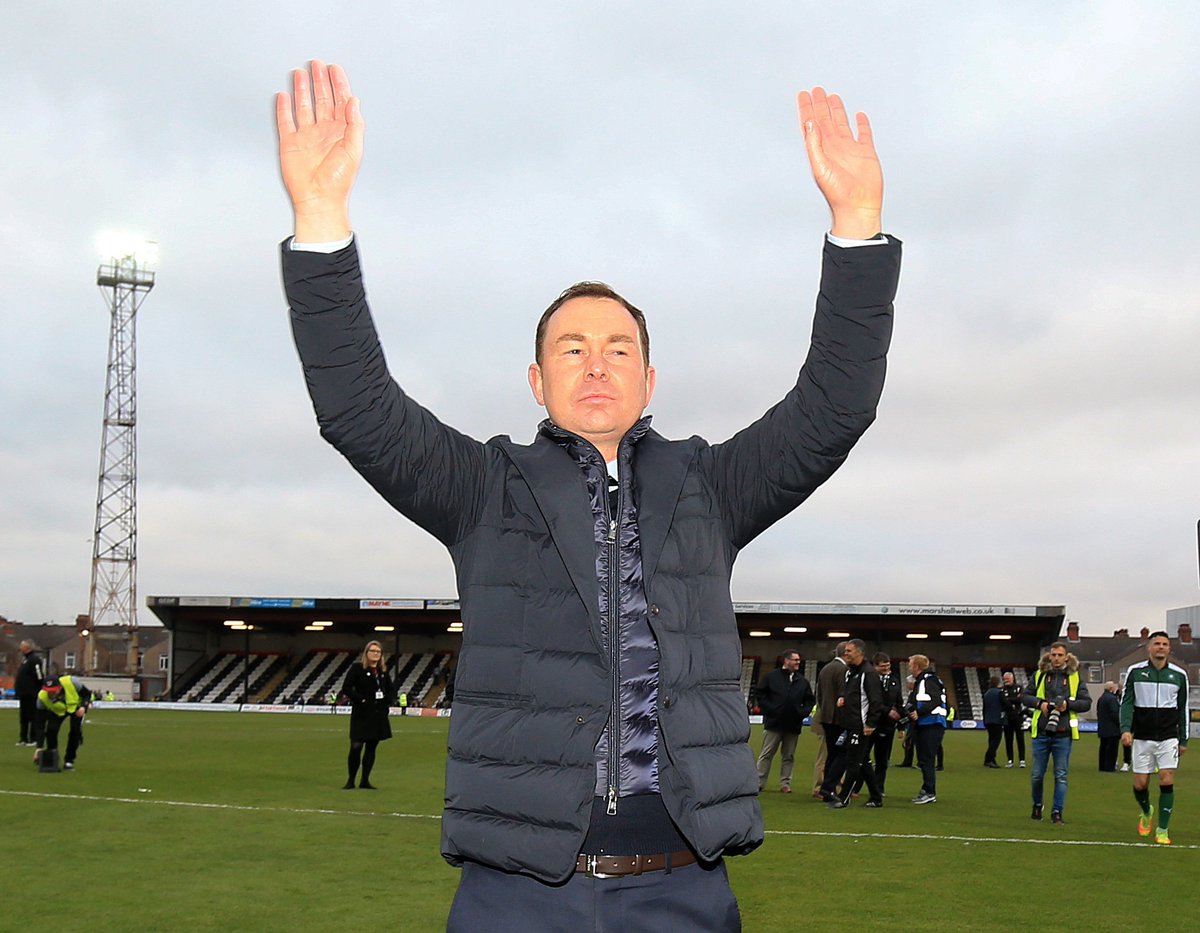 And the League One Manager of the Month is...Derek Adams!
The Plymouth gaffer had a fantastic February, winning each of his 5 games 👌
#pafc are now up in 6th spot with 11 games to go.
https://t.co/v8sf4V087P
The answer is not always big-money signings and a change of manager, sometimes all you need is a little patience and some common sense, two things that are sadly lacking in modern football.