The stats that defined the embarrassing Arsenal defeat to Bayern Munich
Last night was a night of gloom for the Arsenal faithful worldwide. Their team were made to look like non-league minnows who won the lottery to play in the Champions League. Bayern Munich simply capitalised on the frailty of Arsenal, to inflict the most embarrassing defeat in history.
The Champions League round of 16 fixture between Arsenal and Bayern Munich is one that went sideways in a twinkle of an eye for the team from London. The
game at the Allianz Arena
certainly swung in the visitors favour when Alexis Sanchez followed up his missed penalty to slot home after Arjen Robben had cut inside and curled in a trademark goal.
Sadly, Laurent Koscielny, picked up a muscle problem and was substituted in the 49th minute with the score still locked at 1-1. Four minutes after Koscielny left the pitch, Arsenal began shipping goals. It was so bad that by the 63rd minute, 14 minutes after Koscielny left the pitch, Arsenal were 4-1 down. Thomas Müller would make it five before the 90th minute.
Fast forward to the second leg played last night; Wenger's side was again brilliant in the opening stages. Granit Xhaka and Aaron Ramsey had succeeded in limiting the influence of Thiago Alcantara and Arturo Vidal on the game. Theo Walcott and Alexis Sanchez seemed comfortable operating on either side of the flanks supported by the bursting pace and direct play from Alex Oxlade-Chamberlin. Soon enough, in the 20th minute, Theo Walcott burst through the byline and blasted high into the top corner – a million possibilities must've started playing in the mind of Arsenal fans.
However, in a sad twist of fate, Laurent Koscielny barged into Robert Lewandowski in the penalty area and the referee pointed to the spot and sent off Koscielny after first issuing him a yellow card. Once again, with Koscielny gone, the floodgates were flung wide open and Arsenal began shipping goals in embarrassing fashion – we all know the eventual score-line.
Here are a few stats that put the embarrassing defeat into perspective.
1 – Can't get past the round of 16
Arsenal has not been able to negotiate the round of 16 in seven consecutive attempts. Honestly, football has changed a lot since Arsenal last reached the Champion League quarter-finals. Nicklas Bendtner was still a 'thing' (who wanted to be the world best footballer) and clubs like Rostov and RB Leipzig were just recently formed.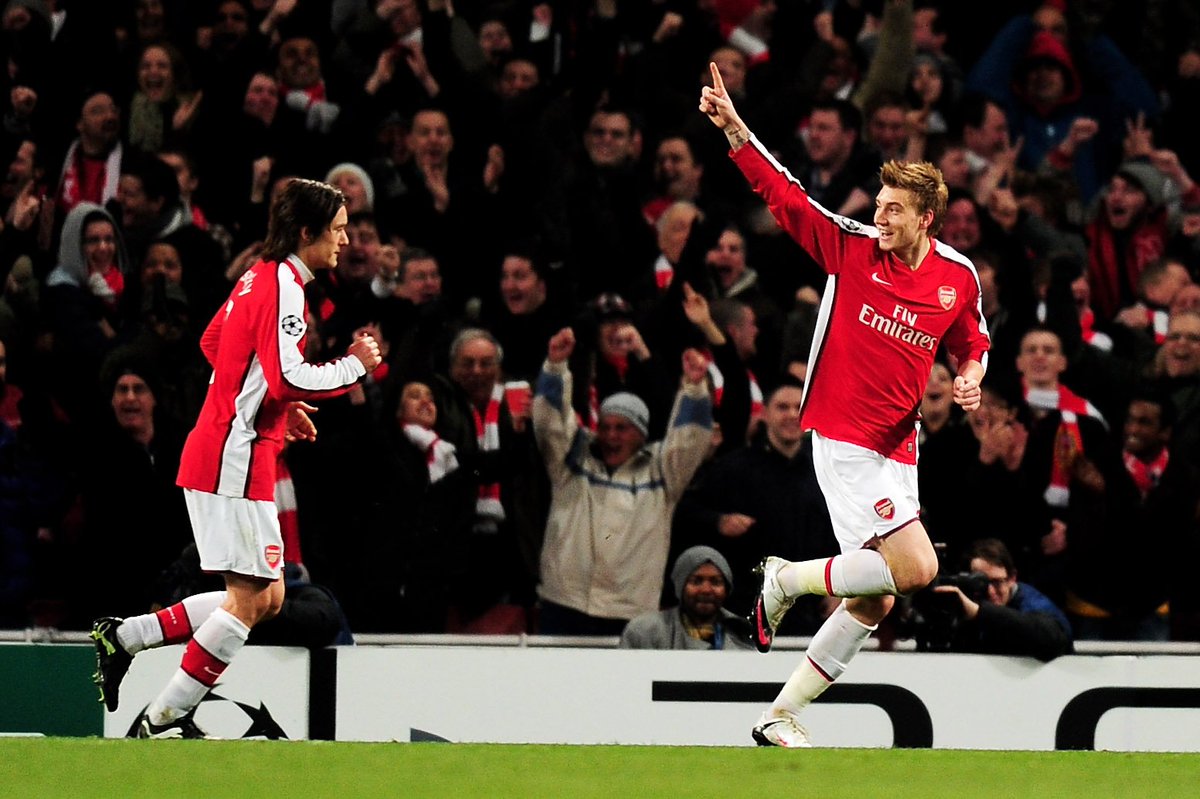 Last time Arsenal reached the QFs:
• Inter won the treble
• It was RB Leipzig's first ever season
• Bendtner scored a hat-trick vs. Porto
https://t.co/F90tcaU9VM
Arsene Wenger had been rather unlucky to be paired against super powers like Bayern Munich, Barcelona, AC Milan and Monaco, all of whom proved too much for the Gunners to handle.
7 - Arsenal have been eliminated from the last 16 stage of the Champions League in each of the last seven seasons. Familiarity.
2 – Biggest home defeat


If you thought Chelsea did not exist since 2004, think again. Last night's 5-1 defeat at the Emirates is the biggest home defeat suffered by the Gunners since Chelsea thrashed them 5-0 at Highbury in the league cup in 1998.

5-1 - This is Arsenal's biggest home defeat since November 1998 (5-0 loss to Chelsea in League Cup). Low.
3 – Arjen Robben magic


Arjen Robben can't leave Arsenal alone, can he? The bald-headed attacker loves his customers from London. During his time with Chelsea, he was a predator in London derbies against Arsenal and now as Bayern player, phew…

Scoring in both legs of the tie against Arsenal means the Dutchman has now started a streak of some sort.

3 - Arjen Robben has now scored in each of his last three Champions League games against Arsenal. Gunning.
4 – Bayern just loves scoring against Arsenal


It's not just Arjen Robben that loves to find the net against Arsenal, but the entire Bayern Munich team. Aside from Barcelona's love affair with the Celtic goal; Bayern's love for putting it past Arsenal is quite unrivalled.

26 - Only Barcelona (27 vs Celtic) have scored more CL goals vs a single opponent than Bayern have vs Arsenal (26). Battered.
5 – The Gunners can't stop seeing red in the Champions League


It was the case again that an Arsenal player would be sent off in a Champions League match. Cast your mind back to notable red cards such as Lehmann against Barcelona in the Champions League final in 2006; Van Persie against the same opponents in 2011; Szczesny against Bayern Munich in 2014 and well, Koscielny last night.

18 - Arsenal have now received the 2nd highest number of red cards in Champions League history (behind Juventus with 22). Off.
6 – No Premier League team has ever been battered this much


Sorry Arsenal, but you've been a total disgrace to the Premier League in the UEFA Champions League thus far. Yes, you've qualified for the knockout stages on 14 consecutive occasions, but sadly, no Premier League team has lost so scandalously in Champions League history.

12-1 - Only one Champions League tie has seen a greater margin of victory for a team than tonight - Bayern v Sporting (12-1, 2009). Chasm.