Which path will lead Unai Emery's Gunners to the Champions League?
Some people think Unai Emery, like Arsene Wenger before him, couldn't pick up a Champions League trophy if it was lying in the street.
Photograph by Ronnie Macdonald. CC BY 2.0
Ask an Arsenal fan for his number one wish, it would be to watch Champions League football at the Emirates next season. For the past few seasons, the Gunners, who used to be a regular face in the competition, are now missing. Of course, that is blamed more on the poor performance in the domestic league.
Arsene Wenger is gone. Unai Emery has stormed the dressing room with his fresh ideas. Moreover, the tactician is aware of the high scrutiny that comes with the Arsenal job. He needs to give the fans and team what they want. There are two routes for the Spanish mastermind to follow.
The first is finishing among the top four but can that be achieved? To start with, this is Emery's first experience managing an English side. Despite that, he went unbeaten for 22 matches and the Gunners look threatening to teams below the top six. The North Londoners aren't yet on the same level with Liverpool, Manchester City, Chelsea, Tottenham or even Manchester United.
So far, the Gunners defensive woe is a setback. They've conceded 32, which is the sum of what Liverpool and Tottenham have conceded. Only Manchester United have yielded as much among the top six. They've made silly mistakes that lead to goal eight times, coupled with an own goal. They don't defend like a top-side.
The team lack top-class defender. Hector Bellerin, Sokratis, Stephan Lichtsteiner, Rob Holdings, Monreal, Mustafi, Kolasinac and Laurent Koscielny are all average at best. In fact, none of them can fit into the lineup of any other team in the top-six. They're unreliable and inconsistent.
With the way things are panning out, it's sad news for Arsenal fans that they might finish this campaign with their shaky defence. This is because the Arsenal board aren't ready to recruit fresh face this January. Expecting a top-four finish at the season's is like chasing shadows.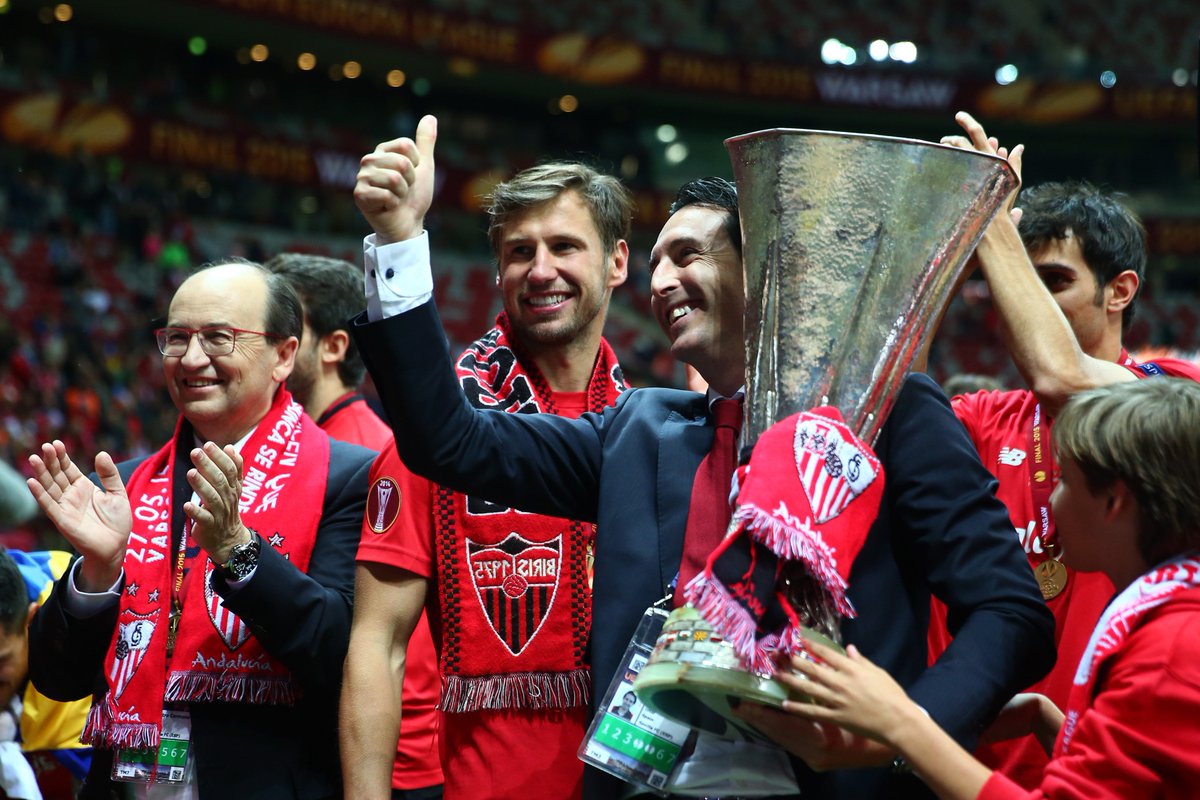 3 - After winning the UEFA Europa League in 2013-14, 2014-15 & 2015-16, Unai Emery shares the record for the most UEFA Cup/Europa League titles alongside Giovanni Trapattoni (3). He's the only manager to do this in three successive seasons, however. Success.
https://t.co/ajGG1qzYBD
The Gunners need to shift focus to the Europa League where they are a strong contender. A triumph will guarantee them a spot in next season's Champions League, just like Manchester United did under Jose Mourinho. Unai Emery's experience in the competition gives the Gunners an edge above others. Their manager has won three consecutive Europa League titles with Sevilla before moving to Paris. His successful outing in the competition will bring the needed drive to the team.
Though Arsenal isn't the only strong contender, they still have hurdles to cross. The presence of Spanish teams won't make triumph an easy task for The Gunners. Last season, they were altered by Atletico Madrid who became eventual winners. Emery's former employers, Sevilla will look to follow Atletico's footsteps. Valencia and Villarreal can't also be written off. Valencia ranks among the most successful Spanish teams in the competition's history with three crowns, two adrift Sevilla. Most especially, Sevilla and Valencia will provide Arsenal with a real test.
Apart from Spanish opponents, London rivals Chelsea will pose a big threat to the Gunners. They went toe-to-toe in the Premier League with the Blues securing a victory. Bayer Leverkusen and RB Leipzig are other teams that are capable of causing upsets on a normal day. They must not be taken for granted.
It's a given that neither way will be easy for Arsenal but the Europa League still proves a better option to reach the promised land. Even without new reinforcements, Arsenal can win the Europa if they put all their might to it and look away from struggling for a top-four finish. Moreover, the Gunners haven't won a European title before, this is a chance to kill two birds with a stone. Emery will need to prove once again that he's the boss of the Europa League. Can he?