Teenage Manchester United trio showing Reds the way forward
Solskjaer gave youth a chance against Astana. The teenagers answered the call convincingly...
Background Image Via: Flickr/Daniel. CC BY 2.0.
On a day where Manchester United relinquished their Europa League unbeaten record, the Old Trafford faithful are left with a bittersweet taste in their mouths.
Ole Gunnar Solskjaer's side took an early lead against FC Astana, though as the game wore on, inexperience showed. Tahith Chong missed a sitter, Angel Gomes drifted in and out of proceedings while Di'Shon Bernard certainly needs more time to develop. That said, the Baby Faced Assassin was handed some encouraging signs, though not from the players you'd expect.
They say any good team is built from the back, so where better place to start than United's right-sided defensive debutant, Ethan Laird. Aged just eighteen, the talented defender has been at the Theatre of Dreams from a young age, though against Kazakhstan's finest, the Englishman certainly held his own.
Positionally solid, confident with the ball at his feet, quickness and a willingness to bomb forward, what's not to like? Laird looked right at home in a starting XI with an average age of just over 20. You'd imagine that more chances will likely follow (Immediately, I'm looking at the Colchester game in the Carabao Cup). Laird would certainly deserve that chance, while a certain Diogo Dalot better watch out. Heck, I'd bet that even Aaron Wan-Bissaka was a keen onlooker.
For now, Laird will spend the majority of his time performing (and no doubt impressing) for United's U23s. Expect the right-back to kick it up a notch next summer. No doubt he'll be a key figure on pre-season tour where his reputation will certainly continue to build.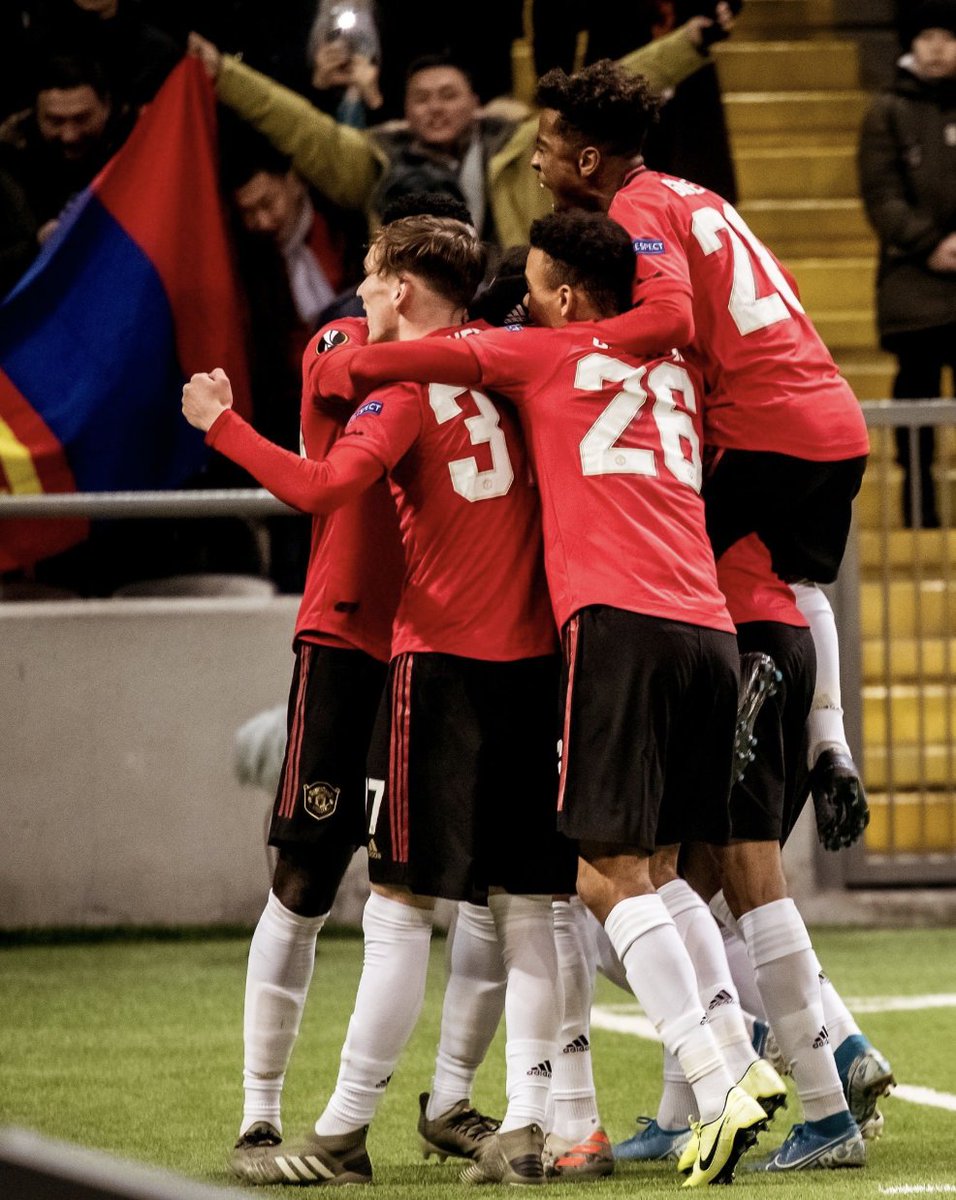 Astana might be sleeping but United's first team have not controlled a game of football this season like those young lads did in the first 45 mins. Composed everywhere, lack of pressure helps but no individual errors. Everybody calm in what they're doing. Garner and Levitt...👏
https://t.co/wEiov0Iqv8
James Garner is a player that United fans have been clamouring to see since the season's start. Today, the Birkenhead-born-midfielder got that chance - and he'd have his good pal Dylan Levitt with him for the ride. As a tandem, the pair have been progressing their careers together for years. They'd come through Littleton Road, then head to the AON Training Complex. This evening, they'd start a European game for the three-time Champions League winners as the midfield two.
For anyone who's followed United even semi-closely this term, you'd know that midfield woes have often been the reasoning behind poor results and even worse performances. Fred and Andreas Pereira have had ample opportunity, neither have really set the world alight. Now Solskjaer has been treated to a glimpse into the future by Levitt and Garner.
The duo's connection is almost telepathic. They'd often know where each other will be. If Garner bombs forward, Levitt will sit back and vice versa. For teenagers, they displayed a maturity beyond their years, though they'll need time to develop and grow without any pressure.
On the evening, Levitt was the most impressive. Tidy with the ball at his feet and an accurate passer, the Welshman completed 100 passes - which was more than any other player on the field. The 19-year-old always seems to be in space which is a skill that this current United midfield lacks and there's no doubt that this young man will go on to have a successful career in the not too distant future.
Back to Garner, who also looks super-comfortable on the ball. United's #37 completed an almost-flawless 82 of his 84 passes and kept things ticking over nicely. He seems to be built more in the box-to-box role than Levitt, though again, you have to be encouraged with what he brought to the table. Again, he'll need time to develop and grow at his own pace without the big-pressure that being a Red Devils regular brings.
Although the result wasn't ideal, United fans have every reason to keep believing in their academy and keep putting real trust in youth...