The deserved and undeserved names in Gareth Southgate's latest England squad
The average English footballer dreams of a call-up to the England senior team. He knows what he has to do if he must get there. For outsiders like myself, every time a new Three-Lions squad becomes public knowledge we spend precious man-hours debating the names on the list.
Like stale food left unheated, the relationship between England and Russia has turned sour very quickly. Matter of fact, according to an announcement by Prime Minister Theresa May, no government minister, member of the Royal Family nor the FA president will make the trip to Russia to watch England play at the world cup. Politics is politics and football is football. Hence, the Three Lions preparation for football's greatest global showpiece hasn't slowed down by any means.
As part of the build-up, the Football Association has pencilled in two interesting friendlies against the Netherlands and Italy. They're scheduled for the tail week of March. With that in mind, Gareth Southgate has rallied his troop. Here are some talking points from Southgate's latest squad: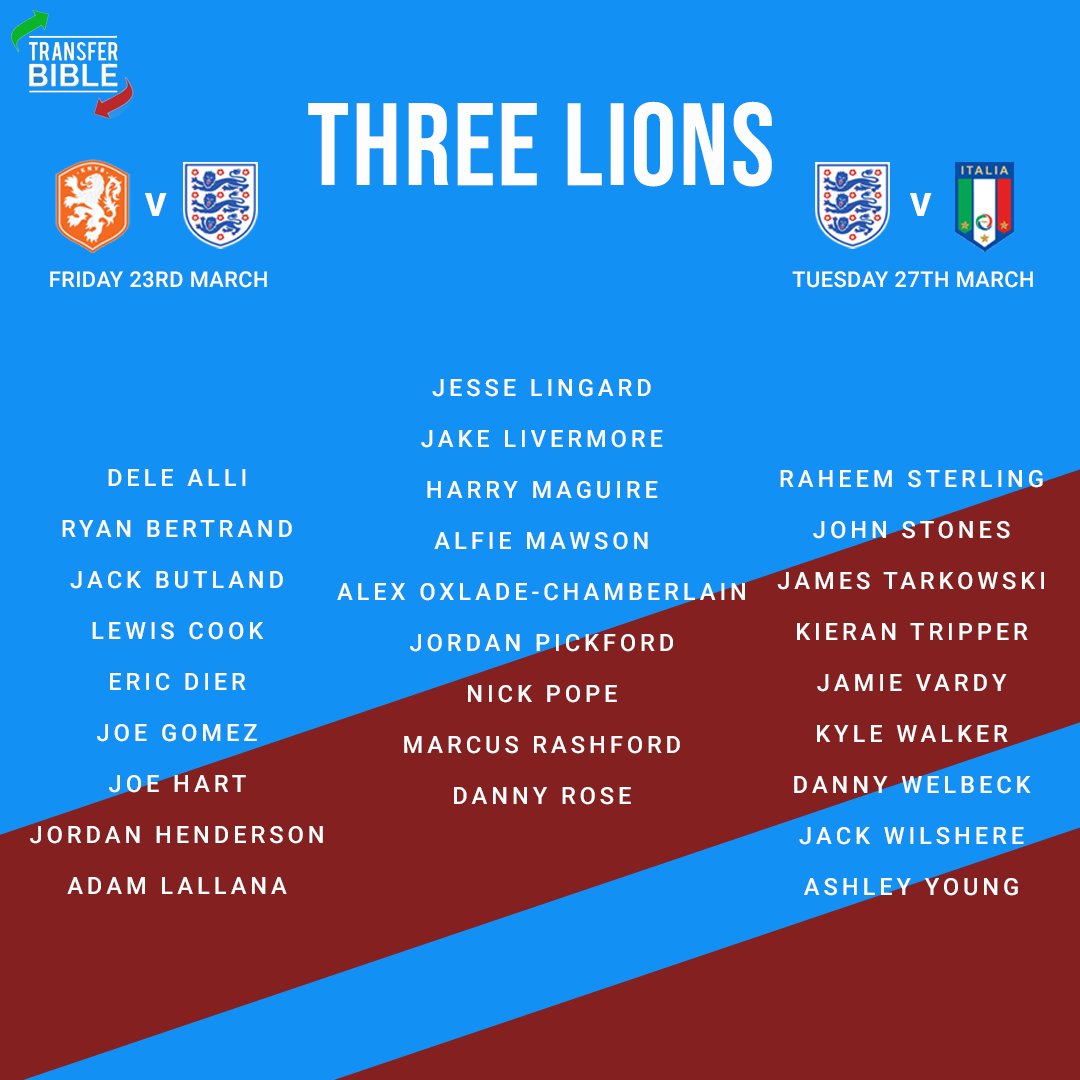 Big absentees
Gareth Southgate's 27-man squad is missing a few big names. Harry Kane misses out. A foot injury to England's talismanic striker means he'll sit out the upcoming friendlies. It's understood Kane will be available next month, albeit, the England squad looks limp without their skipper. It's cliché to delve into what the Spurs attacker brings to the Lions.
Chelsea's Gary Cahill is given the cold shoulder by Southgate. If this season has been bad for Chelsea, it's been worse for Cahill. A man who was intrinsic to England in qualifying, he's now fallen out of favour. First at club level, now with the national team. The 32-year-old risks missing out of England's World Cup squad if his no-show with Chelsea lingers.
Worthy invitees
Four players who are yet to kick a ball for England at the senior level are given a glance. Of the four, Nick Pope, Lewis Cook and James Tarkowski absolutely deserve their call-up.
Pope has been in fine form for Burnley this season. The Clarets defence has been rock solid and the Soham-born shot-stopper has been a major contributor. With 10 clean sheets to his name, no English goalkeeper has done better in the Premier League.
Southgate says the slot for who minds the sticks for England at the World Cup is still an open contest. If he's speaking based on form, then it's not. Nick Pope is by far England's best goalie this year.
Centre-half James Tarkowski has been consistent with Burnley. Alongside Michael Keane, he was superb in helping Burnley retain their Premier League status last season. This season he's been better.
Burnley are currently seventh on the League table. That's a peak for a team who have managed a meagre 27 goals this campaign. The secret is, they've conceded just 26. Sean Dyche can attribute that to the impressive job being done by the likes Tarkowski at the rear.
Bournemouth's Lewis Cook is also a worthy mention. A young midfielder full of agility and running, Cook has been instrumental for the Cherries this season. Southgate has, on a number of occasions witnessed this first-hand. The 21-year-old who has hitherto played at every age-grade level for England must, however, do more to stand a chance of making the England World Cup squad.
Shouldn't be here
Danny Welbeck gets an undeserved invite. Three League goals for a striker is nothing short of appalling. The Arsenal faithful can blame that on injuries or the arrival of Alexandre Lacazette and Pierre Emerick Aubameyang. Those are cheap excuses, however. A long time ago, Daniel Welbeck was once heralded among the most promising talents coming up with England – what you'd call a Marcus Rashford of today. That's a long time ago. Today, his inclusion in the England squad can't be confidently justified despite Kane's absence.
Quite undeservedly, 'calamity' Joe Hart also makes the squad. If Gareth Southgate can be bold enough to drop Gary Cahill for not playing, he should've done the same with a dismal Joe Hart. The West Ham goalie just isn't what he used to be. Without debate, Hart is England's most experienced shot-stopper – 75 caps to his name. At the same time, he's also the most out of form from the quartet of goalkeepers called up.
England can certainly live with Jack Butland, Jordan Pickford and Nick Pope.