The Lasting Effects Of The Pandemic On Non-League Football
What is the fate of non-league clubs?
Like all aspects of life, football has been hugely impacted by the global pandemic, non more so than non-league football here in England.
The majority of clubs operate on a part-time basis and money is tight at the best of times. However, this has been heightened by a lack of fans in stadiums as well as the ability to use facilities such as 3g pitches and clubhouses.
Where does non-league football stand currently? What are the big problems it faces over the next few years?
The current season
The 2019/2020 season came to a sudden halt last year and after much discussion, the three National League divisions were decided on PPG with playoffs taking place over the summer. The rest of the other divisions were handed a null and void end to their campaign which left many clubs hugely dissatisfied with the outcome, with several having already mathematically sealed promotion when fixtures were halted...
This current campaign has also been full of problems - even before a ball was even kicked. All the divisions kicked off at different times in September and October, some with crowds, some with extra financial funding. However, the various different elements of lockdown have caused huge problems, including postponements, teams refusing to play and some not being able to travel due to tier restrictions put in place.
At the time of writing, nearly all of non-league football is now suspended and it is hard to see any of these divisions reaching any outcome except a null and void campaign once again. The only league that is still continuing is the National League; the highest level of non-league football, which includes many full-time teams, but there are still doubts that their campaign will be played to an end. Most notably due to a row over funding which had been promised in September last year...
It means that for the majority of teams across the country, it will be a second straight season without completion and no guarantees over the next campaign either.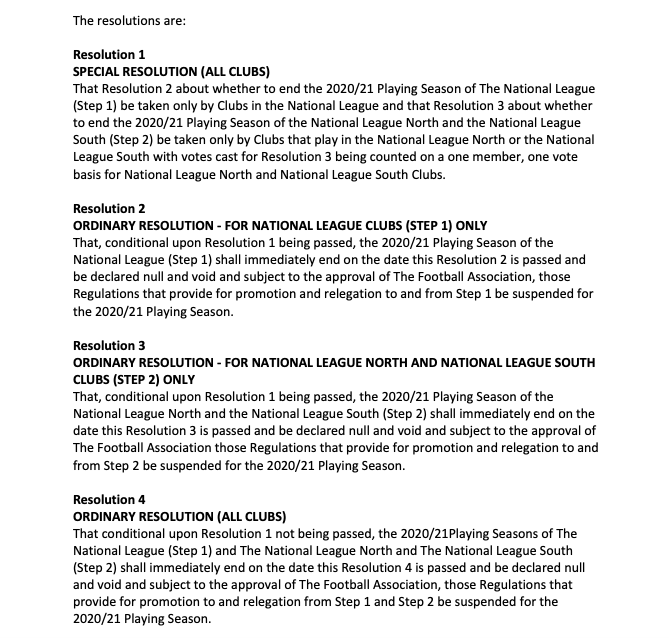 BREAKING: The National League has distributed resolutions to clubs to consider the outcome of the 2020/21 season.
The resolutions are formed of four parts: one Special Resolution and three Ordinary Resolutions based on the outcome of the first
https://t.co/YDKmPzuwxq
Long Term Problems
There are several major issues which stand in the tracks of non-league football in the near future. The first is the financial impact of not having fans inside stadiums. While some divisions allowed small numbers of fans in during the early months of this term, there is no sign of this happening again in the near future. For non-league teams. the majority of income comes from paying on the day customers. Until they can return, it is not feasible that clubs can operate even if matches do start up again.
The second is the lack of testing currently taking place. While this has ramped up around many walks of life, for non-professional football it is virtually impossible. Amongst the big reasons the EFL have been able to carry on is their ability to test players and staff on a regular basis. For part-time teams, this is simply not possible or financially feasible.
Finally, no one knows what is on the horizon. The current season started on the basis that by now we would have returned to normal and stadiums would be filled with fans. If officials knew what was coming the 20/21 non-league season would not have seen a ball kicked.
Despite all of the above, for the majority of clubs surviving this uncertain period is all that matters. Hopefully, at some point later in the year, the non-league game will be able to return to some sort of normality with fans able to watch their teams live from inside grounds once again. Until this can happen the future looks bleak for all lower league clubs.
Financially many teams, like businesses across the country, are clinging on. The reality is it could take years for the clubs to get back to where they were pre-pandemic and that is if we return to full stadiums. It is amazing that so few clubs have gone bust this season given everyone's financial struggles and hopefully no more face that fate while we wait to get back to normal...