How patient can Barcelona be with their £103.5 million investment?
Ousmane Dembele suffers following his big-money switch to Barcelona. The £103.5 million transfer fee, the world's third-most expensive signing, was either going to hinder his progress or afford him a larger platform from which to launch his career. So far, it's been door number one.
It's interesting to see how youngsters transition when making the move abroad. At first, it was seamless for Dembele. After beginning his career in his native France, the youngster flourished at Borussia Dortmund. Among higher quality teammates in the Bundesliga, he received what every player desires: regular minutes.
Unfortunately, his experience in Catalunya has been in stark contrast. Despite showing signs of the ability which convinced last year's La Liga champions he was worth the risk, he's been inconsistent. Two muscular injuries in quick succession cost him five months last term. It's difficult to break into any squad after repeated absences. At Barcelona, forget it.
How detrimental have his injury struggles been?
That his first injury was self-inflicted speaks volumes for the issue at hand. During his first La Liga start against Getafe, he tried a needless backheel near the corner-flag and tore his hamstring. Doctors speculated the injury could have been brought on by stress but it was still fairly innocuous and typified why there have been questions about his attitude since. Arguably rushed back too soon, he suffered a setback in January and was sidelined for an additional month.
With a huge price-tag hanging over him, fans and critics alike were eager to see how he'd fare on his return. Beyond his showing against Villarreal during a 5-1 thrashing in May, there's one memorable performance that comes to mind from last season: his Champions League display against Chelsea in their last-16 tie.
He scored an important goal to double Barca's early lead, worked hard defensively and was dangerous in the final third. Linking up well with Lionel Messi and Luis Suarez, it was the perfect way to silence his critics and progress. That just hasn't happened. Instead, the 21-year-old endured a frustrating spell of inconsistent form and indecision.
What about his country?
More disappointing, these teething problems occurred during a World Cup year where his Les Bleus teammates excelled in Russia, winning the tournament. Dembele played a cheerleading role virtually throughout.
He was granted enough opportunities. He started two group stage fixtures against Australia and Denmark, failing to impress Didier Deschamps in either. The dependable Blaise Matuidi filled in an unfamiliar role, leaving his mark while Dembele watched from the sideline.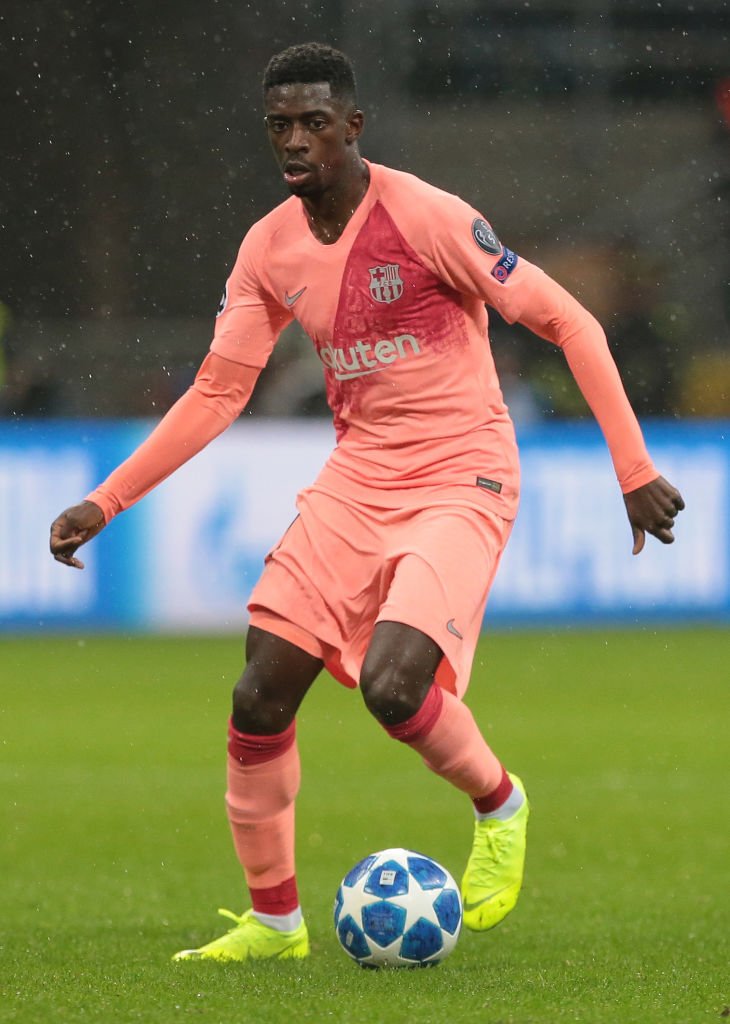 Although he has retained his place in Deschamps' post-World Cup squads to date, he's been publicly warned about his behaviour. Questions over professionalism, bad habits and general attitude emerged in recent months. For a player of his quality, there's less concern in the short-term but greater if you take the long view. Observers are all too ready to claim it's all down to being unsettled at the Nou Camp, rather than the player's immaturity. Other clubs remain interested in his services. Without immediate consequences, he may not make the adjustments necessary to keep his career on track.
What's next?
Given his undeniable ability, Barcelona's willingness to keep him is justified. The endless transfer speculation surrounding his future will not go away, but that comes with the territory. He scored four and created an assist in his first five appearances this term but encountered trouble again by failing to check in then missing a practice while ill.
The midfield trio of Sergio Busquets, Ivan Rakitic and Arthur is good in concept, although Philippe Coutinho's insertion would improve it. That may happen this weekend against Atletico Madrid given Rakitic suffered a hamstring injury on international duty. Ernesto Valverde normally starts the Brazilian on the left-hand side in their 4-3-3 formation. That's Dembele's preferred position and he has combined well with Coutinho when both are on the pitch.
Whether he starts against the Rojiblancos is another question. Malcom patiently awaits his opportunity on centre-stage following a £36.5 million move from Bordeaux over the summer. Dembele's behaviour may cost him the start.
At the international level, Deschamps already demonstrated no player is particularly irreplaceable in his side. With so much attacking depth at his disposal, Dembele can flicker in and out of his starting plans regularly. Florian Thauvin, Nabil Fekir and Thomas Lemar are in a similar boat. Other talented youngsters are keen to earn the senior step-up, too. It's imperative Dembele doesn't take his place for granted. This past summer should have delivered the lesson.
Now, all he can do is remain patient, train and redouble his work ethic, then perform when given an opportunity to play. It's easy to forget he's still only 21. His punctuality and perceived attitude issues should iron themselves out as he matures. With the spotlight constantly on him, this is precisely the acid test that Ousmane must pass if he is to justify his world-class price-tag and potential.