The Premier League is in deep trouble if Roberto Firmino keeps firing
Background Image Via: Wikimedia Commons/Andy Nugent. Used under Creative Commons.
Is this year finally their year? Well, all credit to Liverpool Football Club who are sitting pretty atop the Premier League table with a seven-point lead. The experts always say that the hectic winter schedule is vital, and Jurgen Klopp's men have certainly used it to great effect.
As per usual, their superstar wingers Sadio Mane and Mohamed Salah, have been doing the majority of the damage. However, after a relatively quiet season by his high standards, Roberto Firmino played an absolute blinder against Arsenal at the weekend; scoring a sublime hat-trick in the 5-1 demolition at Anfield.
The brilliant Brazilian had only scored four league goals before Saturday, almost doubling his tally in the space of one afternoon. That begs the question, if Liverpool have been blitzing teams without their first-choice striker, how scary-good could they be if Firmino continues with this stunning form?
There is always the thought that Firmino is always impacting the game even when he's not hitting the back of the net. I'm hard-pressed to find a better all-around forward in the country. He has a great touch, loves to bring teammates into play, he's quick and strong, meaning he can either run the channels or battle it out with world-class centre-halves. The 27-year-old really does have it all, and Arsenal felt the full force of his power on all levels; including a moment of individual brilliance as he bullied and tricked his way around practically the full Arsenal defence before coolly slotting one home past Bernd Leno, becoming the Premier League's top scoring Brazilian in the process.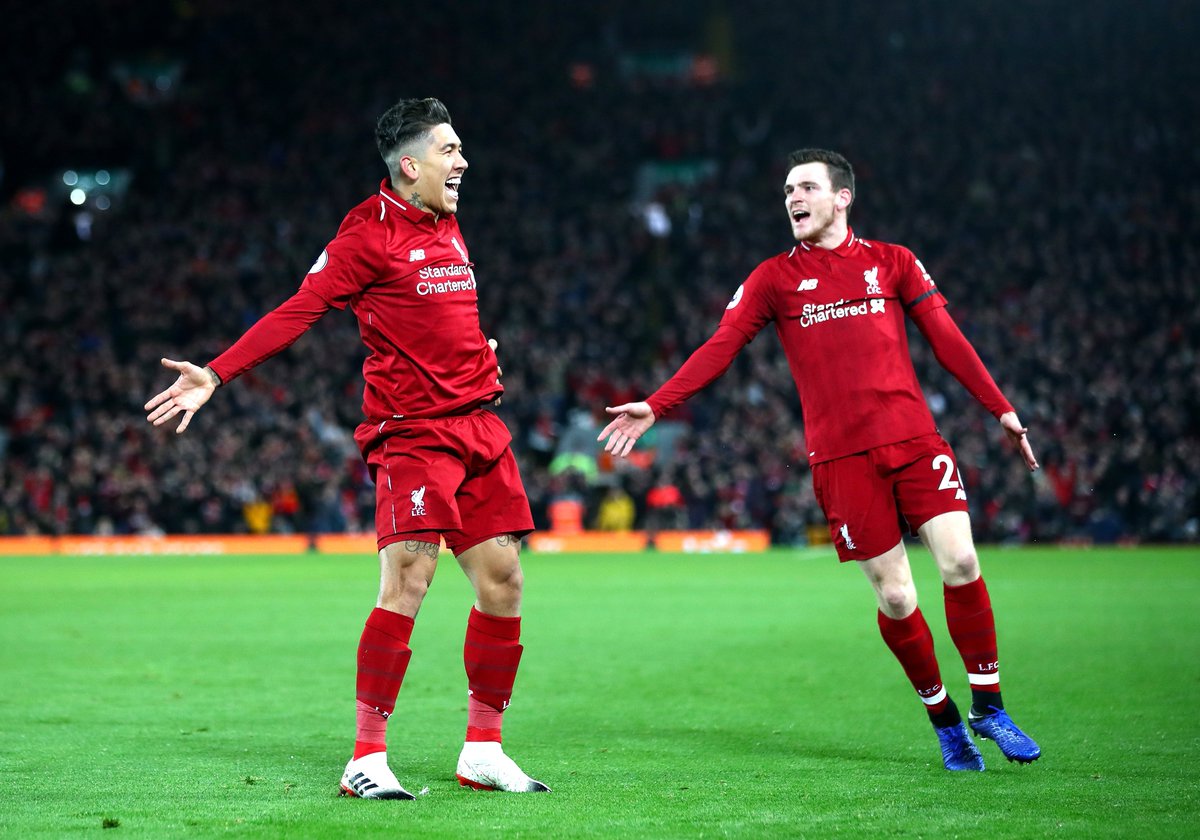 Winning games, trying to secure a title, without your top man scoring goals is almost unfathomable. Imagine Manchester City without Sergio Aguero, or Tottenham Hotspur Harry Kane-less. Both would be significantly worse teams who'd be nowhere near the Premier League summit. That tells you everything you need to know about the insanely brilliant squad that Klopp is building upon Merseyside.
They don't need a 30-goal-a-season striker when Firmino gets so much help from the aforementioned Mane and Salah, while the acquisition of Xherdan Shaqiri was an insanely astute piece of business. As the season has progressed, Fabinho has played a great role on both sides of the ball, while Allison has made mistakes, but he's a marked upgrade on both Loris Karius and Simon Mignolet. Perhaps the best acquisition was Virgil van Dijk as he's single-handedly stopped Liverpool conceding needless goals. Right now, I'm hard-pressed to find a better centre-back in world football.
Honestly, if Firmino rediscovers the form that he displayed last season, the title could be done and dusted by March. This Liverpool team is rampant, they want title #19 to happen and it's scary that at times they've barely gotten out of third gear to create a gap at the top of the tree. If their big-game forward continues to step up when it matters most, then I wouldn't bet against them reaching another Champions League final either. Firmino is criminally underrated, and although he sometimes struggles with consistency, it seems as though he's hitting his peak at exactly the right time...