The seven most injury-prone players in Premier League history
These Premier League stars took 'break a leg' a little too literally...
Some players are just so injury-prone that it hurts... we have taken a look at some of the most frequent visitors to the medical room and offer you our seven accidents waiting to happen from the Premier League.
Jack Wilshere
Since emerging on the Premier League scene in 2009/10, Wilshere has been ruled out for a staggering 208 games. Once such an exciting talent, having broken into the England team aged just 18, Wilshere's most memorable game to date was a 2-1 win over Barcelona when he dominated the midfield against the iconic trio of Xavi, Andrés Iniesta and Sergio Busquets. He drew praise from Dani Alves, who described Wilshere as a 'great player', and compared his potential to the likes of his midfield opposition that day.
Most of Wilshere's problems have been persistent ankle and knee injuries, with the midfielder having had multiple operations to try and fix them. The now 29-year-old was recently given a second chance at Bournemouth to try and establish himself in the Championship this time, scoring on his first start. The goal was his first in 518 days.
Abou Diaby
During his nine years at Arsenal, Diaby suffered a total of 18 injuries. An average of two injuries per year for almost a decade. One of those injuries, a cruciate ligament rupture, kept him out for a grand total of 391 days.
Standing at six foot four, Diaby drew comparisons to Patrick Vieira on his arrival at Arsenal. However, a horror challenge from Sunderland's Dan Smith in Diaby's first season in England shattered the Frenchman's ankle. Despite multiple attempts to come back during his long spell under Arsene Wenger, he was never the same again. Repetitive injuries plagued his career until he was forced to retire at aged 32 after moving back home with Marseille, where he made just five appearances in two years.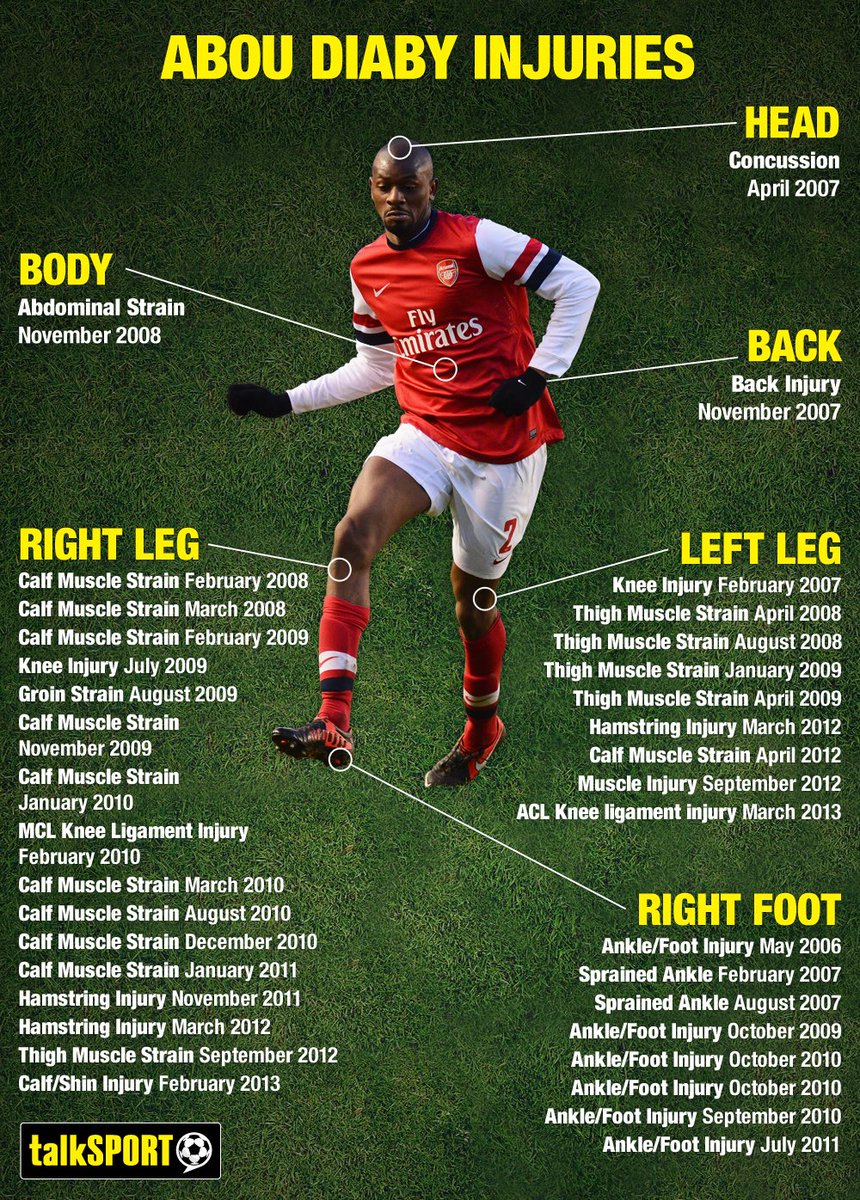 Former Arsenal midfielder Abou Diaby retired from football today aged 32.
Here's a reminder of the horrendous run of injuries he suffered while at #
AFC
😳
https://t.co/cMbtPu07Jv
Andy Carroll
Usually, with an injury-prone player, the same injury will reoccur. With Carroll, injuries are like Pokémon. It's almost become a challenge. The striker has suffered from all of the following at some point in his career: knee injury, heel bone injury, fractured foot, torn ligament, medial collateral ligament knee injury, groin injury, ankle injury, rib injury, hamstring injury, thigh injury, and for the top of the cake, a ruptured intraarticular ligament initiation in the ankle. Carroll genuinely even rolled his ankle trying to put on a pair of shoes, ruling him out for 10 days.
Asked why he collects injuries, the Newcastle United player answered: "That's just me. Most of the injuries, I've hyper-extended when running for a tackle, it is just because I am trying to give 100 per cent every time and throw myself into everything." Including the treatment room, it appears...
Owen Hargreaves
After scoring a penalty for Manchester United in the 2008 Champions League final win against Chelsea, Canadian-born England international Hargreaves would go on to make just nine senior appearances before his retirement at age 31. He spent ten years at Bayern Munich, starting with their youth team before establishing himself as a midfield powerhouse. However, his career was blighted following the discovery that he had patella tendonitis, the year after his big move to Old Trafford.
Hargreaves was allowed to leave United following four years under Sir Alex Ferguson and posted YouTube videos attempting to convince possible suitors of his fitness. Manchester City took a gamble, but he made just four appearances during his one year at the club before retiring from football. He now works as a pundit for BT Sport.
Darren Anderton
'Sick-note' himself had to be on this list. He did actually manage an average of 25 appearances per season for Tottenham Hotspur, but Anderton is included based on the fact that his reputation as injury-prone is surely the worst on it.
Anderton made 30 appearances for England, scoring seven goals, and helped Spurs win the League Cup in 1998/99. He despises his nickname, which was coined by former Portsmouth goalkeeper Andy Gosney. The creation of the nickname was probably the most notable thing in Gosney's career.
Jamie Redknapp
Probably more successful off the field than he was on it, Redknapp was part of a Liverpool squad which won the FA Cup, League Cup and UEFA Cup in the same season, but made a grand total of 0 appearances that campaign. When fit, the central midfielder was at his best during his time at Anfield.
Spells at Tottenham Hotspur and then Southampton under his dad Harry carried further injury problems. Redknapp played 49 times in two-and-a-half years at Spurs before featuring sparingly for the Saints and retiring at age 31. I suppose he's done alright for himself since, to be fair.
Kieron Dyer
Like several players who just missed out on this list (Michael Owen, Darron Gibson, Jack Rodwell...), Dyer's career began with so much promise. He managed to forge a solid career for himself at his first Premier League club before it all went downhill. The midfielder made almost 200 appearances in eight years at Newcastle United, and then went on to play just 30 league games in four seasons at West Ham United, never actually completing a full 90 minutes for the Hammers. It gets worse. Five league games in two years at Queens Park Rangers. Dyer had a brief spell at Middlesbrough before retiring from football aged 34.
Hamstring injuries were the most frequent problem, but he also suffered fractures to both his foot and his leg as well as an Achilles tendon injury. I heard he fractured his hand waving goodbye on his way out at 'Boro... Dyer is now under-23s manager at first club Ipswich Town.
Poll: Who comes to mind when you think of an injury prone player?